Armed with P1,500 each, the five of us (Jules, Oliver, Tristan, Erwin and I) met up at Wendy's Buendia about quarter to one. The original 3am meeting based on the itinerary was changed to 12 noon since Oliver will be getting off work at 7am, and I'll be done with a badminton match at 11.
We left the Lucena Lines Buendia terminal at 1:30pm. The bus ride took 4 hours. P216 will take you until the Lucena terminal where jeeps to neighboring towns are queued up. Jeep to Pagbilao costs P13 to its public market, about half an hour ride. I asked the driver regarding jeeps heading to the coast of Kwebang Lampas and he said we already missed the last trip. I kind of expected it to happen, and so the next task was to find a place where the group can spend the night.
After we glutted over sweet and sour fish, chicken, rice and noodles, we set off to get another jeep to go back to the highway to find Greenview Motel. This motel was suggested by the vendor where we bought the fried chicken from. The building does not have a signboard bearing its name and we mistakenly walked towards its rear entrance which was closed, and chanced upon a karaoke joint beside it. I told everyone we'd have to sing karaoke once settled.
Overnight rate for a fan room is P350 for two people, and an additional P150 for another person. We set-up the skimboard-cum-table and drank my birthday wine. Thereafter, we agreed to go back to the karaoke place which appeared to be a fave hang-out for trike drivers who'd enter their numbers without browsing through the song book.
We left the bar around 10pm, the place was starting to get rowdy with the waitresses all dressed in mini skirts and dresses. Jules and I did some sentimental chitchat before hitting the sack at the stroke of midnight. Wake-up call was supposedly 5am but I already knocked a quarter before because I knew the boys would need more time to jump-start. No more morning pleasantries, just "quick take a shower!". We were lucky to get a jeep early and arrived at the station for Polo bound jeeps at 6am. First trip was to depart at 7, so we had enough time to eat breakfast and search for Jules' Stik-O.
Fare is P32 each, and we were dropped off at the end point of that 45-minute ride, the quaint town of Iba, Polo. We walked mindlessly and didn't know where to go next when I noticed the towering power plant, which I've read should serve as the landmark.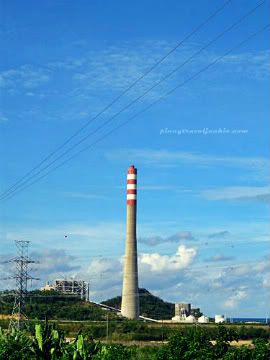 We saw a PNP station and asked the guy at the desk where Kwebang Lampas is, and said he's not a local and asked someone else too for us. He directed us to follow a path until the coast, which should just be a kilometer trek. The trail's pretty easy to figure out.
Once you reach a fenced private property along the coast, that should be it. No welcome sign whatsoever. You will be greeted by a slew of starved dogs and an old man who will ask for P35 each. After a few steps from the gate, the beautiful stretch of white sand and the infamous cave appeared on the periphery. I looked up, saw the soft glowing nimbus of the sun and rushed to change into my suit.
After almost five hours of beaching, we lazily packed our bags. We wanted to extend, but clearly can't as we all got matters to take care of back in Manila. Since we weren't completely satisfied, we planned for a road trip next time. Only, we're keeping our fingers crossed all of us can join again. I know for a fact I may not be able to, not anytime soon.
For people who wish to camp by the way, it's not possible. The family who owns the property does not allow it. And there's no running water, so bring enough for cooking and washing dishes after. Bring extra food too, please help feed the dogs.
Update Jan. 6 2010: Huts are now charged since the place has gained popularity. I still have to verify the amount, but should only be P300-P500.
Tweet
Share
This page was viewed times.