Is not quite a walk in the park. It requires guts, money as well. And a drive to Baguio. TreeTop Adventure in Camp John Hay finally opened last November 30. Will this make Baguio City more overrated?
I say it's a reason for thrill-seekers to make the city a short stop en route to their more remote northern destinations. Soaring above and within eerie fogginess can be quite an exhilarating ride.
Hold your breath for a bird's eye view of Baguio's remaining greenness. Yes, it still exists.
Wouldn't have found out about it had I not accepted an unassuming flyer from a guy on Session Road. I've never done zip-lining. Not that I got acrophobia. It's just that you can't expect me to travel far to do such.
So when I read on that flyer that it can now be done within the city where we temporarily live in, I had a momentary exaltation. And the 50% discount offered for the individual rides and packages made me giddily skip all the way to the terminal where I take a jeep home.
But we didn't troop to Camp John Hay immediately after. We waited more than a week for my sister who decided to swing by Baguio for her birthday. Literally "swing by Baguio". Hahaha! Uhm, moving on. As a gift, I promised to pay for her rides.
My hubby Shervin, sister Gabe and I took a cab to Camp John Hay. The word about TreeTop Adventure's opening has not drifted to a lot of drivers yet. Even with a map printed on the flyer, our driver had a difficult time finding the place. It also didn't help that Historical Core, the supposed landmark, was unbeknownst to him.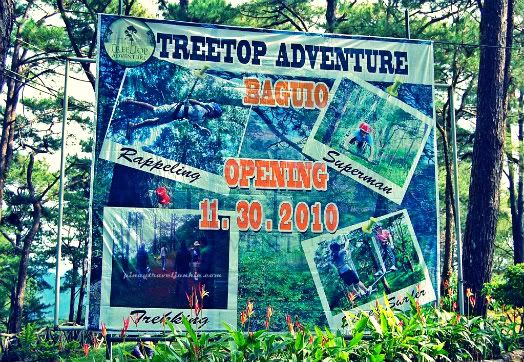 A glimpse of what to expect.
We got off the cab across the Cemetery of Negativism and tramped the road uphill until we reached a huge tarpaulin, then descended a flight of stairs following the sound of booming upbeat music.
A staff member named Sarah gaily greeted us at the entrance. She asked us to sit and did a brief orientation on the rides and packages. Prices hereunder:


Superman Ride 300

Rappelling or Tree Drop Adventure 150

Silver Surfer Ride 200

Trekking Adventure 100

If you wish to do more than one, it's wise to avail of the packages. All of which include the Trekking Adventure though and you need to take note of the trekking schedule to organize the timeline of your rides and avoid long waits: 10AM, 12 NN, 2PM, 4PM. It can get insanely crowded on weekends.
Peaceful Thursday. Cashier, registration and waiver-signing area.
Since it was a weekday, we didn't deal with long queues. In fact, we were the only customers at noon.
Gabe was up first. She walked to the Tree Drop platform while we trod downhill to her landing site, where we could watch her drop. Face down, a la Tom Cruise in Mission Impossible. It doesn't seem scary at 60 feet, but sister says it was quite a rush.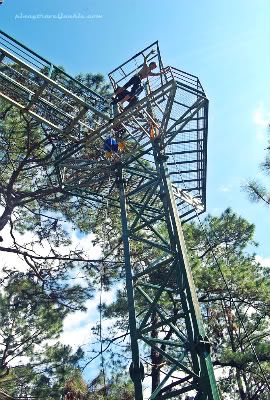 Gabe about to do the "Mission Impossible".
After which, we were directed to the Superman Ride. This time all of us will be doing it. We passed by the Silver Surfer Ride (didn't choose this one for it's a slow paced ride). Its attendant said we'd have to hike for about a hundred meters more.
Although my half-inch heeled sandals were pretty comfy to walk in, it didn't do well on the slopes with loose dry soil. But I'd prefer that over a muddy one. So remember to wear the right shoes even if you ain't joining the Trekking Adventure.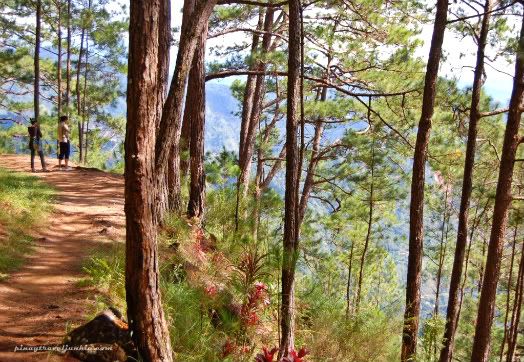 Heading to the Superman Ride. Trail reminiscent of Echo Valley, Sagada.
Along the trail are signboards with nature quotes. The route is scenic. Postcardesque. Tranquil with no one else around. The silence, however, will suddenly be broken with our cheers and shrieks.
We have climbed the Superman Ride platform.
Gearing up can be done in a jiffy. We were hooked on cables swiftly, and before we knew it, we were jolted backward. Superman in reverse. I savored every inch of the 200 meter long zip-line. With a height of 60-100 meters, expect a breathtaking view on a clear day. Fog may ruin your visual but it could add a mysterious, haunting touch to the atmosphere.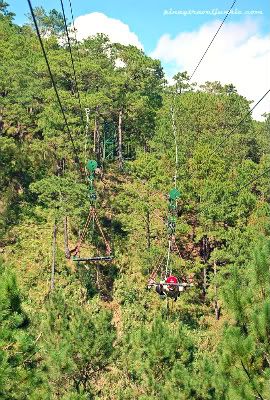 Zippin', zoomin' above pine trees!
When you've reached the end of the line, you stay there slightly swinging for almost five seconds, then you'll be launched forward. Finally flying like Superman.
It's one of the best amusement rides I've done in my life (not that I've done a lot). But I think I won't do it again, at least not in Baguio. Unless another half price offer pops up.
Trip's Nitty Gritty:
1. How to get to Camp John Hay: Cab ride from Session Road will cost about P65, jeep from Harrison Road to Loakan (where the main gate is) is P7.50. However, if you take a jeep, you'd have to walk a fair bit from the gate to TreeTop Adventure. Getting away: Head to Mile Hi Center, a lot of cabs drop off passengers there or walk out of the Camp John Hay main gate and hail a jeep heading to "Baguio Plaza".
For those with private vehicles, here's a
map
where TreeTop Adventure is located within Camp John Hay.
2. Again, wear comfy shoes for you will walk uphill and downhill trails. And although the mini hikes will make you sweat, do not take your jacket off especially if you're doing the rides early morning or late afternoon. It can get chilly up there.
3. Snacks (chips, cookies) and drinks are sold beside the cashier. A bottle of water is P25.
4. Children below 4 feet, people with heart ailments, and pregnant women are not allowed to do the rides.
5. At the time of writing, hours of operation is from 9AM to 5AM. Cut off time for registration, 4:30PM.
6. No smoking within the premises of the park.
Tweet
Share
This page was viewed times.