I was supposed to celebrate my
Despedida de Soltera
in Padre Burgos, Quezon last year. On our itinerary was to explore Borawan and Dampalitan Beach, which was then virtually unknown - recommended by my sister who went there with her colleagues a few months back.
Unfortunately, typhoon Ondoy ravaged the country a week before our trip which forced us to cancel our plan so some of us can do some volunteering. I rescheduled it just 7 months after and found the beaches packed on a weekend!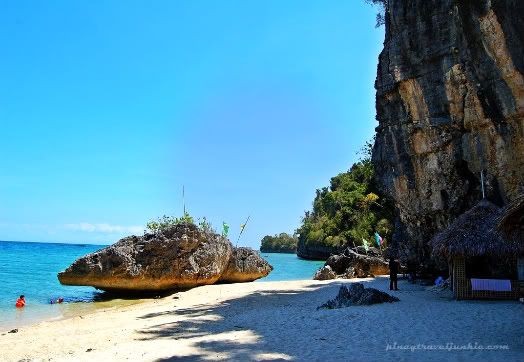 Late afternoon sun shining down on Borawan.
At 5:00 AM, Shervin and I were already at the JAC Liner Pasay Terminal (Buendia corner Taft), waiting for the others. Most of our mountaineering friends attended the TNF race in Baguio City that day, so I posted an open invitation on
Couchsurfing.org
days prior the trip. I just thought it would be awesome to meet new outdoor people.
Pax was one of those who replied to my post. He arrived quarter past 5 with his friend Iva. Soon after, my ol' climbing buddy Oliver got there too. We all hopped on a Lucena bound bus, and left Manila before sunrise. The air-conditioned bus fare to Lucena's Grand Terminal was P259. Travel time, 3 hours.
From the Grand Terminal, you can take an ordinary bus going to Unisan, which can drop you off at Padre Burgos. Fare is only P35-40. If you're willing to pay extra for a more convenient ride, you may opt for a van, P60 per person. The ordinary bus is indeed cheaper, but bear in mind that its driver will wait for the bus to get full before leaving the terminal. Travel time's longer too (instead of an hour with a van), since the driver will drop off and pick up several passengers along the way.
There are two main jump-off points to Borawan and Dampalitan Island. One is at Tamarind Tree Resort (do not hire a boat from the resort itself), and the other at Marao Beach, entrance is beside Vista Playa Restaurant. I opted for the latter. I was actually the one who organized the whole thing, and since I was 4 and a half weeks pregnant that time, I made sure that we won't be doing anything too intense for me to handle (I found out I had a low lying placenta just three days before).
Note: Not a lot of Lucena locals/drivers know where Vista Playa is (a lot are actually baffled with the sudden influx of tourists in Padre Burgos). Just tell them you want to get off Marao. Once you're in Padre Burgos cruising along the shore, keep an eye out for colorful flags attached to bamboo poles. This shall be your landmark, they're just beside the restaurant.
Left: Vista Playa Restaurant. Right: Lunch Feast! Afritada, chopsuey and tilapia (one whole piece per person!).
My sister gave me the contact number of one of its owners, Ate Ria. She quoted us a package price of P650 each for a group of 6+ persons inclusive of boat rental to Borawan and Dampalitan, admission fees to the islands, lunch, dinner and breakfast. She also allowed us to camp within their grounds and use their bathroom.
I told the group that I'd be comfortable sleeping in mainland than on any of the islands because of my condition. Everyone was very considerate and easily agreed to my proposal.
Two other Couchsurfers, who drove their own car to Quezon, were already waiting for us at Vista Playa when we arrived. Eddie and Ethel, a married couple in their 50's, love weekend getaways. They're both still very active. I wish I could be like them when I reach their age!
Ate Ria was out of town that time but her staff, spearheaded by Ate Irma, warmly welcomed us. As soon as we settled, they prepared our lunch. The night before, I coordinated with Ate Ria regarding our menu. Since I got pregnant, I became very particular with what I eat so I asked for well-balanced meals. For lunch we were served afritada, chopsuey, and one whole tilapia (fresh catch bought from Padre Burgos' fishermen) for each person! Boy, we were so bloated after.
It made us sleepy too, but we had no time for siesta because our boatman was already waiting for us at 1:00 PM. Boat rental by the way can cost P800-P1,200 depending on the number of passengers, islands you'll visit, and of course your haggling skills.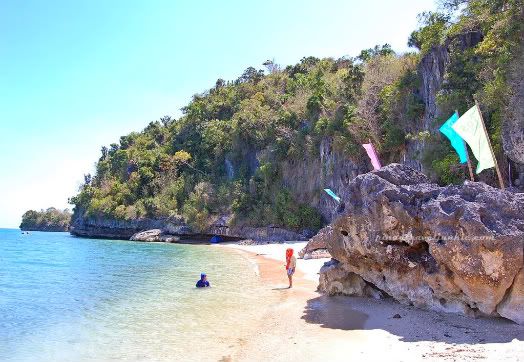 Eddie enjoying his dip while Ethel looks on.
Borawan Beach is a mere 10-15 minute boat ride away from mainland. The name 'Borawan' may have been derived from Boracay and Palawan, but it ain't as perfect as the other two so don't keep your expectations too high. The sand is ecru in color, and not fine. In fact in most parts of the beach, it would hurt to walk barefoot. Water is not too ideal for snorkelling. Swimming's your best bet, and bouldering's the next.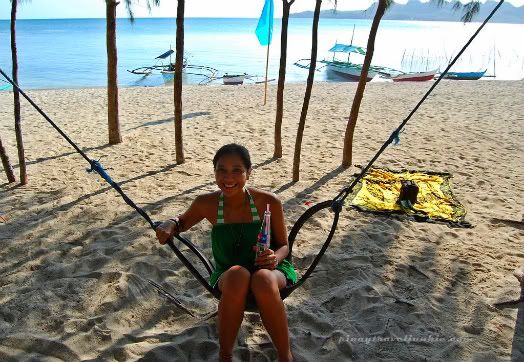 Happy camper on a tire swing at Dampalitan.
At 3:00 PM we once again boarded our boat and were off to Dampalitan (20 minutes). It has a longer shore dotted with huts and picnic tables. The sand is more fine, and the pine trees lined up on the beach will remind you of Anawangin and Nagsasa Cove. Admission fee is P20 for adults (P35 overnight stay) and P10 for kids, cottage rental P300. The caretaker asked us though for P30 each - uhm, non-local charge?! We paid the fee even though Ate Ria told us that it should be included in our package. I took a mental note of sending her an SMS once when we get back at the resto.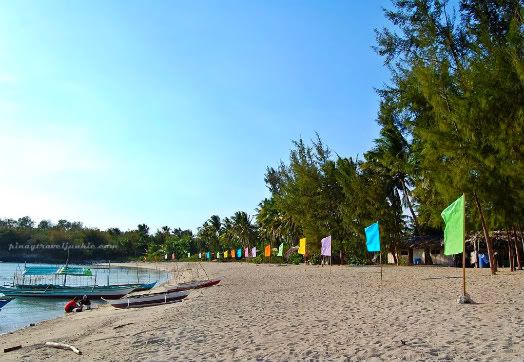 Dampalitan's shore. A couple of locals on the left selling snail-ish sea creatures which according to them are yummy with coconut milk.
Tents were pitched here and there, and a few campers were busy on the grill for an early dinner. We were all sitting on a picnic table chitchatting while Pax snorkelled. The afternoon was pretty much uneventful until Pax told us there's a turtle swimming near the shore, sadly tied to a boat. Everyone except Oliver and I checked it out. No one attempted to free the poor reptile.
It wasn't even sundown yet, but we all agreed to leave. Some of us were getting hungry (ahem, Oliver) already. Back at the restaurant, Ate Irma said dinner will be ready at 7:00 PM. Pax and Oli ordered chami and pancit canton (cause they couldn't wait for dinner anymore). P60 for a hefty serving. Delish too! Ethel peeled and sliced green mangoes which we ate with Padre Burgos' special bagoong, which was highly recommended by the resto staff.
We pitched our tents before the sun disappeared. Pax and Iva took a nap while the rest of us took turns in the bathroom since there's only one.
Dinner time came, and everyone's excited to know what's on the menu. Here's what we were served: grilled porkchop, pinakbet, steamed crabs, and adobong pusit! All of us grabbed our own crabs - except for Shervin who's totally clueless how to open one. He's not a fan of seafood, but that night, he oddly had a lot of the squid.
I slept right after eating while the others had a drinking session. I wonder where they bought their cheap lambanog. Oliver was raving about it.
At sunset, view from our campsite. A makeshift barge with tons of passengers being pulled by a pump boat.
The next day, we awoke at around 7ish. We all had a good sleep, even Oliver who slept under the stars because he didn't bring a tent (if you wish to camp here too, bring an anti-mosquito repellent). Breakfast was already being served. We had daing na bangus with fried egg and rice. Coffee included.
Vista Playa's staff spoiled us to bits! We were well, if not overly fed. The P650 package was so worth it. And though we dined in a restaurant, we set up our camp right by the water which still made us feel we're outdoors and 'with nature'.
It would have been nice to stay longer, but it was time to go. We were given a P30 refund by the way since Ate Ria found out that the caretaker of Dampalitan Beach still asked admission fee from us. Yeeha!
Eddie, Ethel, Pax and Iva's trip wasn't over yet. They were heading to Puting Buhangin and Kwebang Lampas next. Oliver and I have been there already, so we decided to just go home.
Buses and vans from Unisan to Lucena's Grand Terminal pass by just in front of Vista Playa. One of the resto's male helpers hailed a van for us. We waved goodbye to Ate Irma and the rest of the staff.
I'm glad our trip to Quezon finally pushed through. In just a few months' time, more tourists will make their way to these beaches. Time and again I remind fellow travellers, let's do our part in keeping the Philippine shores clean.
If you're interested with Vista Playa's package you may contact Ate Irma at 0918-6048601 or 0917-9884824.
Tweet
Share
This page was viewed times.