A secret no more. This summer, my Facebook account is flooded with notifications of friends posting 'Anawangin Getaway' albums containing 100+ photos each. Even back in 2008 when we first visited the cove, it was already getting crowded during weekends. Now that two years have passed, you may ask, "Is it still worth going to?". Well, I'd say yes.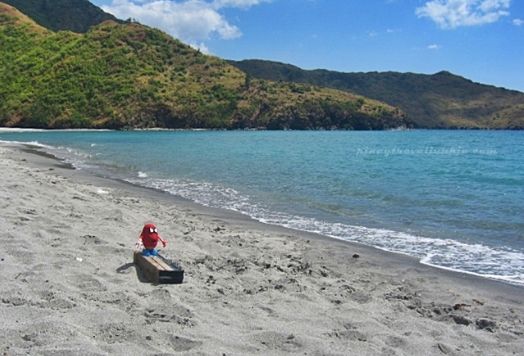 Spidermash at Anawangin Cove.
I prefer Anawangin Cove to stay secluded, but I don't want to be selfish. A lot of mountaineers may hate the fact that 'tourists' (even Koreans donning plastic sun visors) have infiltrated the beach, but for me everyone's got the right to witness its allure up close. After all, the influx of sun worshippers has helped the community stay financially afloat especially these hard times.
If you're one of those who have not been there yet, do not be put off by what others say about its crowdedness. You will still definitely find your own tranquil space within the cove. And try to visit on weekdays when there are less throngs of people.
Here's how to get there:
From Manila/Quezon City, board a bus going to Iba or Sta. Cruz, Zambales. Ask the conductor to drop you off San Antonio. From Victory Liner Pasay, the fare is about P220-250. This station though doesn't have trips to Iba and Sta. Cruz as frequent as Caloocan's. So you may also take an Olongapo bound bus, and from there transfer to a bus which goes all the way to Iba and Sta. Cruz. Travel time, 3-4 hours.
Then from San Antonio, a tricycle will take you to Pundaquit for P30.00 each passenger. Along Pundaquit Beach, boats are on queue waiting for their next passengers. A 20-minute ride to Anawangin Cove is about P1,500 (4-5 persons) with the option of visiting one more island, either Camara or Capones. Make sure you arrange your pick up time for the next day (if staying overnight) with the boatman before he leaves the cove for there's no signal there.
There's a P100 camping fee per head. Money goes to the Aeta caretakers (and of course the owners) who maintain the place.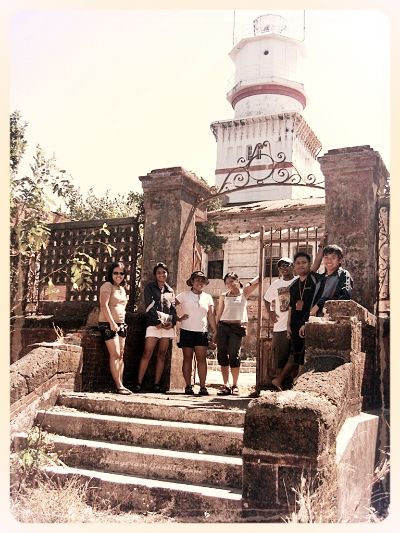 Capones Island Lighthouse
Bring your own tents if you intend to stay overnight. And since you're camping, remember to bring torches and batteries. I don't think I have to remind you guys about bringing enough food. Filipinos always do. I stress though that your group should bring an ample amount of water for drinking and cooking. There's a manual pump on the cove, but I recommend to use it only for washing utensils and bathing.
The water's ideal for swimming, but be careful not to let yourself drift too far from the shore. Sadly, some people already fell victim to Anawangin's strong undercurrent. You wouldn't want to be part of the uhm, statistics, right?
When you leave the cove, bring your trash with you. Sure you paid P100, but that doesn't give you the right to turn the place into a big rubbish dump. Be a responsible traveller. You've had your fun, now do your part in keeping the place clean.
About that side trip I mentioned earlier, I have never been to Camara Island but I'm confident to say that Capones is more interesting to visit because of its lighthouse. Faro de Punta Capones (Capones Island Lighthouse) started its operation in 1890, and has been used to guide ships for more than a century. Though its frame (and the building beside it) is already old and dilapidating, its light is solar-powered. Pretty cool that it uses new technology but I wonder, does it efficiently work?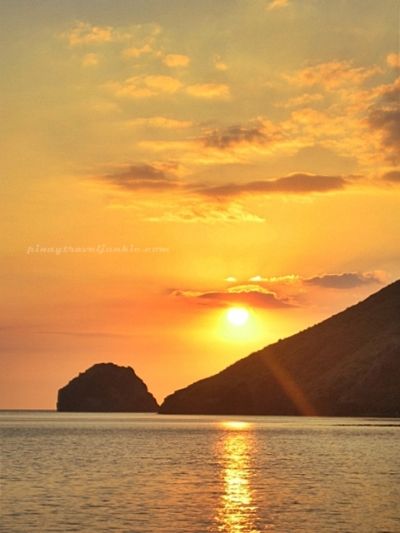 The coast's gorgeous sunset.
The lighthouse is perched on the highest point of the island, a bit of a hike (about 20 minutes) from the shore. Make sure you climb to the top, as it promises a rewarding view. If you're lucky, you'll spot some interesting looking birds swooshing by.
The whole experience will definitely make you fall in love with Zambales. Will probably make you feel selfish about the place too!
Tweet
Share
This page was viewed times.