The driver of our hired van should have at least consulted a map before driving to a province unknown to him. Instead of taking the route from Camiling, we drove all the way to Urdaneta-Dagupan-Lingayen to reach Alaminos. Then from Alaminos, to Bolinao. A trip that took 8 hours (which should only be 4-5) before we reached our destination.
We arrived at midnight, and so Shervin and I didn't have a choice (Pearl's Sea Breeze is distant from the other resorts) but to pay P1,000 a night for a small air-conditioned separate room. The two rooms booked by the team (it was my sister's team building) were just enough for all of them. The rate was way above our budget, but this turned out to be wise decision for we bummed off Gabe's team for food. Room rental by the way, comes with free use of their kitchen with fridge. They also have a barbecue pit where you can grill food.
The next day, after a late breakfast, we headed to Cape Bolinao. It sits on top of Punta Piedra Point, and is the second highest lighthouse in the Philippines. It's easily accessible from any of the accommodations along Patar beach via private vehicle. Hiring a tricycle can also be arranged with your resort's management.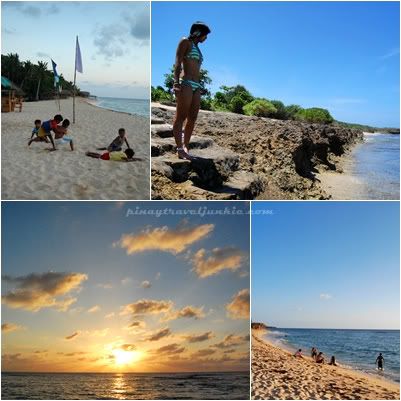 After taking photos of the awesome view from the lighthouse, we drove to the main road and scanned the row of resorts. Pearl's Sea Breeze, where we were staying, has a rocky shore so we entered a different resort just for a swim. And that's pretty much what we did for the rest of the day, until sunset.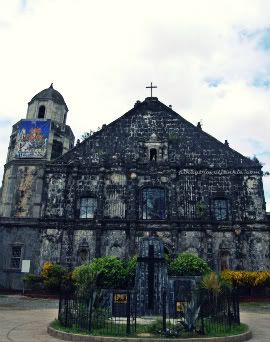 We were home bound by day three. But before we left for Manila, we visited the famous Bolinao church. Built in 1607, it is considered as one of the oldest churches in the Philippines.
I don't know which of Gabe's colleagues suggested to go to Bolinao for their team building, but I'm sure glad he or she did. I cannot remember if I've ever been to a Pangasinan beach before (some of our relatives live in this province, and I'm not sure if they took us there when we were kids).
How to get there:
For public transport, bus companies Five Star, Victory Liner and Dagupan Bus have routes to Pangasinan.
For private vehicles, take NLEX and exit at Dau. Follow the road going to Baguio. When you reach Tarlac City, at the Victory Liner junction (Siesta stopover) take the road to Camiling and Bugallon. Drive until the next junction at Bugallon then take the road to Sual and Alaminos, Pangasinan. You will pass through the town of Bani then turn right to Bolinao. I am not good in giving directions (I can't remember which website I initially got this from so apologies for not giving credits), if this is confusing for you, just ask around as you go. It's actually pretty easy!
Accommodation:
Pearl's Sea Breeze Resort
+639178579117
Website: http://www.pearlsseabreezeresort.com
For a more luxurious vacation, visit:
Treasures of Bolinao
Bolinao Office: +63 (075)6961297 / (075) 696-0668
Manila Office: +63 (02) 497-1068 / (02) 413-4914
Website: http://www.treasuresofbolinao.com
Email: bolinaotreasures@yahoo.com
Tweet
Share
This page was viewed times.