The aroma of bacon sizzling in its own fat wafted through the hallway. I sipped my fave instant coffee as I watched my folks tickle our daughter 'til she ran out of breath. Hubby was sprawled on the carpet, his eyes transfixed on the telly screen but couldn't understand the Tagalog morning news show... Sweet mornings are made of these. But nope, we weren't home. We were cozily settled in the folks' deluxe room in Azalea Residences Baguio.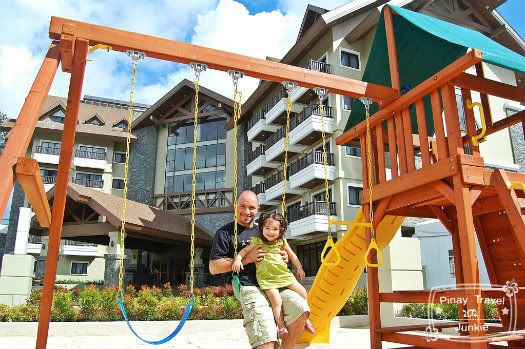 Azalea Residences' playground. The baby doll flashes her smile of approval.
Just the day before,
hubby and I summited Mt. Pulag
for a uhm, masochistic Mother's Day shindig. My parents babysat our daughter while we were away, in a dorm we rented for three nights in Baguio City. Our stay in Azalea Residences was an extended celebration of Mother's Day, the kind that most families do. Slack and stress-free.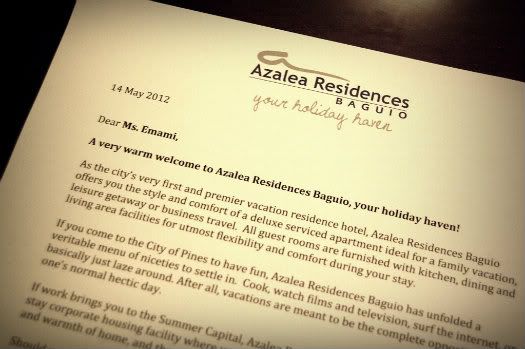 A warm welcome.
It was one of our rare, luxe family vacays. Made possible by Azalea Residences. You see, a week prior, I was invited for a free overnight stay in this hotel alongside fellow travel bloggers. Part of the familiarization tour was a cook-off between the ladies and gents. Why? Because each suite has an in-room kitchen and dining, that's why.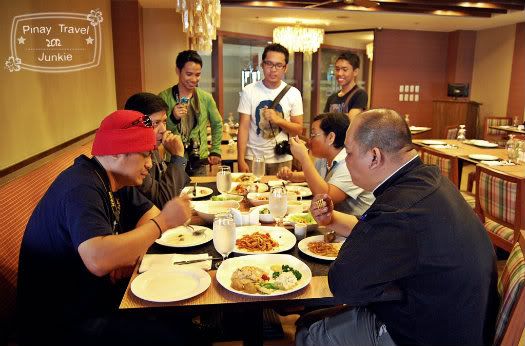 The winning team describing their dishes to the judges. One of them is the chef.
Each team was given P1,000 to prepare an appetizer, main course, and dessert good for four servings. Even though the men's team's dishes (Bitterness ahead!) didn't have a "Baguio flavor" to it (Which was part of the criteria.) and though they didn't finish on time, they won. Okay, okay... Their "Pako Park Salad" was delish. Ugh. Their prize was a gift certificate worth a deluxe room for four, while our consolation prize was a deluxe room for two.
An obligatory shot, I reckon.
So that explains how we scored such room. And since the room can only accommodate my parents (The room's actually big enough for four but the hotel allows a maximum of only two guests.), we booked another deluxe room at our own expense. We did so via their website which was then offering its
cheapest hotel rates
, 30% off on weekends and 40% off on weekdays if reserved online!
It's still offered as of writing
. Awesomest. Deal. Ever.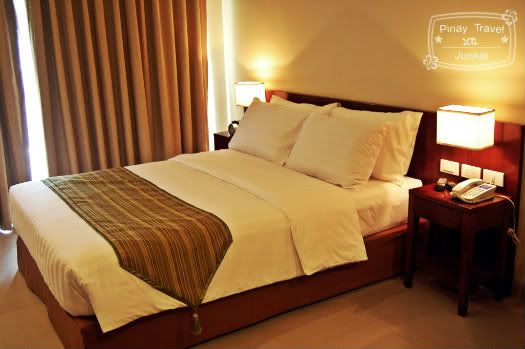 Deluxe room's inviting bed.
This highland haven has 99 suites, ideal to different sorts of groups. From honeymooners and babymooners, to rowdy
barkadas
, to holidaying families. There's flat screen telly with cable connection and a DVD player for each suite. You could bring your own DVDs or rent from the hotel. There's also an iron, hair dryer, and safety deposit box. Guests checked in with babies can ask for a crib. WiFi reaches the suites.
Mum gamely poses for the camera, she loved her stay!
Also, each suite as mentioned earlier, has its own fully equipped kitchen (Fridge, stove, microwave oven, electric water kettle.) and dining area. Utensils are provided, while pots and pans are available upon request. Now if you don't feel like cooking or dining out, you could head to Tradisyon Coffee Shop at the lobby for a meal. Or 8 Degrees Lounge if you want that with a bottle of buzz. The hotel offers spa and massage services as well, why not try 'em when you're done with that bottle?
I could lay on their carpet couch for hours.
Azalea Residences lives up to its "your holiday haven" tag line. The receptionists, bell men and housekeepers are polite and welcoming. A trait that's evidently consistent, whether they're dealing with bloggers on a familiarization tour or paying guests. I witnessed this first hand. You gotta see and experience yourself!
Visit their website for the latest deals
www.azalea.com.ph
or call the Manila office +632 5794890. Azalea Residences Baguio sits on Leonard Wood Loop, an alley off Leonard Wood.
How to get there:
Most taxi drivers, if not all, know where the hotel is. The mere mention of Azalea is enough. If you wish to take a jeep, walk to lower Mabini Street where jeeps heading to Mines View Park are lined up. Ask the driver to be dropped off Leonard Wood Loop, less than 200 meters past PNKY Home Bed and Breakfast.
Pin It
Tweet
This page was viewed times.