It was chaos around the brekkie buffet table at nine-ish in the morn. Fellow guests have awoken late as well and were zombie-walking their way out of the lift and into the restaurant. No alcohol was served but the room smelled like it. We thrashed our way through the befuddled crowd and heard murmurs of "sorry" and
"desculpe"
when plates crashed each other.
Festive mood inside Escola Técnica De Turismo.
A plethora of different kinds of bread and cheese were laid on the spread. Hubby and I felt like kids in a candy store. We thought, finally there's something to be excited about Windsor Guanabara Hotel (I reckon this hotel does not do justice to its four star status and its soaring price during carnival). Before heading back to our table in the farthest corner of the floor, we scooped some scrambled eggs, ham, and sausages. That lousy, cold sandwich dinner bought from a nearby fast food joint left me craving for a hot meal the whole night.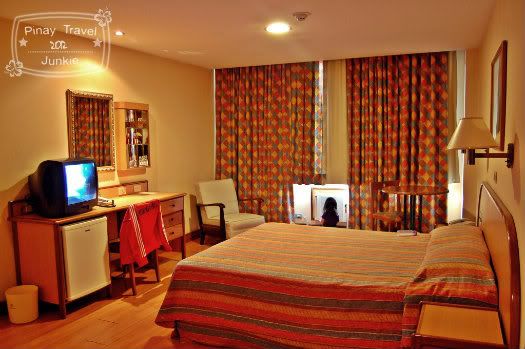 Most expensive hotel room we stayed in, this round-the-world trip. Or make that,

ever

. Does not even have a flat screen telly. No WiFi either.
Swiftly, we emptied our plates. Although we were still feeling slothful after that trip from
Cabo Frio
the day before, we dragged our arses back to our room after brekkie and readied Luna's daypack for the long day ahead. The possibility of seeing Christ The Redeemer up close on day 243 of our round-the-world trip gave us a bit of a jump start. But first things first, we had to pick up our Rio Carnival tickets.
Human traffic starting to build up. View from Windsor Guanabara Hotel's rooftop.
The street party just across the hotel along Avenida Presidente Vargas was already pumping. Samba and Brazilian hip-hop blasted through speakers here and there. Beer was overflowing, metaphorically and literally. We stood transfixed for a moment. The carnival has officially begun. I cautiously plucked our camera from my pocket, perfectly concealed by my sundress. Discretely I snapped photos. We're well aware of Rio De Janeiro's high crime rate (most of it is drug related, though I don't think that's a comforting thought either), and we sure didn't want to attract any unnecessary attention.
"Uhm, which direction?"
We weaved through undoubtedly
the biggest party on Earth
, past merrymakers and drunks and tourist hordes. But nope, we weren't ready to swig cans of Skol and Antarctica yet. It was our goal to stay sober the whole day, or at least until we've safely transported the tickets from
Escola Técnica De Turismo
to our hotel room. Losing tickets that cost an arm and a leg and sanity (and almost our uhm, marriage) will certainly lead to full on depression.
Modest signage but you won't miss it.
Good ol' Google Maps predicted a 21-minute walk from our accommodation in Rio De Janeiro's
Centro
, to Escola Técnica De Turismo on Rua das Marrecas via the shortest route. It took us about forty minutes to get to our destination. Obviously Google Maps ain't programmed to accurately calculate transit time during Carnival with human traffic factors like gyrating women and cosplaying men.
Queue may be long but the actual transaction took a jiffy.
Inside Escola Técnica De Turismo we were greeted by a long line. Waiting wasn't a pain though for we were entertained watching fellow tourists learn the basics of samba. Yes folks, there was a hot Brazilian lady teaching such dance for free inside the room. We were called forth by a staff to cut the line cause we were with a child. The whole shebang (short one-on-one briefing included) took less than ten minutes. Hubby purchased our tickets beforehand via
www.rio-carnival.net
(while we were shacking in
El Zaguan B&B Miraflores, Peru)
, and the release of tickets only required IDs.
Party tickets for two and a half.
I was enveloped with sheer delight as we headed out to the street once again. In my hands were our golden tickets to the Chocolate Factory except we're not actually going to the Chocolate Factory but to the Sambadrome. That grand parade I had been fantasizing about (since I saw a Rio Carnival documentary on National Geographic) was within reach at last. I became the happiest, sober chick in town.
The dawn of my obsession.
Pin It
Tweet
This page was viewed times.