It was a throwback to the early 2000s in the Philippines when I frequented 70s Bistro and Xaymaca, dated a dread head, and didn't mind watching a live band performance of "Get Up Stand Up" thrice a week. Only, it felt odd not lugging around a toddler... And sweating alcohol.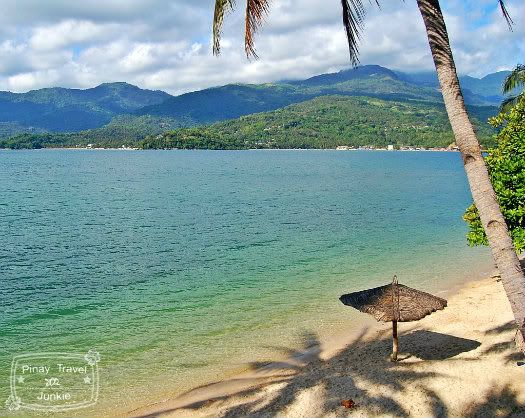 The venue: Encenada Beach Resort, Brgy. Palangan, Puerto Galera.
The drinking session started at ten in the morn. Though fellow travel blogger Monette of
Flip Travels
and I desperately needed to hit the loo since docking at Puerto Galera's White Beach, we managed to plod tens of meters to Coco Aroma and order cold beer first. At midday, we were joined by Melo of
Out Of Town Blog
, who arrived the day before with the bands via hired bus and private outrigger boat (bad-arse!). He is, by the way, the main culprit of our irie getaway.
Tranquil shore turned tent city.
You see, a couple of weeks back, Eric of
Byahilo
and I were invited by Melo to check in Encenada Beach Resort for free (sponsored by its management). And I found out about the Puerto Galera Reggae Festival through a long lost friend from Tabinay who coincidentally
DJed
at the resort's resto-slash-bar the night we stayed there. Melo offered us a place to crash should we attend. An offer difficult to resist.
Unscrubbed beach. Au naturel. Exchanging giggles with Monette.
Because the hubby was overseas for some geek convention on the event day, I leaped at the opportunity to take a leave from parenting (thanks to ze mum). I was hoping to catch up with blogger pals I terribly missed, and well, that's all we did throughout the day. From White Beach to Encenada Beach. From noon until the wee hours.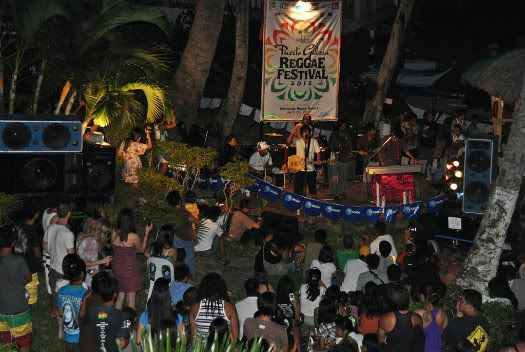 Rare appearance, I've heard. Turtle Club in town.
Our lazy afternoon was spent dipping in shallow, turquoise water fronting a row of tents. Whilst twilight witnessed us sipping a bottle of wine and gobbling sizzling sisig. Everything that transpired thereafter was nothing short of insane. From meeting inebriated Couchsurfers (who prolly won't remember being introduced to us), to swimming in the dark, to skanking with random strangers. Melo stayed sober, kept guard as we did things beyond letting our hair down. Erm okay, the night wasn't
that
wild. In fact, we hit the sack just a little past one.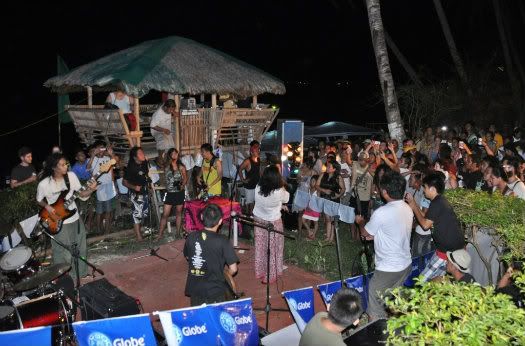 Lady I rockin' the crowd.
We were able to catch almost all the acts: Octopus Garden, Kapis, Iraya, Turtle Cub, Lady I, Papa Ugee, Reggae Mistress, DJ Shrimpy and DJ Tomas. Sadly we missed Coco Jam and Jun Lopito, for our aging bones pleaded to retire early. Guess I'd have to attend Puerto Galera Reggae Festival 2013 to again have that chance of watching 'em perform on the beach.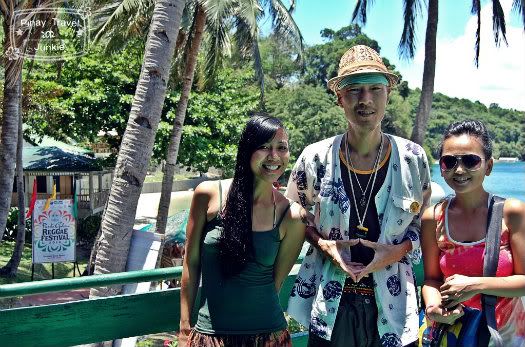 The morning after. With Papa Ugee from Japan.
Crossing my fingers and hoping that we'd be in the country for next year's fest.
Disclaimer: Non-watermarked snapshots were taken by the awesome Melo Villareal.

Share
Tweet
This page was viewed times.