As I munched my jaw-locking, uber chewy breakfast baguette in our characterless Casablanca hotel room, I mindlessly watched a steady morning stream of passersby from the balcony. I was thinking real hard. The room service guy looked vaguely familiar. I knew I saw that face recently somewhere...
Before I could recall, the hubby's voice tugged me off my spaced-out state. "I'm ready to go.", he announced in his usual apathetic tone. For a birthday celebrant, he didn't seem eager for a shindig. And I couldn't blame him. Morocco's February climate can be a shocker for a tourist who just flew from a sunny country in the Southern Hemisphere, say, Brazil.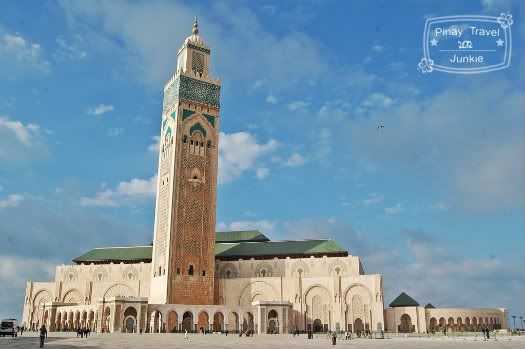 Hassan II Mosque, one of the world's largest mosques.
Hubby put on his hoodie (which he bought the night before after realizing that he lost the jacket we purchased from Mexico) with doubt written on his face. It wasn't enough to keep him warm. I on the other hand, stuffed the tot's essentials in a teeny backpack that our daughter got as present from the owners of a guesthouse we stayed at in Lima, Peru.
Within a few minutes, we descended to the lobby. The awesome receptionist who sawed our broken luggage lock (I don't know how the heck he had a small saw handy, but he saved our day!) handed us a photocopied city map. We mumbled both
merci
and
shukran
, unsure which language to use because Moroccans mostly speak French when addressing foreign travelers. The bellman opened the door for us, then it hit me... The
bellman and the room service guy is the same person
! He just changed uniforms. Man, talk about multitasking.
And its minaret, the tallest in the world.
Our prime destination didn't seem distant on the map, so hubby and I agreed on walking all the way there. We reached the Old Medina without getting lost, but struggled finding streets that lead to the mosque because most of them are unlabeled or named differently.
We asked fellow pedestrians for directions, and all of them advised us to get a taxi. It's either we wandered too far off, or simply because they think we're insane doing a long distance stroll with a toddler in tow - without a baby stroller. Whatever it was, we were finally convinced to flag down a cab.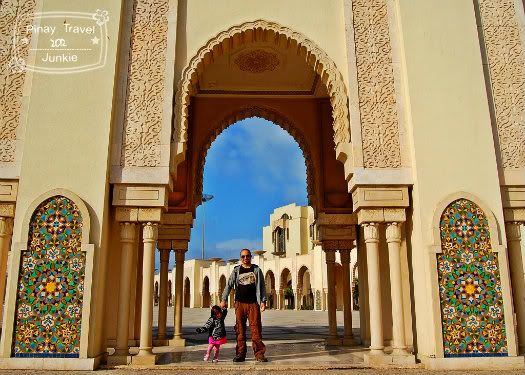 The celebrant.
A
grand taxi
(an old Mercedes model turned into a taxi, shared by random passengers plying a common route - works like the Pinoy "FX") picked us up and drove us to Hassan II Mosque or
Le Mosque
as locals call it. The ride didn't take long, which proved us right. The mosque ain't far at all, we merely got steered off-course.
The nippy Atlantic Ocean breeze greeted us as we got out of the grand taxi. I crossed the street without a care. Entranced. Hassan II Mosque swept me off my feet.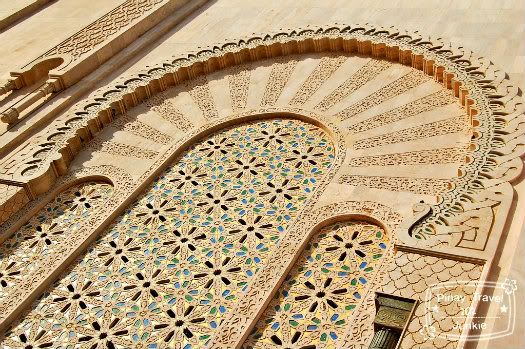 Brilliant Moroccan art.
This grandiose mosque named after former Moroccan king Hassan II is definitely a looker, and one of the only two (at least for me) must-visit places in Casablanca. Thousands of local artisans were hired to work on the mosque, and what's even more impressive is that some part of it is atop the Atlantic Sea (it actually sits on reclaimed land). An idea inspired by a Qur'an verse which states that Allah's throne is built on water.
It is dazzling from afar, and more so up close. We didn't bother asking if we could get in, and just sat somewhere near the entrance where we watched worshippers shuffle to and fro. Luna on the other hand, busied herself mingling with local kids.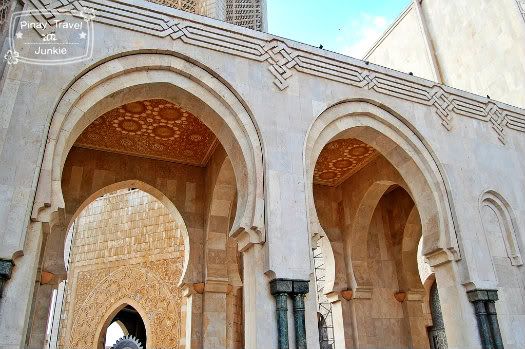 Stared at the mosque's ceilings and arches with ze mouth wide open.
The Muslim-born birthday boy, looked his happiest though he was uhm, freezing. It may have been a simple celebration, but we were in one of our fave regions on Earth.
Share
Tweet
This page was viewed times.