"Hot dogs always seem better out than at home; so do French-fried potatoes; so do your children."

~ Mignon McLaughlin, The Neurotic's Notebook, 1960
It was a
dream we lived for 280 days
that luckily did not end in tatters. But that's not to say I got out unscathed. In fact, I emerged battered and bruised. Our round-the-world trip left me slightly demented. Disorganized. And craving for a home. Any home.
Now the big
BUT
is, a ton of awesome memories outweighs the stinging scar. I'm mighty proud to have accomplished this epic journey not only as a backpacker, but also as a Filipina, as a wife, and as a first-time mom (who was never a fan of babies). And I am certain that the precious lessons which I managed to pick up whilst on the road, cannot be collected anywhere else.
I reckon long-term travel made me a better being.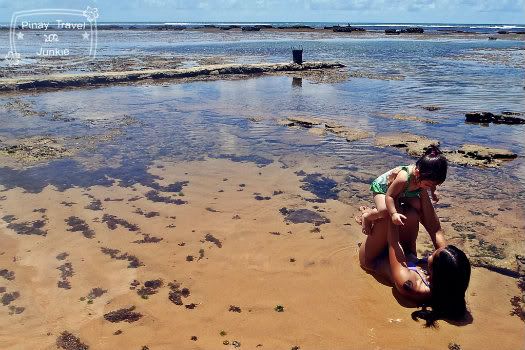 Because a

"superman"

cannot wait. Praia Do Forte, Bahia, Brazil.
When we arrived two months ago in the Philippines, I was welcomed with congratulatory pats on the back. I savored the kudos, though I assume that only a fraction of my pals has a solid grasp of what parenting on the road entails. You see, my family didn't come from some grand vacation. We merely lived our life differently for nine months.
So how's it like to be a housewife without a house? Here's a quickie low-down, which will be discussed extensively in future posts. If uhm, future permits.
Settling Around
For 280 days, we crashed at in-laws' cribs, stayed for extensive periods in hostels and guesthouses, and Couchsurfed. Once we rented an artist's cabin by the beach (the only time we rented a house). We treated every place we stayed at as our home, not just a holiday accommodation.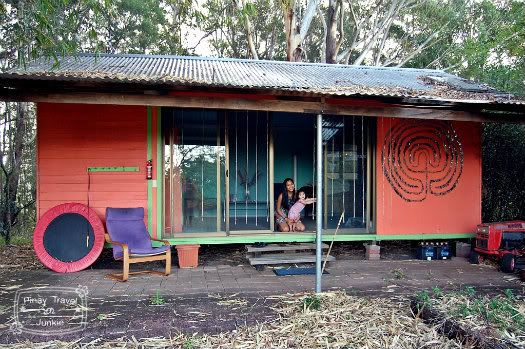 Couchsurfing in the forest. Mullumbimby, New South Wales, Australia. Experienced living off solar energy and rain water.
I stashed our garments in closets, gadgets and toys in drawers, and groceries on shelves just so to make the room feel more personal. If there's enough space, I set up a work station and a play area for our daughter.
My So-Called Housekeeping
Yes, I did the usual mom chores, such as laundry. Not just to save cash, but also because I enjoy hand-washing clothes. I kid you not. Mind you there's actually heaps of time allocated for this, err, hobby of mine.
It didn't matter whether the hostel allowed it or not, and I hung clothes anywhere possible: Bathrooms rails, balconies, and even fences.
Kitchen Hopping
Nope, I ain't a good cook but I do whip up a dish once in a while. More often when we travel overseas, especially when I need an
adobo
fix. So whenever we look for accommodations online, we mostly choose the ones with a common kitchen.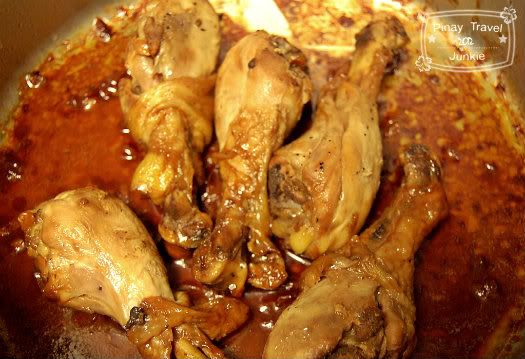 Adobo cooked in a Santa Clara, California hotel room where we shacked for a month (accommodation courtesy of the hubby's employer).
We love dining out and trying munchies from different continents, but I also wanted to keep Luna familiar with the Pinoy taste. She must love
patis
.
Managing Belongings
Buy some, ditch some. That's how we rolled. Whenever we bought a souvenir, we let go of an item or two. And it was never an easy task. I shed a tear when I gave away some of Luna's first ever toys to street kids in Peru.
A trilobite we bought in a Moroccan fossils museum. One of the five. Plus a fossil plate. Gave up a bunch of shirts to make space for 'em.
Pinay Travel Junkie confession: I am
very
sentimental. More so now that I'm a mom. I kept Luna's shoes she first walked in (even if they don't fit no mo), her first doodles, and even nonsense gifts she received from strangers during the trip.
Keeping 'Em Healthy
There's no debate, health is our primary concern especially for Luna. Prior to the trip, we visited a "travel doctor" to get the necessary shots such as Hepa A and Yellow Fever vaccine (for parts of Africa).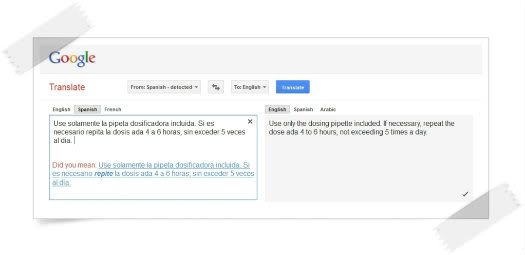 Google translating a medicine's indication I copied off the bottle.
Then there's the other sicknesses like the common cold, cough and fever. Luna got sick every month.
Every month
. Self-medication may sound easy, breezy but when you're overseas it can be a gargantuan ordeal because of non-English speaking pharmacists and doctors.
Look Ma, No Yaya!
Can't say this enough: Parenting is a 24-hour task. Whenever we're on the road with the little one, we're constantly on our toes. One of us should always stay awake during an overnight bus/train/plane ride. The other one, slumbers but holds a barf bag, ready to be awoken anytime. We rarely eat peacefully because Luna loves playing with food (and running around restaurants). She also hated (and still hates) the stroller and baby carrier, so we take turns lugging her during hikes and climbs.
Me: "OMG Machu Picchu!". Hubby: "OMG Luna needs changing!".
Even during one of the highlights of our life's timeline, our long-awaited Machu Picchu trip, we had to come up with a makeshift nappy changing station because the toilets are situated light-years away.
The List Goes On
There's so much debris of thoughts swimming in my head which I'd like to verbalize, but due to
your
my short attention span, I'm parking my pen for now. Each part of this post requires deeper digging anyway, which could mean weeks of writing for a mom who's watching over a demanding toddler.
I kinda felt the urge to share this now even though I believe I have not arranged my points in an orderly manner, for I'm feeling mushy yet again... This coming weekend we'll be celebrating my second Mother's Day.
Tweet
This page was viewed times.