On our second day in Macau last year, we woke up to another hazy morn. The parking lot servicing beach goers was almost empty. We sprinted across it as we waved mom hello, she was watching us from our
Pousada De Coloane Beach Hotel
room's balcony. I got my fingers crossed, hoping the drizzle would cease. Hurriedly, we took the obligatory family snapshot, sans mom who refused to go down. She ain't, and never was, a beach person.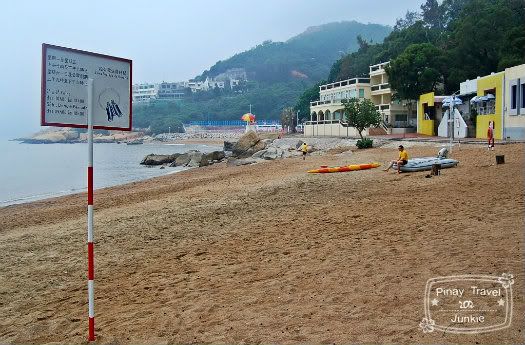 Cheoc Van Beach on a foggy Friday.
Cheoc Van Beach during weekdays and hazy days is an uncrowded cove. Its yellow ochre sand and murky water may not have enough charm to draw in busloads of tourists, but it's quite popular with locals (or so I heard) who wish to bask in the sun once in a while... And backpackers like us who sought refuge from the bustle of Macau Peninsula and Cotai.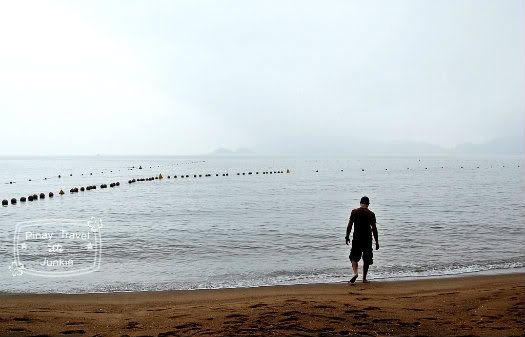 Testing the water's temp.
We spotted a lone swimmer preoccupied with the monotony of his laps, and we quietly watched him until we realized that it has stopped raining. It was our cue to go. Mom finally joined us as we climbed up the set of steep stairs that leads to the main street. She whined all the way.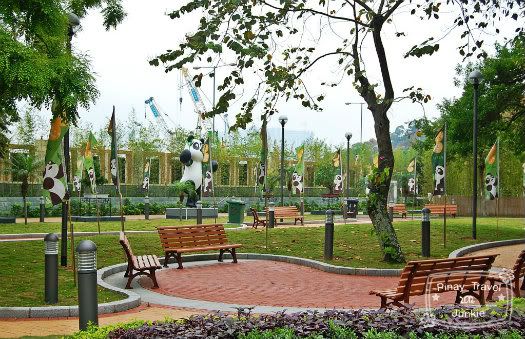 Seac Pai Van Park.
The bus stop is just a few meters away from the hotel's rear access and we all got there in no time, despite mom's breathless bickers and countless rest stops. A No. 25 bus fetched us after about five minutes of waiting, and the ride to Seac Pai Van Park took less than ten. From the entrance, we followed a stream of families with kids of all ages and ended up at the newly opened Giant Panda Pavilion's ticket booth.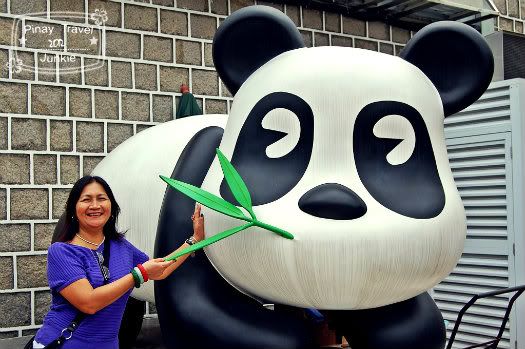 Now here's something that cheered her up after all that hiking. She elbowed everyone out of the frame prior to this shot.
There's no admission fee to get in Seac Pai Van Park where you could view a few animals in cages, but the admission to the Giant Panda Pavilion costs 10 MOP for adults (children 12 and under and seniors 65 and above come in for free). Only a certain number of guests are allowed in the pavilion every hour, that means the ticket is only good for a certain schedule. We were fortunate that one panda was awake at 10:00-11:00 AM, our designated sched, which apparently is their feeding time.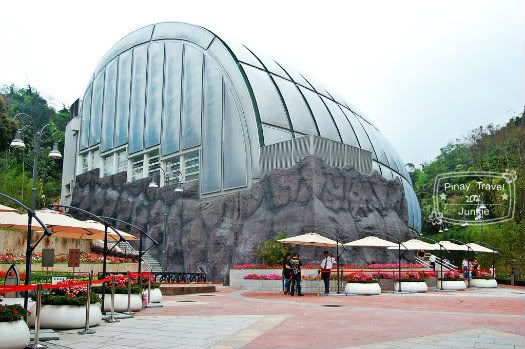 Giant Panda Pavilion.
For almost the entire hour, I cried (remember
Ocean Park?
). And I constantly fought my way through children to get close to the glass window for the panda was amazingly walking here and there. I garnered stares of bewilderment from them little ones, and from my folks. My mom even remarked "weird" in passing.
"This happened before, it's normal."
, the hubby (carrying our daughter Luna who slept throughout) assured her.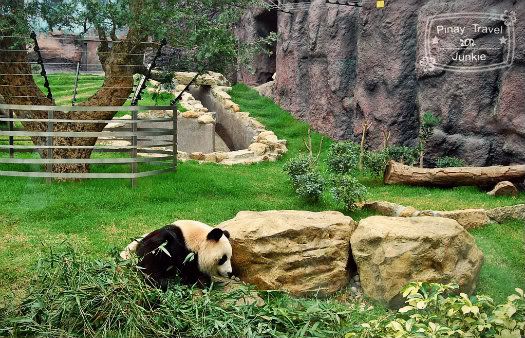 Feeding time!
I stayed until the guards shooed us away. While half of the family headed to the snack bar for food, the other half scoured the souvenir shop for the cheapest items. I emerged from the store with just a plastic pocket credit card holder. The panda plushies were way beyond our budget. Thank goodness Luna was too young to grab stuff from shelves.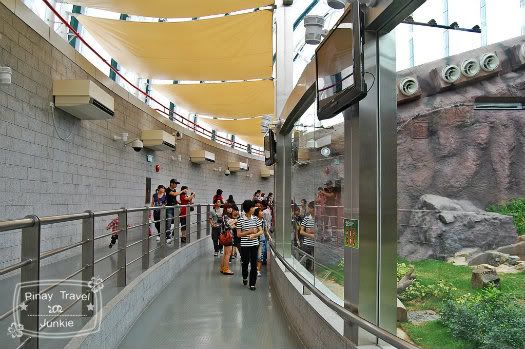 Waiting for the crowd to thin out to spend some time alone with the adorable panda.
If you're obsessed with pandas like me or have children who are obsessed with pandas like me, the bus trip from Macau Peninsula is definitely worth it. Otherwise, you're better off amusing yourself in one of those glitzy hotels. The Giant Panda Pavilion is closed on Mondays, and you could check the schedule
here
. How to get there: Take buses numbered 21A, 25, and 26A.
Prepare to battle it out with ferocious kids.
Macau Series: Meet My Backpacking Folks
Meet My Backpacking Folks
Century-Old SanVa Hospederia
Largo Do Senado: And The Family Chaos Continues
Review: Pousada De Coloane Beach Hotel
Photo Essay: The Venetian and City of Dreams, Macau
Tweet
This page was viewed times.