I switched stifling yawns and suppressing chuckles whilst straddled on the bench of our hired pink jeep (Yep you heard me,
pink
!). A more sluggish hubby donning tightish jeans was seated on the jeep's roof, the only one from our gang of eight who did so. The thought of him climbing Mt. Pulag, Luzon's highest peak, later that day in them jeans sent me to a constant snicker fit.
Postcard-worthy snapshot by the RoadWorthyMan.
You see, just twenty-two hours earlier aboard a Baguio-bound bus, he decided to join the climb which my mountaineering pal
Christine
organized months prior as my
welcome-back-home
shindig. Thanks to Baguio's
ukay
stores, we were able to buy him a cheap down jacket and long sleeved top. We purchased a pair of trekking shoes too, which luckily was on sale. Hubby refused to shell out more bills for new pants however, thus his biker-meets-hiker getup.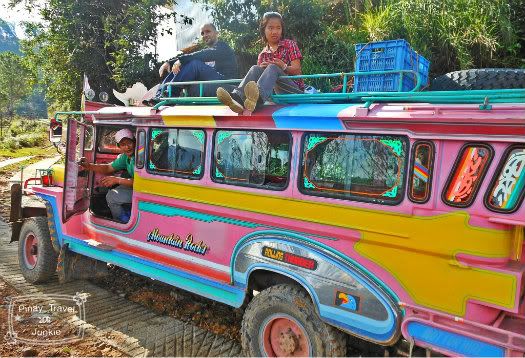 Now didn't I tell you it's pink? Hubby still beaming, midway the bumpy ride.
Our jeep just left the DENR office (where we attended a quick briefing about Mount Pulag National Park) and was literally bouncing its way on ridiculously rough road to the jump-off point, Badabak Ranger Station. Occasionally we did stops to haul another jeep following us, loaded with even more passengers. And occasionally I yelled
"I don't want to be a single mom!"
outside the window which the hubby took as cue to hop off the roof. He began feeling terrified anyway when his camera panned through a backdrop consisting of a cliff just below his dangling feet.
Badabak Ranger Station, before things got dirrrty. Photo from Izah's cam, taken by our guide Ditas.
The usual one hour drive from the DENR office to the ranger station took almost two. We were all bushed when we stepped out of the jeep. I immediately felt a familiar light-headedness, caused by the thin air. Prolly by lack of sleep too. Our motley crew that was composed of me, the hubby,
Christine
, Olay,
Izah
and boyf Joseph (Who baked kickass choco chip cookies for us!),
Marky
and
Erick
groggily gobbled our takeaway lunch at the ranger station's front porch before pushing on.
Female porters made the hike look easy, breezy. Made me look like a weakling too. Pfft.
The impending downpour pumped up our supposedly "chillax" pace (Ambangeg trail may be the easiest way to Mt. Pulag's peak, but it sure ain't something I'd call "chillax"!). We didn't want to exhaust ourselves more than necessary, but we certainly didn't want to pitch our tent under the rain. I huffed and puffed my way to Camp 2, and during our breaks I longed for a porter but a better part of me said
"Heck no!"
. For the last two hundred meters, hubby sprinted to the camping area to start pitching the tent. He left me to my thoughts. The others were far behind and I trekked alone.
Post speed-pitching. Pre debate about where the tent door must face (This is why we haven't seriously considered buying a house yet.).
In that solitude, my adventure flame was reignited. This flame died for the nth time months ago, which coincided with that burnt-out after effect only a round-the-world trip with a toddler could induce. With a sudden surge of renewed energy, I hiked with ease the last few meters of gradual ascent to Camp 2, where Marky and the hubby were already pitching tents. Or at least, trying to. Both required extra hands, non-frozen ones, dexterous enough to work them poles and pegs.
Breaking dawn.
Those hands arrived almost half an hour after. And our overnight climber's commune was setup in just fifteen minutes. Before the rain poured, we were able to quickly cook dinner.
Dinner at 3:00 PM
. "Lights out" (More aptly called "when brains conked") followed at 4. The dreaded, infamous frigorific climate enveloped the camp just before twilight.
En route to Mt. Pulag's highest peak.
At 2:30 AM the next day, one by one we emerged from our respective tents. Every step was a battle. I couldn't feel my fingers. I couldn't feel my nose. Despite all that, hubby's jeans still made me chuckle. And everyone's Mother's Day greeting left a smile on my numb face (Was I really smiling?). After a light brekkie, we hiked the final one-hour leg to the peak. One hour of trudging on mud and in near-total darkness. Halfway the trek, Erick played the most awesome scoring for that morn,
Lovely Day
.
"Then I look at you (Mt. Pulag), and the world's alright with me. Just one look at you and I know it's gonna be a lovely day..."
, that is of course until we did the equally challenging descent.
This backpacker mum still got it, we survived Mt. Pulag!
Atop Mt. Pulag's Peak 1 I held the hubby's hand. Throughout the trip, it was the time I felt most thrilled that he's with us. My second Mother's Day was even more insane than
the first one that involved caressing a Burmese Python.
This mum's definitely not the kind who hits the spa on special occasion (Unless someone else pays for it. And my hubby's not the type who does.). I still got that oomph.
Why did I ever doubt myself?
I am but a speck.
Though the sea of clouds was a no show, I remained a happy camper. Summitting Luzon's highest peak in itself is a feat I will proudly share with our daughter Luna in the future (With priceless photos of her
baba
hiking in jeans to back up my story). On the way back to our camp, Luna's giggles echoed in my head (A.K.A. becoming delusional.). I couldn't wait to be reunited with her in Baguio later that day. Ugh, I'm such a mum.
Tweet
This page was viewed times.