I've lost that adventure feeling on a multitude of occasions during our round-the-world trip. It mostly occurred when we're shacked somewhere for a significant period of time. Especially in the course of winter. Such is the case whilst we were couchsurfing (or make that
bedsurfing
) in my mum-in-law's Sydney home. The hubby's visa application for U.S., the next country on our list, took forever. And we chose to let our arses stay put for we were unwilling to burn our funds on pricey Oz road trips.
We became slothful and stagnant.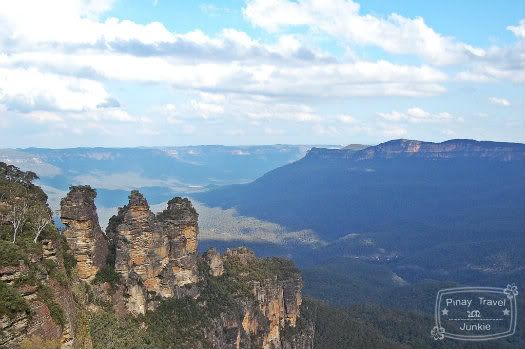 The Three Sisters rock formation.
So to reignite the adventure flame, we plotted a two-day jaunt in New South Wales' Blue Mountains, a region famous for breathtaking highland vistas and scenic bushwalk trails. A vast part of it, the Greater Blue Mountains area, is a World Heritage Site. Inscribed so for the "outstanding universal value" of its eucalypt vegetation. It had been the home of the Gundangara people for several millenia.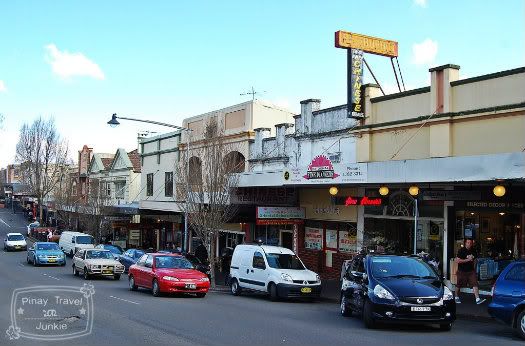 Organic cafes and thrift shops lined up along Katoomba Street, Katoomba.
The main town where tourists usually start off their respective walkabouts is Katoomba, just an hour and a half drive from Sydney via private vehicle (a couple of hours by train). Despite its proximity to our hood, we opted for an overnight getaway instead of a quickie day trip. It was one of our rare splurge events. Like, yah know, my birthday. After a not-so-big-plus-terrifying-three-oh the previous year (I was then counting down the days 'til the delivery of our daughter), the hubby granted my wish to see Blue Mountains on day 71 of our family vagabonding.
Echo Point lookout.
At about two in the afternoon, we arrived at our booked accommodation, Katoomba Mountain Lodge. A beat up,
borrowed car we named Gumby
brought us there without any hassle. After checking in, we merely dumped our luggage in the cozy double room assigned to us then headed out for late lunch. Because it was my call, we had Chinese.
Paved trail to the Three Sisters.
With only a few hours left of sunshine, we hurriedly left our unfinished meals at a place called
Three Sisters B.B.Q. Restaurant
, and drove to Echo Point lookout under the direction of our moody yet trusty GPS device. It wasn't as packed as we expected, and searching for a nearby parking space didn't take long. We spent no time idling. We strode towards the lookout platform and skirted it for an unobstructed view of Jamison Valley.
Arch at the top of the Giant Stairway.
The postcardesque scene of a massive blue haze enveloping the sandstone plateaus made my heart... Cheesiness ahead... Skip a beat. Yes folks, it's called Blue Mountains for a very obvious reason. Its blue tinge is an outcome of
mie scattering
- an explanation of which may bore you out of your wits but just to give you an idea, it's got something to do with ultraviolet radiation and the abundancy of eucalypt trees in the area.
Giant Stairway steep descent.
It's a dream of mine to do bushwalking along Federal Pass, a trail on the base of the cliffs in the valley. Unfortunately, it was not the right time to fulfill such dream for we were lugging our eleven-month old crawler. So we decided to just do an easy hike to the Three Sister rock formation. From the lookout, we walked to the Information Centre and followed a paved path that led us to the arch atop the Giant Stairway. A sign bears a warning: VERY STEEP - STRONG WALKERS ONLY.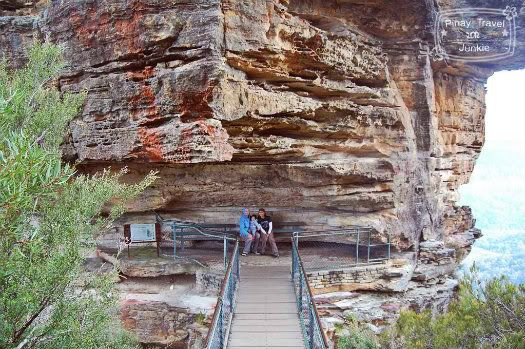 The only accessible

sister

.
Mind you, it ain't a joke. The stairway is insanely steep and dizzying. We reached one of the Three Sisters unscathed and were greeted by fellow hiking parents with two kids in tow, one of whom is tucked in a baby carrier. The mum happily offered to take a snapshot of us. After which they descended further and never returned. I wondered if they pushed on to accomplish the Federal Pass trek. You see, we aren't the only crazy 'rents on Earth.
Sorry adventure junkies, climbing and abseiling are not allowed.
Legend has it that three sisters of the Katoomba tribe were turned into stone by an elder to protect them from being captured by the three men of a neighboring tribe whom they fell in love with. Marriage between them was forbidden. Slumped on the bench, I thought, such dreary story behind a stunning rock formation.
The iconic Three Sisters is just one of the main attractions of Blue Mountains. And our hike that day's just half of my awesome birthday shindig. The next day on my actual 31st, we rode the steepest incline railway in the world and visited a toy with a vast collection of
Barbie dolls
(faint!). Now didn't I say it was
awesome
?
Share
Tweet
This page was viewed times.