"Other things may change us, but we start and end with the family."

~ Anthony Brandt

It ended sooner than expected. Then again, who's really counting the days? Not us (but that counter on my sidebar is). And I bet my stenchy goat leather wallet from Morocco that you guys aren't counting either. You most definitely lost track of our trail weeks ago anyway. Or, since
day 200
.
Yes, at some point we intended (and attempted) to do a yearlong round-the-world trip, but nothing was concretely planned. Not the destinations, not even the dates. "Any way the wind blows" as that Queen song says.
We had the time of our lives, no doubt. And perhaps you're asking, why the heck did we fly home on day 280?
Aboard a connecting TAP flight from Lisbon, Portugal to Casablanca, Morocco. Contemplating about a conversation with an Israeli.
Let me take you back three months ago when we were thousands of feet above ground, on board a TAP flight en route from Salvador da Bahia, Brazil to Lisbon, Portugal. Hubby and I were close to tears, secretly laughing at a fellow passenger who looked like Santa Claus (beard and all) on a holiday (clad in board shorts). An Israeli woman in her fifties who was on the aisle seat beside Shervin interrupted us, "Your daughter is beautiful!".
Her remark sparked a lengthy and engaging conversation about the highs and lows of traveling with children. She's a grandma, and an occasional drifter. One of her statements hit me real hard: "If I was Luna's grandmother, I will be angry at you for being away."
I imagined my mom right that very moment. Spending her days taking care of dogs and watching soap operas... Without her two daughters who left the country to chase their dreams. Without her only grand daughter she's yearning to embrace, and smooch, and parade in front of the neighbors. It dawned on me that I got too caught up racing against time and ticking destinations off my travel bucket list. My remaining life may be short to see and experience the whole world, but my parents have fewer years left.
At Lisbon Portela Airport in Portugal, whilst waiting for our flight to Morocco, I seriously considered going home for the first time. After nine months of vagabonding around the world I thought to myself,
I am still a Filipino through and through
.
Clockwise from top left: Three Sisters rock formation (Australia), Golden Gate Bridge (U.S.A.), Machu Picchu (Peru), Chichen Itza (Mexico).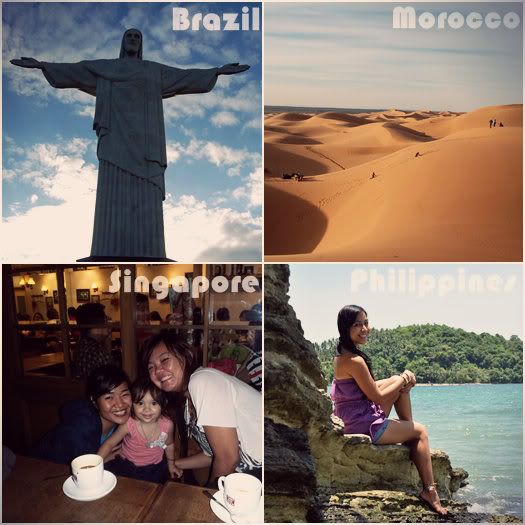 Clockwise from top left: Christ The Redeemer (Brazil), Sahara Desert (Morocco), Puerto Galera (Philippines), and uhm... Toast Box (Singapore)
Although our trip didn't last a year, I reckon we've achieved our goal of circumnavigating the Earth after meeting these four conditions I fished off the book
Grounded: A Down To Earth Journey Around The World
by Seth Stevenson:
1. Start and finish at the same place.
2. Cross all longitudinal meridians going in the same direction.
3. Cross the equator.
4. Cover at least twenty-five thousand miles - the length of a great circle around the Earth.
Another condition is to "touch two antipodal points", which for the life of me I can't seem to fathom, so I'm... Err... Ignoring that.
This is such an epic fulfillment for us (I just couldn't say it enough), not only because we had dreamt about it for years, but obviously because we did it with our one year old daughter Luna. So what's next after this? Definitely not purchasing a house yet. Perhaps a second RTW with another tot. But that could happen in the very distant future too. Okay, let me think about it and I'll get back to you.
Now excuse me while I catch up with family and eat this
pinakbet
like there's no tomorrow. Meanwhile, you could
Google
"antipodal points".
Share
Tweet
This page was viewed times.