A map in one hand, and a red balloon in the other. I led the way. Hubby lumbered by my side with our daughter in his arms. The stroll from Parque Kennedy where we had lunch (and snatched that free balloon) at some
pollo a la brasa
resto took twenty minutes. It could have been quicker if only the streets on this side of Lima's Miraflores District is clearly labeled.
We were cooped up for five days in our charming b&b room and I was itching to see what such affluent area has to offer beyond its swanky malls and awesome ceviche restaurants.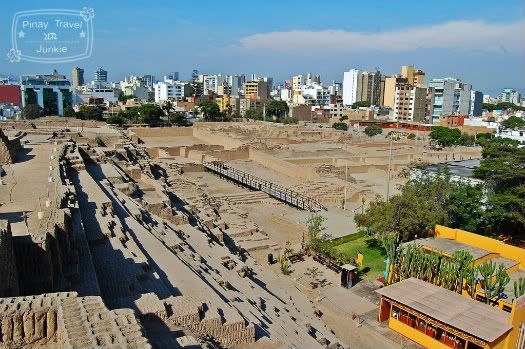 Huaca Pucllana in the heart of Miraflores, Peru.
We reached Huaca Pucllana's entrance at two in the afternoon. It was devoid of tourists. After paying 10 soles (almost $4) each for admission, we entered as one of the guides called out to us, "
Buenas tardes
! Spanish or English?". We initially ignored him for we usually prefer to wander at our own pace, but his persistent questioning made us finally mutter "English". He explained that us visitors are allowed to explore by ourselves, but won't be able to access several areas without a guide. Hence we agreed to join the guided tour. And well, he dropped the magic words
"no extra fee"
.
Guided tour at no extra cost.
Tourists trickled in, and our party of nine was formed in quarter of an hour. Our guide directed us onto a wooden platform where he began his lecture. I gazed around the ruins. From where I stood, the archaeological site looked more capacious than I thought, and the pyramids seemed more imposing. Huaca Pucllana, Lima culture's old administrative headuarters and ceremonial center, was constructed around 500 AD with walls made from locally sourced adobe. Such material may not be the best option for an earthquake prone country, but Limeños devised a system on how to make it work.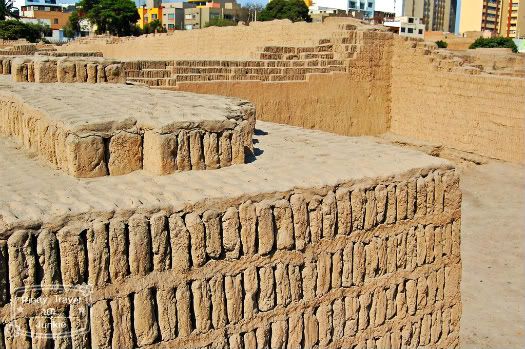 Peering closely at the brilliantly engineered adobe walls.
The walls weren't built out of massive adobe slabs, instead, they consist of adobe bricks piled like dominoes and glued together by clay laid on top. The space between each brick cushions the earthquake's impact. As a result, each wall dances to the ground's trembling. An equally important factor that makes these structures sturdy is their pyramidal design. And by the way, it rarely rains in Lima, just to clear that picture of a melting wall you're envisioning in your head.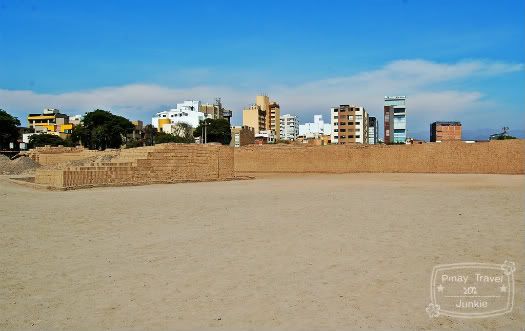 An area believed to be the ceremonial square.
From the platform, we moved on to the ceremonial square. Archaeologists believe that women were sacrificed here. And nope, not virgins, but mothers (based on the pelvic anatomy of excavated remains). Limeños during that time considered being sacrificed as an honor. I cringed at the thought and clutched our daughter tighter than usual. Was it for a bountiful harvest? Skipped that part. I scuttled away from the spot.
Atop the pyramid. Yep, we still had the balloon.
Our group then hiked up the pyramids, where we had a 360 view of the surrounding residential neighborhood. Man, how cool is it to see such ancient ruins every morning from your patio while sipping your cup of brew? Priceless, I reckon. Oh. Speaking of which, we saw a bunch of tourists doing so at the in-house restaurant. Next best thing, ei?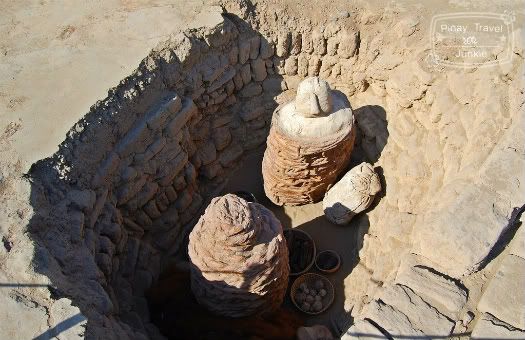 Depicting Wari culture's bundled mummies.
The guide pointed at the smaller walled sections of the site just beside the wooden platform which we didn't notice earlier. He said they could have been offices or even personal rooms of priests who governed the community. I wondered out loud, "How about the roofing?". "Local bamboo.", the guide promptly replied.
A pyramid's two faces, the restored and the ruined.
Besides the panoramic vista and models of Wari bundled mummies, atop the view point we saw the more deteriorated part of the pyramids, which looked more like an abandoned construction site than some significant ancient ruins. Here, we cautiously descended, then proceeded to the rear area of the complex where a few of Peru's endemic animals are caged. Alpaca, llama, and guinea pigs (all three are eaten in this country - excuse me while I shudder).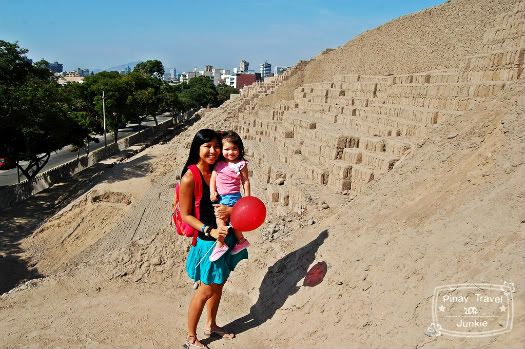 Balancing a baby and a balloon, inching my way down the pyramid.
On the way out, we passed by life-size statues that demonstrate how locals made adobe bricks. We briefly browsed the small museum as well. The souvenir shop for me ain't worth the look unless you feel like paying more for merchandise that are cheaply priced elsewhere. Dining in at the highly acclaimed Restaurant Huaca Pucllana would have been a great way to cap off our visit, but we weren't up for shelling out $10-15 each for a meal. We had a rad time nonetheless.
Share
Tweet
This page was viewed times.