I briefly caught a glimpse of Christ The Redeemer, action figure sized, atop Corcovado mountain as our cab (which we snagged from the airport) careened through Brazil's hectic streets. Hubby and I sat quietly, baffled, still wondering how we got business class seats instead of the usual economy on our Lima-Rio De Janeiro flight. We were hurtling towards Rodoviária Novo Rio, Rio De Janeiro's interstate and international bus terminal, to catch a bus bound for our first destination in the country. Cabo Frio.
Forte Beach can kick Ipanema's arse!
Despite the snail pace traffic here and there, we reached the station in twenty five minutes. Brazil welcomed us with a drizzle, to our dismay. It was summer for crying out loud. The cab driver swiftly unloaded his trunk while I sprinted to the entrance, shielding our daughter Luna from the rain. Hubby single-handedly dragged three backpacks and one roller bag along puddles of murky water and left behind an annoyed driver who was expecting for a tip. Sorry Mr. Driver, the $30 cab ride downgraded our lunch from a churrasco meal to a street sold hotdog in a bun.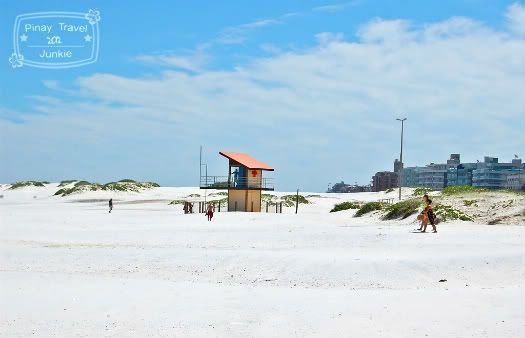 A lifeguard post manned by tan, oiled, hunky Brazilians.
We purchased our tickets for $20 each (pricey amount for a three-hour journey) and quickly headed to the departure area. Our bus was about to leave in fifteen minutes. After a sleepless red-eye flight we were happy to finally board, even though Luna didn't look dozy enough for a nap. We wanted to break away from hectic Rio De Janeiro as soon as possible, and we reckon getting acquainted with Brazil in a quaint setup will avert a rocky start.
Seriously played beach football. Steer away!
The bus dropped us off Cabo Frio's main bus station. Uncrowded, just the way we like it. We didn't have to jostle our way through a mosh pit of touts, in fact, we had a hard time finding a cab driver who'd take us to our hostel. And when we did, we were asked to pay a cheap rate. A fifteen-minute ride brought us to our accommodation, Central Hostel. We were greeted by a receptionist who didn't speak a single English word, hence we sorted out our accommodation through elaborate pantomiming which the receptionist gamely reciprocated. I actually memorized a bunch of handy Portuguese phrases, but unlike Spanish, I couldn't make out the words when spoken by Brazilians (it must be that drunken slur accent).
About to surf the afternoon waves.
Our stomachs growled as we whiffed what's left of that morn's free buffet brekkie for guests. Our famished selves couldn't wait any longer. We merely dropped our luggage in the room and headed out, passing by the receptionist who hand-gestured the location of the beach and nearby restaurants. Our search for cheap street food led us to Cabo Frio's Forte Beach, locally called Praia Do Forte.
Order $17 worth of food and drinks, and you can hire one of these umbrellas.
I'm usually not drawn to crowded beaches but Brazil's coast is an exception. Here, beach life in itself is a different kind of culture. And people watching is an activity that's favored over any other water sport. Besides, Forte Beach's sand is powdery and blinding white. I couldn't resist the temptation of wriggling my toes in. That Sunday noon, all for-hire umbrellas were taken. And tons of weekenders who anticipated this lugged their own umbrellas and chairs (worth the hassle since they laze on the beach for hours and hours and hours).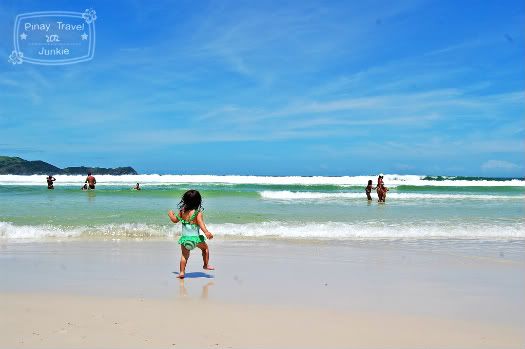 Submitting to the sea. This stubborn tot never looked back. Not even once.
More people were on the shore than in the water, beer in hand (no SLR in the other), just watching the day go by. Occasionally calling out to peddlers selling seafood snacks. Even with the fierce sun heaps of locals slather their bods with oil instead of sunscreen, cause it looks uhm, hot. Men proudly wore trunks, and their muscles flexed with every little thing they did. And yes, women in various shapes and sizes modeled Brazil's renowned thong bikini. I could see why the country's perfect for
singles holidays
.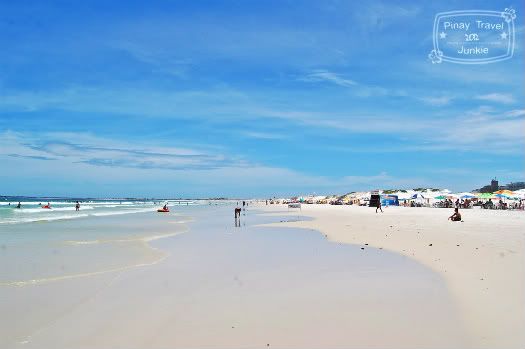 Pardon the title if you actually expected thong photos here.
We felt overdressed in our shorts and singlets. But we didn't feel the need to rush back at the hostel to change in our swimmers, because we were to stay there for four days. The Atlantic Ocean can wait. First order of business was beer. And so was the second and third. We totally forgot about lunch.
How to get to Cabo Frio from Rio De Janeiro:
Buses bound for Cabo Frio depart at Rodoviária Novo Rio. Tickets may be purchased at the station, schedule of trips available
on this site
(you could also buy tickets here). If you're coming from the airport, a cab ride is about $30. There are no direct buses from the airport to Novo Rio.
Trip from Rio De Janeiro to Cabo Frio takes 2-3 hours. Ask the driver to drop you off at Cabo Frio's bus terminal. There's a cab queue just outside. From the terminal it's a 15-20 minute ride to the municipality's center. If meter's not used, $5-7 is a reasonable price to pay.
Pin It
Share
Tweet
This page was viewed times.