How long have you been around? Long enough to sniff that what's mostly penned here is about this awesome thing called world, and rarely about the deep sentiments of that Pinay travel junkie who inches her way around it? Perhaps you don't give a damn, and well, I don't either. But you see, 265 days into our round-the-world trip, I'm feeling rather nostalgic. Bordering emo. Recently, for four days we traipsed around quaint Moroccan desert towns - With no status updates. No Tweets. Just the barren expanse and our thoughts.
I felt pure mirth. And contentment.
"If evolution really works, how come mothers only have two hands?"

~ Milton Berle (Sahara Desert, Morocco)
"You're living THE life!", some people remarked on our social networking accounts. At least, an ideal life for a vagabond. Probably we really are, but I assure you we've earned it the hard way. Every phase of my earlier backpacking years led me to where I am now. All the travel mishaps and heartbreaks molded me into a tougher backpacker chick who's ready to take on the world.
Join me on my jaunt down memory lane and you'll see how.
Clueless
When I was in college, a nasty split made me sign up for the outdoor organization. It's something I was long deprived of, because the ex disapproved. Yes, back then I followed commands. But soon after I was unleashed from my longest exclusive-dating relationship ever, I followed my heart.
Doing the "connection cave" in Sagada about a decade ago. A

joe

hot on my trail. Must be those denim shorts.
With borrowed hiking sandals and a borrowed backpack (plus P1,500 in my pocket) I invited myself to their Sagada trip. They welcomed me with open arms, and introduced to me the muddy yet awesome world of trekking. I got acquainted with my adventurous side. Also, I garnered a new set of unpretentious pals... And a foreign admirer.
Dazed And Confused
It was sort of my rock n' roll era. I was in my early 20s, and the beach to me was synonymous to swimming in copious amounts of alcohol, not swimming in the sea. I used to visit party central Puerto Galera on every vacation leave, and sometimes even on an ordinary weekend.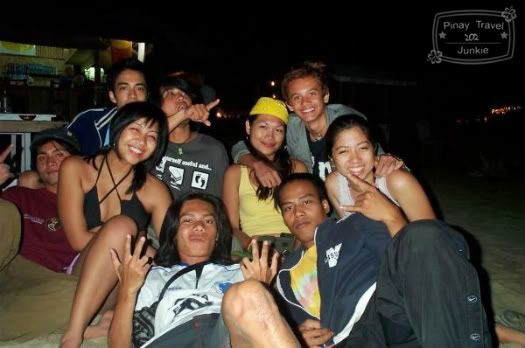 A gazillion Mindoro Slings after, almost passing out on the sand. With strangers who became my friends, most of whom are now globe trotters too.
Evenings were spent bootyshakin' with
trannies
or skanking with dreadheads by the reggae bar. Or swaying to djembe beats in front of the bonfire. Whatever it was, sure as hell I'd end up heavily inebriated. I had ugly nightcaps that consisted of toilet hugs and/or bar fights. Don't get me wrong, I still consider those the good ol' untroubled days but I hated the feeling of emptiness I had every time I was home bound. I longed for... Cheesiness ahead... A more meaningful life.
Soul Searched
Like a junkie who submitted to rehab, I was admitted to a new outdoor group whose members were weekday yuppies and weekend nomads. All of whom, except one, I met for the first time on their Maricaban Island camping trip. I had a royal welcome, meaning, I was provided a tent just for myself.
Once more, I surrounded myself with people who sought refuge in the mountains and on remote beaches. Maricaban Island, Batangas.
I fell in love with nature more than ever. I reclaimed inner peace, which I kept in my grasp during trips thereafter. My unsatisfiable hunger for new experiences forced me out of my comfort zone, and I eventually morphed into the suicidal solo backpacker.
Room For Two
The solo backpacking period was short-lived for I found a possessive backpacking buddy. And this buddy became my fiance after he said yes to the theatrical marriage proposal I did on stage a now defunct famous reggae joint in the Philippines. That guy was the admirer who followed me around Sagada five years back (yep, that's why I'm covering that pretty face).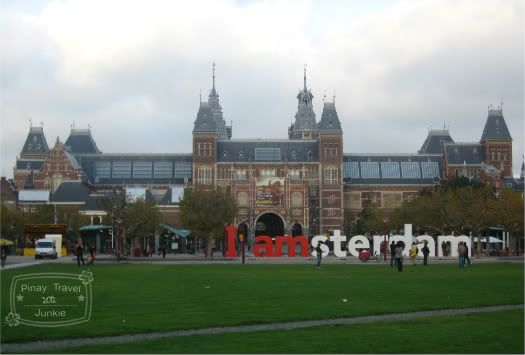 My fave hangout, park across Rijksmuseum.
I followed him to the Netherlands where he resides to meet his folks and see his world. It was my first time to travel overseas, and I experienced culture shock in a good way. The trip sparked my interest in visiting other foreign lands and immersing in different cultures. It also shattered my engagement into pieces.
Modern Day Hobo
I came. I saw. I conquered. I got broke.
Approaching my thirties, I was still working odd jobs, just long enough to fund the next trip within my home country. But when I craved for journeys to distant countries that require long-haul flights, I tried my luck being an overseas Filipino worker. It was the only way to finance my vice.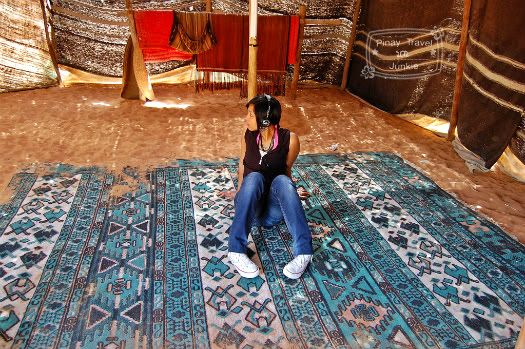 Abu Dhabi Heritage Village, making the most out of my one day per week off.
I worked as a receptionist for a hotel in U.A.E. and lived in a house with fellow Pinay workers. While I saved up my salary for the round-the-world trip I was planning that time, they sent most of theirs to families back home. I sent cash to my 'rents too, but not as much as they did. It was a humbling experience.
It was also in the desert that I met my sole mate. I gave romance on the road another try. We simultaneously quit our jobs to do backpacking together in Southeast Asia. Consequently I shelved my solo RTW plan.
That Excess Emotional Baggage
Within just nine months of dating, my sole mate proposed. We got hitched a little over three months of engagement, and I got knocked up just weeks into our married life. It was a darn frenetic year. And along the way, I realized my spirit was no longer free. Though it ain't chained either. More like, grounded.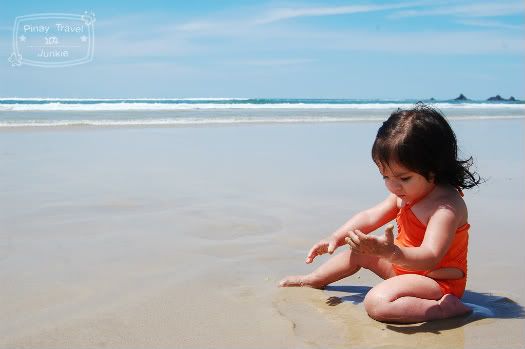 Luna, our little globe crawler. It's her turn now. New South Wales, Australia.
Because I couldn't (and will never ever) give up backpacking, we traveled with our newborn in tow. But as you could imagine, our needs have evolved. There may be certain restrictions when traveling with a baby, but there are valuable lessons us parents learn as well during this process.
Freedom, turn here -> Travel (Walk this way and you'll never be the same again.)
Like selflessness. Let me tell you, the joy we see in our daughter's eyes is simply... As that credit card ad goes... Priceless. I am now a full-blown backpacking mum. And though I lost a part of my carefree self, I don't really mind. Because in retrospect, I lived and am still living an awesome life. Travel made me an accomplished person (at least to my standards) I never thought I'd become, and it taught me finally what a meaningful life is.
This is Pinay Travel Junkie's entry to the Pinoy Travel Bloggers' March 2012 Blog Carnival themed "Leap of Faith: When Travelling Changed My Life".

To be hosted by Reiza of Wander If You Must.
Pin It
Share
Tweet
This page was viewed times.