As I emerged from Ciudad de México's Zócalo Metro Station, my eyes were instantly drawn to the monolithic Metropolitan Cathedral or
Catedral Metropolitana
across Plaza de la Constitución. I panted as I climbed the last steps of the staircase, and occasionally bumped into fellow commuters who rushed past. Luna, whom I was lugging, didn't seem to mind the chaos. Hubby on the other hand, looked dazed as he puffed his way up the crowded stairs while dragging the stroller.
Finally after three days of locking ourselves in the
guesthouse since we landed on Mexican soil
, we ditched our respective jobs for a few hours to see the city. Or at least, a miniscule portion of it. Our taxiless trip from the guesthouse to the zócalo (main plaza) required us a twenty-minute walk, and a metro train ride that passed through four stations. Not exactly the most convenient way to go, but only cost us 3 MXN (Mexican peso) each.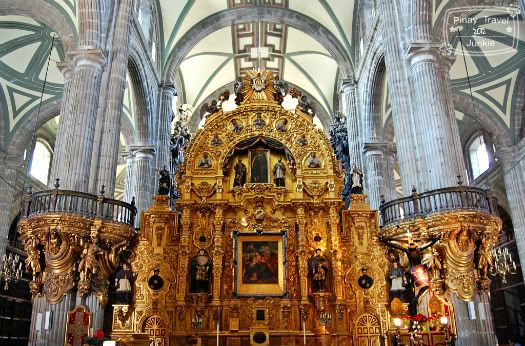 I surveyed the familiar vista. The scene exuded a Quiapo Church vibe, sans the hawked mysterious herbal medicines. We weaved our way through bystanders and peddlers selling the randomest merchandise, until we made it to the entrance of the cathedral. I was amazed by the scale of them all: The pillars, altars, paintings and sculptures. What I uttered next was perhaps the most apt phrase for this kind of situation,
"Oh my God!"
.
It wasn't as crowded as I imagined, and a fourth of the visitors were foreign tourists snapping shots with their ginormous cameras. The Metropolitan Cathedral is the largest in the Americas and was built for more than two hundred years in sections. This baroque structure houses impressive functional art similar (if not more grandiose) to other magnificent churches'. However, it also withholds a rather dark past.
The cathedral sits on the ancient Aztec city of Tenochtitlán, which Spain conquered and colonized. During ancient times, the Spanish would construct their churches atop the natives' temples or sacred ground to represent their power over the land (it was also common practice to use the destroyed temple's stones in building the new church). Death awaited the natives who resisted. Quite a harrowing tale, don't you think?
But the cathedral's glitz may not remind you of that. It will instead, mesmerize. And that's what it did to us as we walked down its aisles and round the corners. We spent a significant time sitting on the pews too, just to take all that awesomeness in.
After an hour of rare solemnity, we exited the cathedral's main portal and were greeted once again by disquietude. Our feet led us to the next stop, Palacio Nacional.
Share
Tweet
This page was viewed times.