Breaking News: Mexico overthrew India off its top spot on our fave foreign destinations list. India now places second. What catalyzed such order is the fact that we spent a whole month exploring six states in Mexico, while we only allocated eight days for one state in India. I'd like to think that India will reclaim its throne once we see more of it, however I got a fearless forecast that it could already be improbable.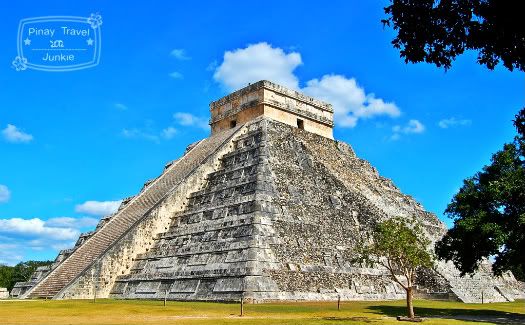 The iconic Chichén Itzá, Yucatán.
What's not to love? Impressive colonial buildings, perfectly restored ruins, megadiverse jungles, orgasmic dishes (a choco-chili sauce will tickle anyone's taste buds!), and the lovely people. Mexico's family oriented culture is a setup all too familiar to me, it reminded me of home. More so, not a single time were we ripped off. And unexpectedly, I felt more safe strolling on most of its streets in the wee hours than on Taft Avenue during early eve. It made me wonder where media picked up Mexico's scary reputation.
Metropolitan Cathedral of the Assumption of Mary, Ciudad De Mexico.
Mexico for the Pinoy backpacker:
Unfortunately, for Filipinos, it's quite a challenge to reach this part of the globe. The cheapest round-trip ticket you could score, if booked about three months in advance, is tagged at $1,900 (that's probably half the annual income of a call center representative - not so bad ei?). Less if it's on a rare seat sale. Add to that the pesky visa application which you could read more about
here
. Fortunately for us, we flew to Mexico as a work perk. And I didn't apply for a visa because U.S. visa holders can get in the country without prior application and could stay up to 180 days.
Hierve El Agua's

Petrified Waterfalls

, Oaxaca.
Crunching numbers. How cheap is cheap?
"Cheap" as we all know, is relative. As a Filipino backpacker, Mexico for me is definitely not dirt cheap, but affordable. Budget dorms in major cities start at 140 MXN (P465) per person, and double rooms at 350 MXN (P1,160). Water bought from a street store is 7 MXN for 1.5 L (P23), taco from a kiosk is also 7 MXN each. When dining in, taco prices could start at 10 MXN (P33), depends on what stuff are on them.
Platillos Especiales
cost 70 MXN (P230), already good for two people. Soda 12 MXN (P40) for a bottle in restaurants, and cerveza is 20 MXN (P66). Admission fees to museums and archaeological sites range from 50 to 200 MXN.
Palacio De Justicia, Puebla.
Getting around:
Getting to and from the airport is easy and inexpensive for there is a Metro station servicing it. A Metro ride is only 3 MXN (P10), includes transfer of lines. If you got loads of luggage, you could snag a taxi from one of the counters just outside the arrivals area. This ride's pricey (we paid 170 MXN or P563 for a 20-minute trip), but safe. We didn't get the chance to try the micro buses, for we hailed street taxis instead (sadly we weren't able to hop on a Volkswagen Beetle cab). Luckily, most of the taxis we took used meters. And even if they didn't, the rates offered to us were reasonable, say 50 MXN (P166) for 5 kilometers during rush hour. Long distance buses ate a huge chunk off our budget though, mainly because we entrusted ADO with our lives (some of its tickets cost the same as a Manila-Kota Kinabalu flight).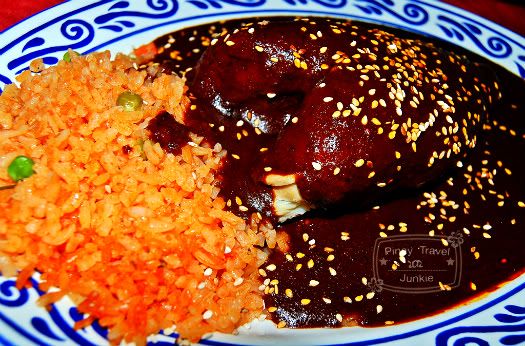 We expected tacos and quesadillas, but not chocolate-tinged Mole Poblano.
Mexican munchies:
Mexican food and I got off to a rocky start. The first meal we had upon arrival was some bland seafood paella. But was it really bland or was it because until that moment, I hadn't eaten
authentic paella
? The restaurant seemed popular to locals (who ordered the same dish too), so surely they're not serving unappetizing food? The tacos tasted different as well, but in a good way. It's got fewer ingredients than what we're used to: Freshly made tortilla, meat just dashed with salt, string cheese (if it's a fancy kiosk), cilantro, chopped onions, and the optional salsa or guacamole. And oh, squeezed lime. There's a separate post that will mainly tackle Mexican food, should come your way soon. Warning: Might rave heaps about mole poblano. Marriage between chocolate and meat is ingenious!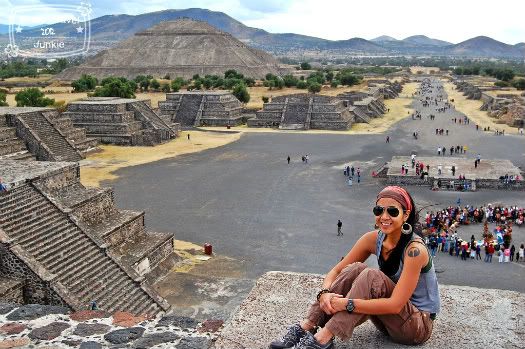 Teotihuacán, atop Pirámide de la Luna.
Talk the talk:
Pañal, leche en polvo, toallita para bebe (diaper, milk powder, baby wipes) are amongst the Spanish words I looked up prior our trip (yep I'm obviously a backpacker mum). It may surprise you that even in Mexico's major cities, English ain't commonly used but Mexicans are generally patient with uhm, foreigners' sign language. I found it easy to communicate our way around because thankfully Tagalog still has tons of Spanish words. Come armed with a handful of phrases, the Mexicans totally appreciate it.
There you have it folks, Mexico in a mini wrap. I hope this serving has whetted your appetite and encouraged you to plan your visit, because really... I believe you, my fellow Pinoy, can.
Share
Tweet
This page was viewed times.