As of writing, Filipinos can visit Brazil for 90 days without applying for a visa beforehand. So I expect to sashay through Galeão–Antonio Carlos Jobim International Airport's immigration counter without hassle about a couple of weeks from now. Awesome ain't it? The hubby and our daughter though, as Australians, applied for the tourist visa. If you happen to be in Peru and are looking into applying for a Brazil tourist visa (and frustrated cause you can't seem to find decent information online), then you've arrived at the right cyber space.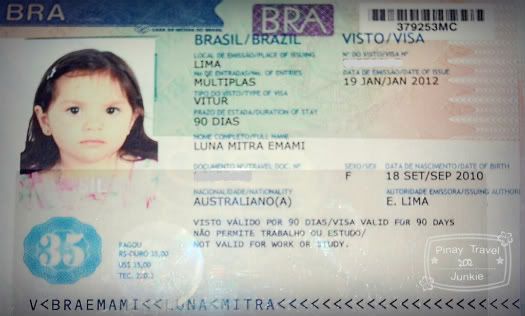 Requirements for tourist visa application:
1. Passport, which should be valid for a minimum of six months from the date of intended arrival in Brazil. Should have one page that's free of stamps.
2. Filled out/printed application form which could be downloaded
here
.
3. One recently taken passport size photograph (with plain white background). Should be attached on the visa application form.
4. A copy of round trip/onward ticket or copy of your itinerary (we submitted onward tickets and a copy of our hotel booking confirmation).
5. Copy of applicant's credit card. Bring original card in case consular officer asks for it.
6. Depending on your case, officer may ask for additional documents. We presented our daughter's birth certificate as well to prove that she's traveling with her parents.
7. Payment receipt from the bank. Tourist visa fee is $35 which must be paid at HSBC Bank Peru along Av. Jose Pardo (same street as the embassy's, just a few blocks away).
Application day, Embaixada Do Brasil
:
1. Submission of documents can only be done in the morning, from 8:15 AM to 12:00 noon. The embassy is located in Miraflores (an affluent district swarmed by backpackers), Av. Jose Pardo 850, just walking distance from Parque Kennedy.
2. Hand in the application form, documents, and payment receipt at the counter. The embassy wasn't hectic when we applied on a Monday. You will then be given a claim stub. The visa processing usually takes four to five business days. Release of visa and documents is done in the afternoon, 3:30 to 4:30.
So there you go! Now prepare your skimpy suit for days of frolicking on the beaches of Copacabana or Ipanema, or doing the samba at the Carnaval!
Share
Tweet
This page was viewed times.