It has been a couple of weeks since TACA Airlines swooped us from Mexico City, Mexico and safely delivered us to Lima, Peru. Two weeks?! We can't believe it either. Cancun still feels like yesterday, and the aftertaste of taco al pastor still lingers on our tasted buds.
We are currently shacking in the cheapest hostal we found so far this
round-the-world trip
in Arequipa City, a 16 to 18-hour southbound bus ride from Lima (and more than 2,000 meters above sea level). As I lay on our dingy, seemingly unwashed sheets, I flip through the pages of our Lonely Planet South America On A Shoestring in search of
economico
accommodations in Puno where we're heading tomorrow.
Until this day, I am overwhelmed by the fact that we are actually using it as reference. You see, the hubby gave it as a wedding present to me. I remember feeling elated when I tore off its gift wrapper and found out what it was.
But
, I never assumed that we will actually explore South America someday. I just thought that it is, nonetheless, an awesome addition to my pile of dust-collecting paperbacks.
"A beat-up old car, a few dollars in the pocket, and a sense of adventure."

Snapshot from Lonely Planet.
I guess you could say that I am quite obsessed with Lonely Planet's story (I became so after reading the autobiography). In case you don't know yet, the founders of this company is a married couple. Tony and Maureen Wheeler did an overland Europe-Asia-Australia trip (among the countries they crossed were Iran, Afghanistan and Pakistan) for their honeymoon in 1972 to get rid of the travel bug before "settling down".
During the 1970s, as you could imagine, information was scant. After that epic trip, a light bulb moment led to the production of their very first guide,
Across Asia On The Cheap
(which by the way they typed and stapled themselves at that time). Its success brought forth the establishment of Lonely Planet Publishing (its name came from
misheard

Space Captain

lyrics
which should have been "lovely planet", but Tony thought it was "lonely planet"), and a second guidebook,
Southeast Asia On A Shoestring
. Currently, it's the largest travel guide book publisher in the world! I reckon we all know that.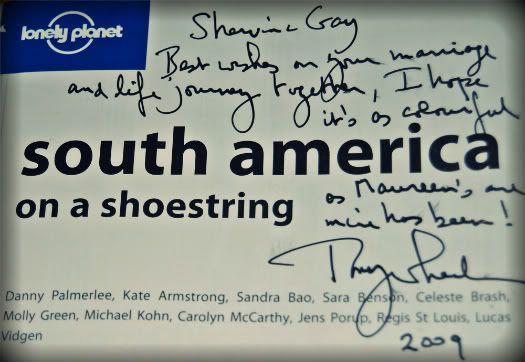 "Shervin & Gay, Best wishes on your marriage and life journey together, I hope it's as colorful as Maureen's and mine had been!"

- Tony Wheeler 2009.
Now let's go back to that guide book of mine. Hubby initially didn't plan to purchase that particular copy. Months prior our wedding, he contacted Lonely Planet's headquarters in Melbourne, Australia and asked for a message from either Tony or Maureen. Surprisingly they replied, and hubby was instructed to order one of the books so Tony could write a short note on it for me. South America On A Shoestring was sort of a random choice.
It was so fortunate that the staff was able to get hold of jet-setting Tony for a quick scribble. It may be a mere autograph for him, but for me, it's a lifelong inspiration.
Share
Tweet
This page was viewed times.