Despite the algid New South Wales spring eve, my palms were sweaty. I peered into the darkness and took a deep breath. After a tenth glance at the rear-view and side mirror, I finally mustered enough guts to step on the pedal.
It had been five years since I was last on the wheel. I'd like to think I
was
a good driver for I frequently drove from Manila to Mariveles and back (about five hours each way) two to three times a week for work. I used to be a "Sales Engineer" for a construction company, and back then, one of my top clients was situated there.
But hey, five years is a really long time. And may I add, I had never driven overseas (I ain't even entirely sure if I'm allowed to drive in Australia with just a Philippine license)
and
on the left side of the road, so you could imagine how terrified I was that night.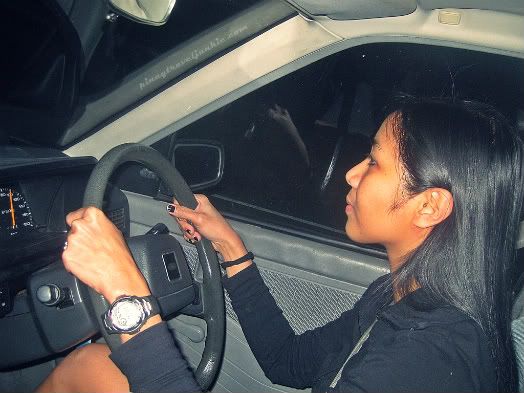 Taking over. Gripping the wheel oh so tight.
We were on our way to a
Suffolk Park
, a quaint suburb south of famous hippie town Byron Bay, where we'll be staying for six weeks in a caravan park. About every minute, a vehicle or two zoomed past our beat up, borrowed car which we named
Gumby
(simply because it resembles the hue of this peculiar clay character).
Suffice it to say that, Pacific Highway at that time was far from bustling. This gave me courage. To the hubby's surprise, I kept my foot on the accelerator until I reached the speed limit. Like a kid reunited with his bike after ages, I got my groove back in a breeze.
Almost an hour into my driving, I noticed the fuel gauge indicating that Gumby's almost out. I found it odd for it showed that my tank's half filled just a few minutes back (this taught us not to trust an aging, $700 car). A quick consultation with our GPS device informed us that the next petrol station's a mere four kilometers away. This should have given us peace of mind, except, the
engine died right after
we checked the GPS.
Pouring petrol through a makeshift funnel made out of a disposable water bottle, which we cut up using my nipper.
I managed to let Gumby glide closer to the shoulder. The car broke down past a curve. In total darkness and with a 110 KPH limit imposed, this is most definitely a dangerous part of the highway to be in. In my head, I knew time is of the essence. I scrambled out of the car while Shervin took over the wheel, so he could whisk it out of harm's way. I
pushed the car by myself
with all my mortal might. And chakra.
Then we both started flagging zooming cars and trucks. It was frightening to leave Luna in the car by herself (it was too cold outside), but with Shervin wearing a black hoodie, I thought he might come off as a suspicious character to motorists. Our daughter weeped as she watched us from the backseat. Her sob, muffled.
In less than five minutes, a SUV pulled over a few meters ahead. While Shervin spoke to the driver, two more vehicles stopped by. I thanked the others and assured them that we're already taken cared of. The three men aboard the SUV are Pakistanis, and have been residents of Australia for years now. They didn't want Luna and I to be left by ourselves in the car so we all squeezed in theirs.
Free dinner from Good Samaritans: Pizza and Krispy Kreme doughnuts!
At the petrol station, we bought five liters of fuel in a can which should have been enough to take Gumby to the station so we could fill him up. Unfortunately, when we returned to our car and refueled it, it showed no response when we turned on the ignition. The Pakistanis had to make a second trip for another five-liter can. They let us wait in our car as we munched on Krispy Kreme Original Glazed Doughnuts(!) which they provided us.
It took them about half an hour to get back (we saw them miss our car, they did another lap through the nearest exit) With ten liters of fuel, at last, the car roared to life. Before leaving, they offered to keep an eye on us until we get close to the petrol station. They also gave us leftover pizza which we actually ate for dinner (uhm, aside from the doughnuts).
We bid farewell through our respective windows as we approached the turnoff.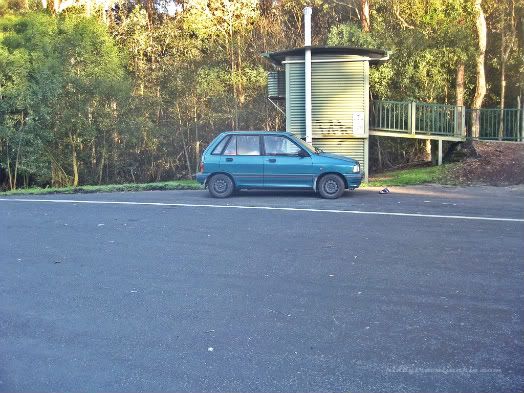 One-hour nap at a random rest stop.
The incident left me a bit rattled but not badly shaken. In fact, I offered to drive again and even stayed on the wheel from midnight until six in the morn. Shervin was able to take intermittent naps. Intermittent because I kept waking him up whenever an Optimus Prime (gigantic truck) tailed us (cause that seriously freaks me out) or I saw a roadkill on my path.
I almost ran over a kangaroo too, so I asked him to scan his side of the highway and warn me if he spots yet another suicidal one. Most species of kangaroos are nocturnal, hence they actively hop around and feed at night. It was my first time to see them in the wild, however I was not too stoked cause yah know, I never imagined playing
patintero
against them with our lives as bets.
Hubby and I never intended to do an all-nighter. In fact, we first agreed to spend the night in Newcastle. We ended up driving further and agreed to sleep in Port Macquarie instead. Changed our minds, drove further and agreed to finally retire in Coffs Harbour. None of these happened because our willingness to sacrifice for a few bucks (cheapest double room in a motel is priced at $60) outweighed the idea of giving our weary bones a break.
Well actually, we both did take an hour nap at some random rest stop, quarter past six in the morning. After which, reenergized Shervin was in charge of the wheel for the last time that ten-hour drive. Two hours later, we settled in
one of the most charming cabins
we've ever seen!
Tweet
Share
This page was viewed times.