Not as grandiose as Angkor Wat. Then again it's not a temple complex, but an ancient Sinhalese capital. So ancient in fact, that it is one of the oldest continuously inhabited cities on the planet.
Anuradhapura's underrated charm does not lure tons of flip-flopping, shindig-seeking gap packers. Instead, it beckons busloads of retirees and a handful of travelers whose idea of adventure may not necessarily include beer tasting around the world. Seven months ago, as new parents craving for tranquility, we belonged to the latter mob.
Rough Ride
A trustworthy tuktuk driver picked us up from our
Couchsurfing

host's home in Kandy
early morn and drove us to the bus terminal. The driver directed us to an air conditioned mini bus bound for Anuradhapura, which spared us from dealing with touts. We bought a bunch of samosas with mystery fillings for brekkie before hopping aboard. The bus was packed in a matter of minutes, and we rolled out of the frenetic terminal in no time.
Though the bus was full, the driver kept picking up passengers until we were sardine-packed. If you ain't claustrophobic, this bus can easily turn you into one. I pity the standing passengers who had nothing to cling onto. They toppled like dominoes on the aisle whenever the driver hits the brakes or does a daredevilesque overtaking stunt. This went on for
three hours
. I feared not only for our lives but also for the life of an infant on board. We were relieved Luna didn't join us for this trip.
Guide Named Wimala
Shervin and I obviously made it to our destination alive, but with a newly acquired phobia. We alighted at a random bus stop near the city center and headed straight to a food place for lunch. A stranger helped us order for there was no menu. This man named Wimala also offered to take us around the ruins since he's actually a tuktuk driver (surprise, surprise).
After finishing our meal of bland fried rice (well it's either that or a tear-jerking spicy curry dish), he took us to a cheap guesthouse (1,300 LKR or about $12 a night for a double room) called Lake View Tourist Guesthouse which despite its name does not have a view of some lake. We spent no second idling. After dropping off our backpacks, we asked Wimala to drive us to the old town, pronto.
The Ruins
Admission to the ruins will set you back $25. The ticket counter is located somewhere within the vast complex. Since there are several entry points, tuktuks aren't properly monitored. We didn't pass by the counter when we entered, but we paid the "ticket fee" to Wimala. Fishy ain't it? We didn't point this out however because he only charged 5,000 LKR or $45 for the two of us, and this rate included hiring his service for three hours.
He's well-equipped with information anyways. His impressive knowledge about his city's history made us feel that the money we shelled out was worth the tour. He lent us a brochure to browse as he took us to the following sites:
Isurumuniya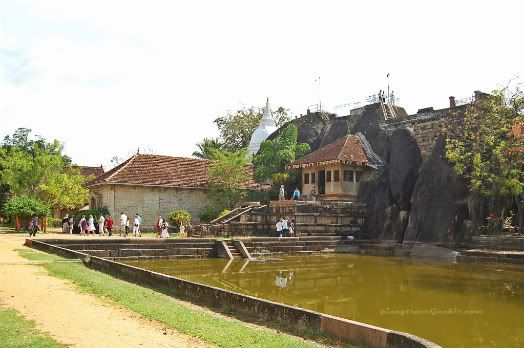 An old vihara (Buddhist monastery) where the
sacred tooth relic of Buddha in Kandy
was originally kept.
Mirisawetiya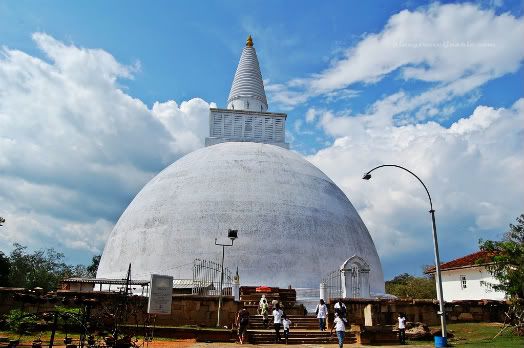 The first dagoba (a dome-shaped shrine that houses sacred relics) built by Great King Dutugamunu. It may not seem magnificent, but being more than 2,000 years old (though underwent several renovations), it is definitely an architectural marvel.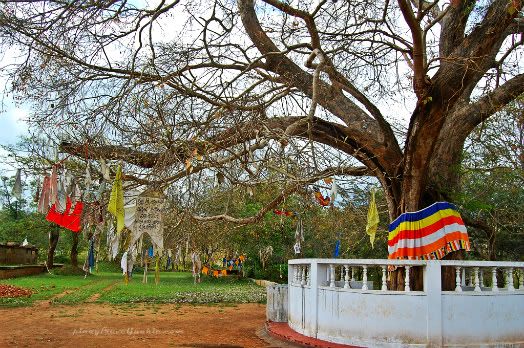 Not too distant from the dagoba is a tree with prayer flags hanging onto its branches.
Lankarama
A stupa built under the rule of King Valagamba. Pillars surrounding the stupa indicate that the structure was once roofed. It was originally Lankarama monastery's center.
As we left the dagoba, I looked up to the sky and saw rainclouds fast approaching. It was going to be a mad dash to the other sites.
Not-So Refreshingly Sri Lanka (and it's all my fault) Series:
Temple of The Tooth
The Kandy House
Not-So Refreshingly Sri Lanka
How To Apply For A Sri Lanka Tourist Visa In The Philippines
Tweet
Share
This page was viewed times.