The misty, winter morn progressed in a whirlwind. A pace that
overwhelmed my sleepless being
. I awkwardly joined the blithesome chatter amongst a wacky bunch of characters I just met that day. We're all winners of SEAIR Batanes Winter Bloggers' Tour Contest, and were on a road cruise around Batan Island.
Old Spanish Bridge. Journeying James taking a photo of us taking a photo of him.
My half-slumbering brain struggled as it ingested Batanes facts shared by our guide, Engr. Joseph Dy. Like schoolies on a field trip, every so often we hopped off the van to visit Batan's famous attractions. The first-timers' infectious enthusiasm kept me on my toes, and their constant chuckles kept me astir.
Bless and James lovin' the local kiddos.
After an obligatory snapshot at Ivana's welcome signage, we alighted on Ivana Bridge. Engr. Dy pointed at the Old Spanish Bridge (most likely the oldest in the province, functional to this day) across us. James sprinted towards it and the rest of us trudged after his footsteps. We found a couple of local kids crossing to the other side, who shyly posed for our cameras.
House Of Dakay.
Not distant from the bridge is the House Of Dakay, where we headed next. This traditional Ivatan house, one of the survivors of a 1918 earthquake, was named after its former owner Jose Dakay Estrella. Descendant Florestida Estrella, fondly called Lola Ida by everyone, is its lone occupant today.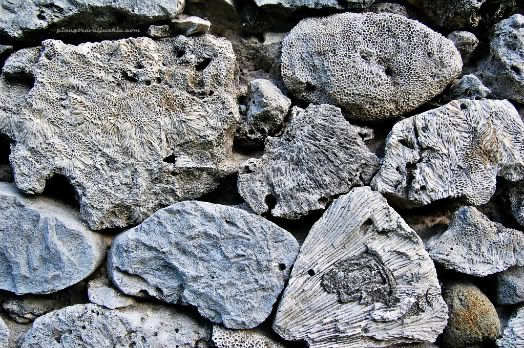 The house's exterior wall. Beautifully made with unpolished corals.
Though a bit sick, Lola Ida welcomed us in her humble abode. Her old age is depicted in her somewhat sluggish movement, but the glint in her eyes expressed a younger aura. Our party of seven fit comfortably in the teeny, sparsely furnished house. We gathered around her and sat on the floor, mimmicking the set of
Mga Kuwento ni Lola Basyang
sans granny's rocking chair.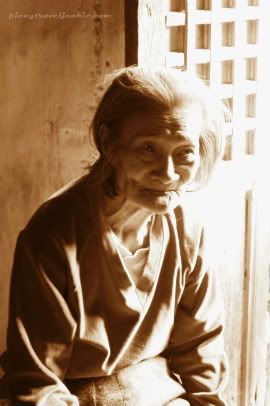 Lola Ida. Under the weather but on top of the world!
We listened to her recollection of the past, and how she lives her golden days in this renowned house. I must say, she herself is an attraction. How I wish we had more time to stay with her longer, but we had not even accomplished a quarter of our must see list (plus she was in dire need of rest anyway).
Sadly, we bid farewell much too soon. Lola Ida watched us walk back to our van. Her face, illuminated by faint rays, was perfectly framed by the antique window. A picture I was not able to capture with my camera, but is embedded in my mind.
Tweet
Share
This page was viewed times.