Waking up to the smell of fresh bread whether it's just been pulled out of the oven or fished from a frying pan, is my ideal morning (it used to be garlic fried rice but I guess that's the effect of constant displacement on me). Pair that with the aroma of brewed tea with milk, and I'm in brekkie heaven.
Our nostrils were beckoned.
Shervin and I emerged from our room, cautious not to disturb anyone slumbering. We were
couchsurfing
at a Sudanese's home in Madurai (one of the world's oldest continuously inhabited cities). Bakri, our host, offered us his bedroom. He, and his friends who came over the eve before for a PlayStation all-nighter, slept in the living area.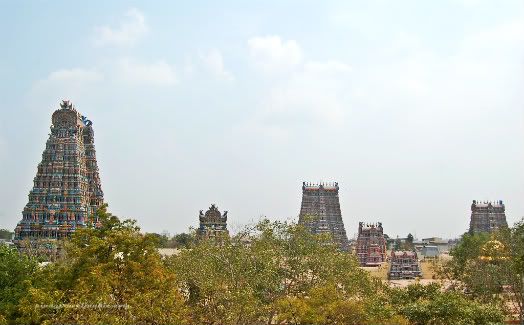 Meenakshi Amman Temple complex, view from a nearby shop's rooftop.
Surprisingly, at half past seven in the morning, everyone was up. We walked to the kitchen where we heard a hushed chatter. The entire gang was there, including the two Danish couchsurfers Thea and Camilla who were occupying Bakri's housemate's bedroom. We sat on the floor and joined the getting-to-know-you conversation.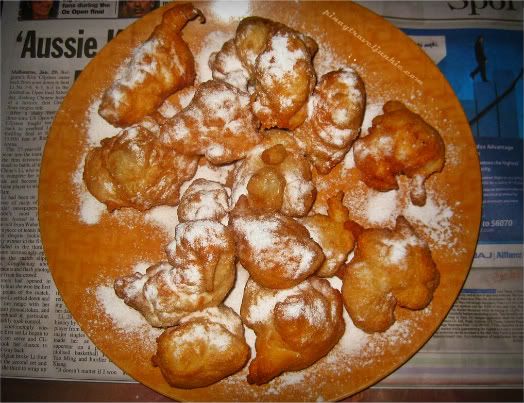 Sweet morning delight.
When Bakri finished working the stove, we all moved to the dining area and laid newspapers on the table to use as placemats. Us guests sat and excitedly waited for brekkie to be served. Our meal consisted of omelette with onions and a type of sweet Sudanese bread (pardon me Bakri if I keep forgetting the name) that's got a falafel texture, except it ain't made from fava beans nor chickpeas. Its texture also sorta resembles that of Lil Orbits Mini Donuts' (remember them?), except it's got the shape of an obese
que-kiam
. The whole bunch of bread was dusted with powdered sugar.
A backdrop depicting the old and the new.
Unmindful of the calorie and sucrose overload, all of us ate with much gusto (we needed heaps of energy anyway) while Bakri gave instructions on how to get to our destination via public transport. Soon after we finished our nth helping, we cleaned the table and grabbed our day packs. We headed to the bus station on foot, Bakri led the way.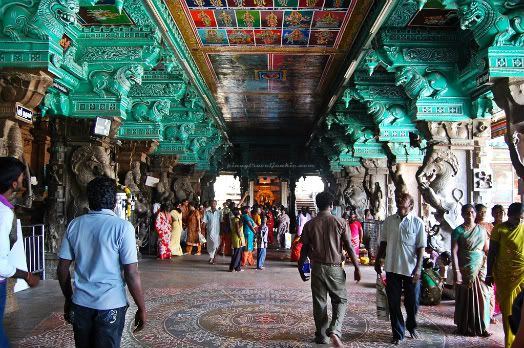 Herds and herds of pilgrims pouring into the halls.
Thea and Camilla agreed to join us for a couple of tourist spots. We bid farewell to our gracious host as we hopped on the bus. Our ride took almost twenty minutes, and only cost us 7 INR. The conductor gestured us to alight at our stop.
Approaching the temple complex, we were swarmed by touts and self-appointed guides. We managed to get rid of them except one. We let the most persistent guy who promised a "very nice view of temple from rooftop" lure us to The Museum Company, a shop that sells local textiles, furniture and trinkets. We were well aware of such scam, but curiosity got the better of us.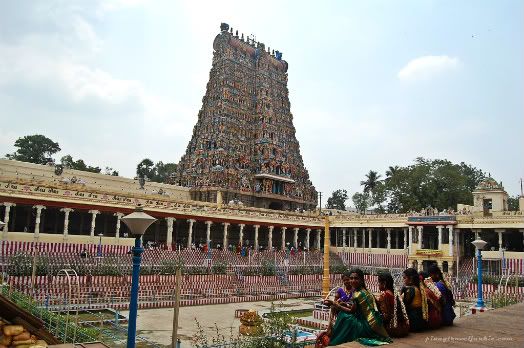 A dry Porthamarai Kulam (pond with the golden lotus).
The view from the rooftop of the three-storey shop, actually, didn't disappoint. And the shopkeeper didn't have to bug us with his sales pitch because Thea bought a decor to hang on a Christmas tree (she's collecting Christmas tree ornaments from around the world). I too purchased a couple of cheap stuff, a paper mache jewelry box for my grandma and a wooden bookmark for Luna to use someday. The shopkeeper's mood immediately changed from indifferent to giddy. He let us leave our shoes in the shop, and he lent Shervin a sarong to wrap around his legs for he was wearing shorts.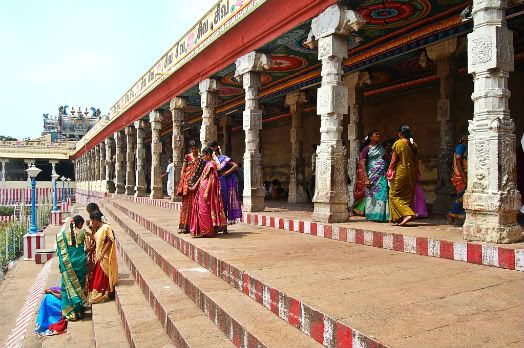 A parade of multihued saris.
Out of the shop and into the complex we went. At the gates, men and women separately passed through the guards, sometimes frisked. Bags were inspected. Visitors with ciggies were reminded not to smoke inside. Everyone should be barefoot beyond this point.
Meenakshi Amman Temple is a 16th century architectural marvel. Its twelve
gopurams
(gateway towers) are carved with a gamut of gods, goddesses and heavenly bodies. All of which, colorfully painted. Inside the temple complex, you'll find yourself in a labyrinth of halls with different shrines.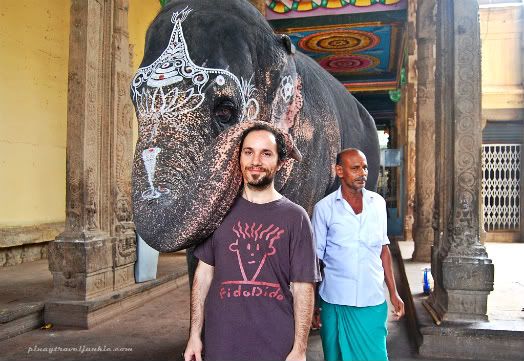 Even a robotics engineer with a smidgen of spirituality asked for an elephant blessing. For uhm, 10 INR.
Everywhere we turned, there were devotees praying. Or taking photos of us with their mobile phones. Locals smiled a whole lot, and we smiled back at each one of them. We felt more exhausted smiling than strolling along the vast expanse of the temple grounds.
My spiritual conquest failed due to the fact that we were never left alone. And poor tall-blonde-and-beautiful (and I bet Ms. Photogenic) Thea had to pose every so often, as requested by her admirers. We only lasted for an hour inside the complex.
A young lady rockin' my sunnies, which she borrowed after we were photographed together.
We searched with great difficulty for the exit. And ironically, found peace outside the walls. We sat to collect ourselves. I heaved a sigh. That was just the first of the four sights we're visiting for the day.
Thank You, India Series:
Aboard India's Modes of Transport
Arrival Turned Fans Day
Thank You, India
How To Apply For An India Tourist Visa In The Philippines
Tweet
Share
This page was viewed times.