Our four-wheel drive vehicle jounced along, raising dense clouds of russet dust in our wake. I hardly spoke to Shervin since we left U.A.E. University. Well, except for a few whispered one-liners. That trip exuded an uneasy vibe. The apathetic-bordering-hostile treatment I received made me feel almost unwelcome. Even though I felt like going home, the fearless Filipina in me persuaded me not to.
Nobody asked me to leave anyway...
The usual desert safari mishap.
Three years ago, when the hubby and I were still steadies, we joined a desert safari organized by a bunch of Emirati I.T. uni students. They invited their professors in U.A.E. University for a weekend day jaunt, and though Shervin was a research lab assistant, they asked him to come along as well.
They dubbed the event
"Family Day"
. And as its name suggested, the professors brought their families with them. Shervin and his Indian research lab partner Chandan turned up at the meeting place, a parking lot across one of the uni buildings, with Shervin's dad (who happened to be visiting from Iran) and me in tow.
First order of business, reducing tire pressure.
I counted about three other females. None of them older than ten. It dawned on me that
family day
in some (if not all) Middle East countries, basically pertains to the get together of the families' male members. And in this particular case, a few preadolescent daughters.
Families were grouped into four and were assigned respective 4x4s. Shervin, his dad and I were whisked to our vehicle and were introduced to the student on the wheel. And before driving out of the uni grounds, another student hopped in the passenger seat. He's uhm, the heir to the section of the desert we were visiting.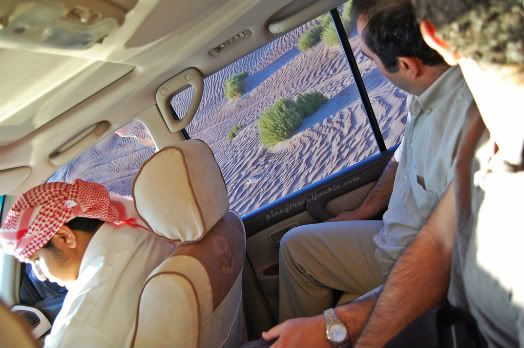 Shervin's dad clinging onto the door handle and his son's leg while the vehicle was tilted in a 45° angle, which I don't think can save him in case we flip over.
A few minutes into the ride, a ball of conversation rolled. I was excluded from the exchange of introductions. And I took that as a hint to remain silent. Cause you know, I'm not the type who'd say
"Ahem, ahem.

Ana Gay
(I am Gay).", without being asked. It kind of felt unfair because amongst the three of us non-Emiratis, I spoke the most Arabic words and phrases.
For a day, I was an interpreter. Actually more like, eavesdropper-slash-informer, for our hosts either spoke between themselves or on the phone with the other students driving.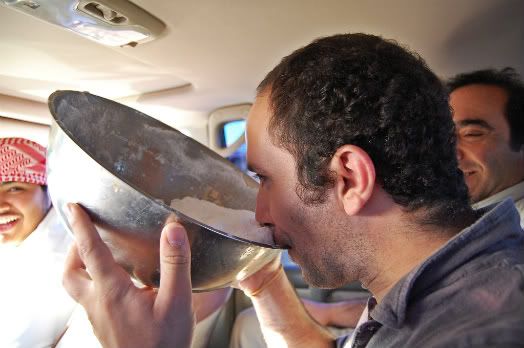 Milk freshly squeezed from the camel's bosom.
As soon as we screeched off the paved road and into the vast desert, the vehicles parked for tire pressure reduction. Such procedure shall give tires a bigger surface area, which helps reduce the downward pressure of the 4x4 on the sand. Nearby, Emirati lads who popped out of sandy nowhere and who were seemingly on an ATV race, paused to watch.
In a matter of minutes, we were bashing dunes. And it was more exhilarating than I expected. I suppressed the urge to shriek like a cowering passenger on a roller coaster, and held my newly purchased DSLR tight (yes, a fruit of my OFW stint). The wild ride lasted for almost half an hour. How exhausted I was from all that stress. Just imagine yourself on a roller coaster doing continuous rounds for the same amount of time, not entirely fun right?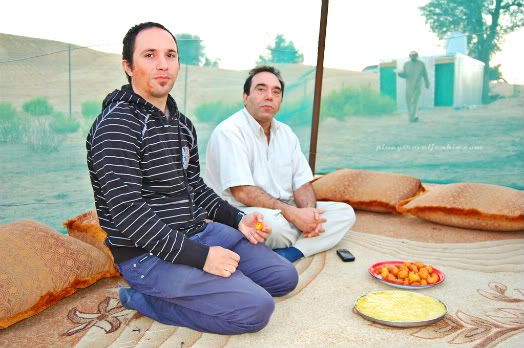 The corner where "the lady" was asked to sit in.
Sometime in the middle of the dune bashing and settling in the picnic area that was set for us, we passed by a mini camel farm where we had a taste of freshly squeezed camel milk. It didn't taste bad, but the foam on top of the milk smelt too camel-y. You know, that type of odor that reminds you of a farm, but not in a fond way.
Hence, I was looking forward to our late afternoon tea. I needed to shoo the memory of its scent away. But come tea time, I was not served tea. We assumed it was against their customs. So I munched on local pastries instead while the students and their professors prayed in the tent.
And it was all golden.
After which, they all joined us at the screen-fenced sitting area. One of the professors requested, "Can the lady please sit in the corner so we can extend the sitting room?". And so I did.
The students laid plastic sheets on the ground to serve as placemats for the gigantic platters of food. Each platter contained a mountain of fried rice, vegetables and
one whole roasted sheep
. The desert safari experience surely left everyone famished. As soon as the food hit the plastic mats, we all dug in. No individual plates, no cutlery. We ate with our hands in a communal platter, exactly how the former nomads did just a few decades ago. The Egyptian professor beside me offered the "best bits" and pulled ligaments here and there and chucked them to my side of the platter. So sweet.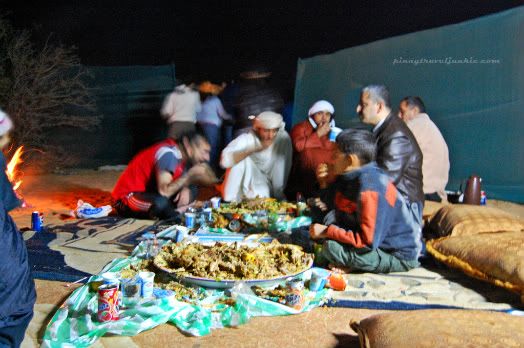 A blurry image I was initially fearful to take a snapshot of.
Tea was once again served as the diners concluded their meals. I was served tea this time and learned that the bloke probably just didn't feel like serving me. Emirati men are generally friendly (I know this oh so well for
I worked as a hotel receptionist in Al Ain
) but too prim when they're with the elders. This could also be the reason why they acted as if I didn't exist. A behavior so different from what I had gotten used to, like random Emiratis calling out
"Kamusta ganda"
(how are you beautiful)" to me as I strolled along deserted streets.
The water from the buckets in the makeshift comfort room was limited, and there was no soap. Shervin's dad's solution to our sticky fingers was to rub them in sand. It amazingly worked, though cannot get rid of the smell. And believe me, you would want to get rid of that.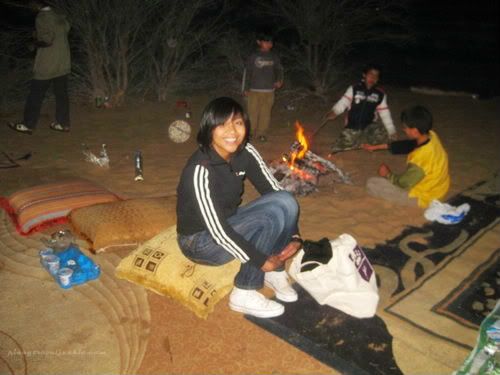 The happy, shiny gate crasher.
As the breeze became nippy, we clambered into our four-wheelers for the last time. The vehicles queued for a convoy. Finding one's way out of the desert is never an easy task, especially in total darkness.
No more dune bashing this time. Just a calm cruise toward the city lights.
Tweet
Share
This page was viewed times.