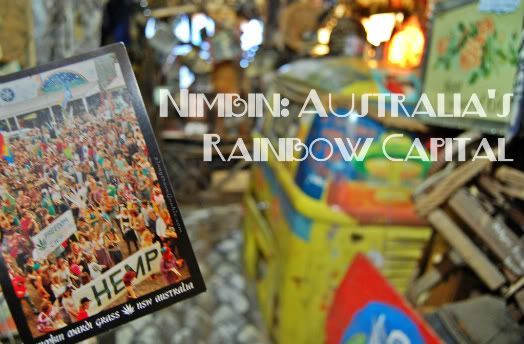 It's day 122 of our
our round-the-world trip
, and we're back in Gold Coast, Queensland. I am already missing Byron Bay, but I also missed (way more than expected) walking around a mall so that's what we did first thing yesterday at Surfers Paradise. In a week, we'll be heading to Sydney once again and will soon be flying out.
After a month of settling down in an awesome cabin by the beach, we now find intermittent relocation a bit daunting. And it's just gonna get crazier the following weeks, so we gotta brace ourselves. I got a ginormous surprise for you guys too (it's the reason why should be back in Sydney) but will unveil it at the right time.
Meanwhile, here's the next postcard for the
The Postard Project
. Photo taken inside Nimbin Museum. Nimbin is the capital of the "Rainbow Region" of Australia. It's even hippy-er than Byron Bay, and its a place where cannabis is part of the culture. Currently a very popular tourist attraction, not bad for a town that used to solely depend on dairy farming.
It's not too late to join! Email your address to gaye.emami@yahoo.com. Recipients are chosen via Random.org.
Tweet
Share
This page was viewed times.