He was missing when we all hobbled out of our beds. Despite slumping into a coma late, my father awoke early. He was suffering from a terrible case of diarrhea, acquired days before flying out of the Philippines, yet his meekly obedient feet submitted to the command of the travel bug in him. He wandered by himself at the crack of dawn.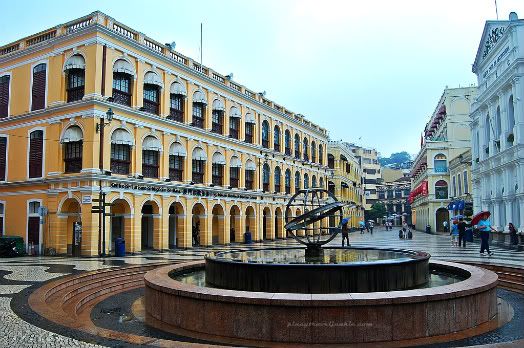 Rarely deserted Largo Do Senado. Early, rainy morn.
The whole family just flew in the night before (
remember how insane that went?
). We only had three days to explore as much of Macau as we could (which some would probably say is too long but I consider just enough), so we intended to start our day early. But you know, not when the world still barely exists. Like six in the morning in a place considered as a gambling capital.
Macau Business Tourism Centre
Also accustomed to her rural hometown's business hours, my mum felt like walking around too and dragged me out of the room to accompany her. I sluggishly strolled, following her footsteps. She was perplexed to see all the establishments on Rua da Felicidade closed, enjoyed nonetheless our peaceful saunter, except for my intermittent whining and in passing told-you-so comments.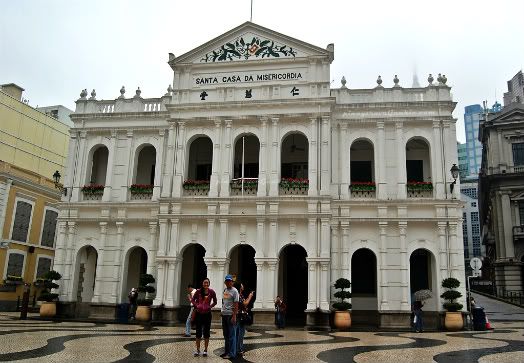 The closest they can get to Europe. For now.
My father was finally back from his lone rambling when we arrived at the hostel. And soon after the whole gang trooped to Largo Do Senado, just a few blocks away. First order of business, brekkie. After an unsatisfying dinner (at least for my parents) the night before, we ordered something familiar. Familiar with a twist. Like
Sausage and Egg Cheesy Tasty Pasta
at McDonald's. It's basically a burger patty and fried egg in
sopas
(macaroni soup), topped with cheese. It amazingly won my parents' approval. Won the approval of our pockets as well.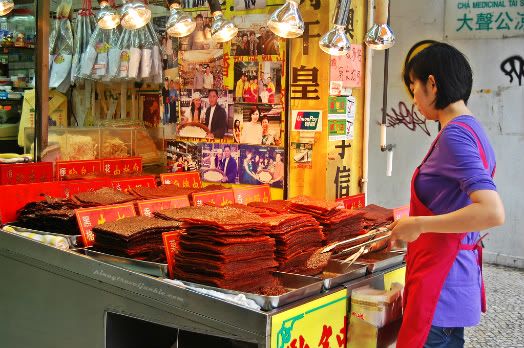 Beef jerky, a must-buy.
Armed with maps grabbed from the tourist information booth at the airport, we made our way to the Ruins of St. Paul's. With difficulty. Not because we got lost (alleys are clearly marked with directions) but because we had to pull our mum away from the shops. Our walk lasted for almost an hour. Mum entered every store along the way that offered free beef jerky tasting.
One of Macau's most famous landmarks.
I reckon she had more fun eating jerkies than being photographed in front of St. Paul's façade, for that was all she talked about while we were waiting for her more pumped up husband who climbed up the steel stairway to the top of the façade. And because of my mum's hour-long window shopping, we spent only a few minutes at this 16th century complex. We signalled our father who was poking his head out of the church's window to come down.
Isabella, one of the flicks filmed in Sanva Hospederia, where we stayed for a night. Saw its promo poster hanging on the wall of the hostel's lobby.
It was only ten. We went back to our hostel so we could check out. Time to move my folks to a better accommodation, something a couple of retirees (whose olden days bled one into the next) truly deserve.
Boy, were they in for a surprise.
Macau Series: Meet My Backpacking Folks
Meet My Backpacking Folks
Century-Old SanVa Hospederia
Tweet
Share
This page was viewed times.