"Dees ees your dream, ja? Aaktoberrfest.", his query was more of a confirmation.
"Uhm, ja. Very big dream.", I admitted, though a bit taken aback.
The crowd was raucous, I barely heard him. The air smelt of alcohol, roasted chicken and grilled sausages. Tent waitresses donning the dirndl sashayed up and down the aisles carrying six to eight gigantic mugs in one go. A band set a merry mood, and it didn't matter what they played. Cause you know, the inebriated kind of audience ain't picky at all.
Prost! Man, that mug weighs tons.
I confronted my aunt when her German boyfriend, Willi, left for the men's room. Apparently, she told him about my life-long (okay maybe not that long) obsession with Oktoberfest, and my dream of attending the real thing. But hey, that's not to say that the knock off event we got back home in and of itself isn't awesome.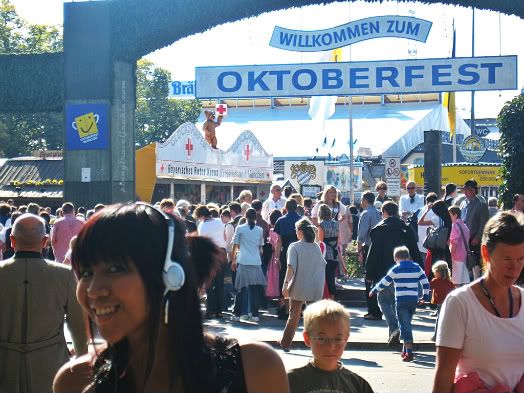 Somebody pinch me!
According to my aunt, he offered to drive even for four hours from their small town Zorn (where they took me in for a month) in Hessen to Munich just so I could fulfill this insane dream of mine. Not only that, so my aunt could witness such conspicuous annual event as well because she has never been to one even after fifteen years of residence in the country.
I'm totally sober. How many fingers? Three.
This was 2007. My first ever overseas trip that covered five countries in Europe, much thanks to my aunt who helped me shoulder some expenses after I spent my lifetime savings for a mere two weeks in Amsterdam.
For all I know that could be my first and last time to chug in an Oktoberfest tent, so yeah, I made the most out of our two-hour stay. Sorry to disappoint you (and pardon me if the title suggested it), but no hilarious accounts about drunkenness here for I only had a Maßkrug (one liter mug) of beer. That, and a humongous brezn (pretzel) were the only stuff I could afford anyway.
Let's all do the

Sha-la-la

! Did I not mention that the audience ain't picky at all?
This fest did not start as a marketing ploy of Munich breweries, but as a wedding 201 years ago. Crown Prince Ludwig married Princess Therese of Saxony-Hildburghausen in October, 1810 and Munich's locals were invited to the after party. The folks must have loved such shindig that they decided to make it an annual event, and well, the rest as they say is history. Fest starts from the latter half of September up to the first Sunday of October, and doesn't really reach the actual date of the wedding (12th) because the schedule was pushed earlier for a more congenial weather.
19th century statue, Bavaria.
Beer tents may be the main attraction, but the carnival rides and game booths draw heaps of visitors too. When we walked passed them, we already had our drinks. Hence, we had no intention to try the rides. I couldn't even begin to imagine what happens to those who get woozy from alcohol plus a ride on the dizzying Frisbee Carousel.
Amongst

Bierleichen

or beer corpses (passed out drunks).
Perhaps they also end up on the grassy clearing around the Bavaria statue (if they make it there at all) where everyone chooses to retire and sleep off their intoxication. And where we decided to lie down when my aunt's feet started getting blisters after walking the vast expanse of
Theresienwiese
(Oktoberfest field) in her high heeled boots.
Tweet
Share
This page was viewed times.