After an hour and a half long battle with nausea, I was defeated. For the first time in ages, I threw up in the bus. I could not even recall when was the last time such thing happened. Mind you, I've been on countless buses, boats and
even a habal-habal
when I had a baby bump last year. And every ride, I won the battle.
Suffice it to say that Naguilian Road could be a killer. That, or the maniacal bloke driving the bus.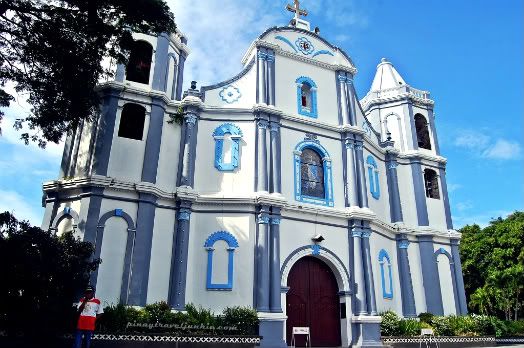 Shrine of Our Lady of Namacpacan in St. Catherine of Alexandria Church in Luna. A trike driver suddenly entered the frame and posed for me.
I am fond of weaving through the mountains, but not when the vehicle morphs into a roller coaster coach. Oh how I rejoiced when we finally alighted in San Juan, La Union. My equally dizzy hubby, who was lugging four-month old Luna, trudged alongside me.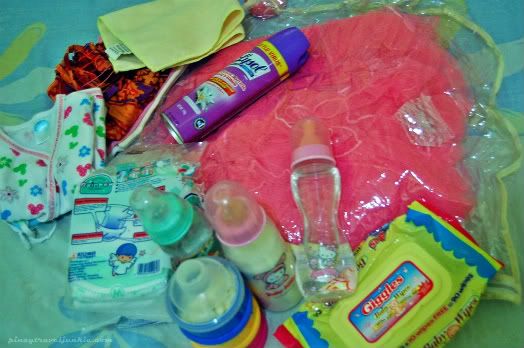 Geared up for traveling with an infant. My must-haves (aside from formula and nappies): Disinfectant and mosquito net.
We walked aimlessly for a couple of minutes. It was mid-January. After the hectic Yule season, we were looking forward to de-stressing
holidays
, away from the extended family and somewhere warm (we had been living in Baguio for almost three months). Because it was lean period, there was no need to book an accommodation.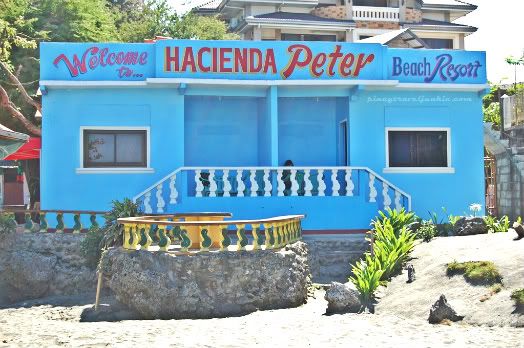 Hacienda Peter Beach Resort, home for a night.
Neither did I search for cheap options online. Our mindless feet led us to Hacienda Peter Beach Resort. Okay, we were actually on our way to the multihued Lola Nanny's Guesthouse, but was sidetracked and eventually lured by the cheery owner of the former. An P800 double fan room is not how I define cheap accommodation, but its beachfront location makes it a steal.
He-who-does-not-want-to-be-named-but-agreed-to-be-photographed.
The room, as expected, was basic but clean. The bed was inviting and could have been an aid in nursing my headache, but we got plans for the afternoon. An inquiry about public transportation to Luna paved the way for an opportunity to hitch a ride.
Owner:
Punta kayo ng Luna? Dun nyo ba ipinangalan anak nyo?
(You're heading to Luna? Was your baby named after that place?)
Me:
Opo, paano po pumunta dun? At hindi po dun galing pangalan ni Luna
(Yes, how do we get there? And no, she wasn't named after that place.)
Owner:
Sakay na lang kayo sa kanya (pointing at the guy she was seemingly doing business with). Papunta sya ng Ilocos Sur.
(Why don't you just hitch a ride with him? He's on his way to Ilocos Sur.)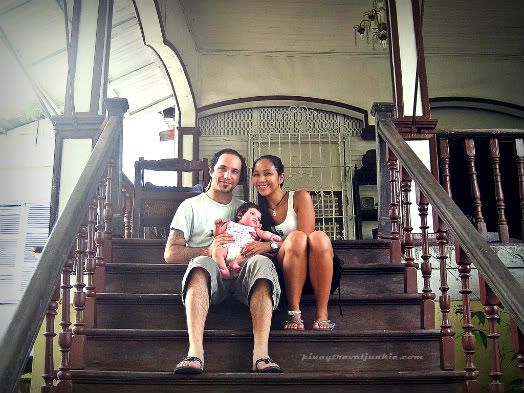 On the front steps of the Abad-Lopez ancestral house.
We didn't have to ask. Kuya, who sold fire extinguishers to San Juan resorts, offered us a lift. Stories were exchanged as soon as we hopped in his van. Kuya is a semi-retired businessman, buying and selling random stuff. And for some reason, he is particularly interested with our uhm, love story.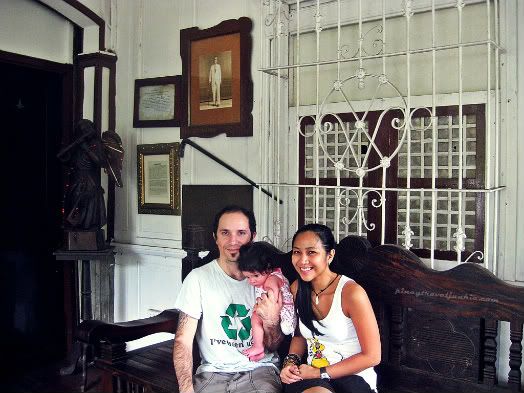 Kuya asked for my camera and directed us to pose here and there.
About fifteen minutes into our ride, like a true-blue hospitable Filipino, he invited us to his home. What are the odds of hitching a ride with someone who owns an ancestral house (which by the way ain't open to the public)? So of course we said yeah! Kuya happens to be part of the prominent Lopez-Abad clan of San Juan. And he was more than happy to show us their beautiful home.
The town's humble welcome.
The original house was built around 1885 and was remodeled to its present structure in 1951. Not only is the house old, also its furniture and interior decor. It was truly an honor to be guided by one of the owners himself. We had a grand time. And as if that wasn't enough act of kindness, instead of dropping us off the junction, he told us he'll take us all the way to our destination because Luna's asleep. He reasoned that a bumpy tricycle ride will wake her up.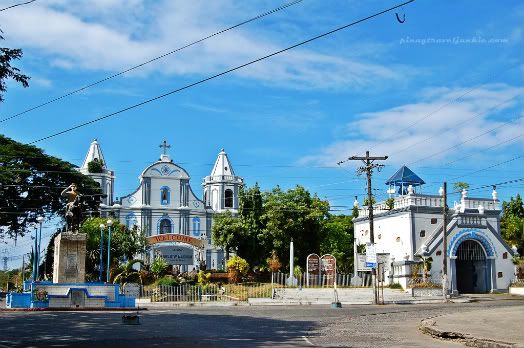 St. Catherine of Alexandria Church in the middle of Luna's town center.
He dropped us off in front of the church, and waved farewell as he drove away.
Joel
, a fellow blogger who was then on a
visita iglesia
(aiming to visit a million Northern Luzon churches in six days - okay just about thirty or something), popped out of nowhere and greeted us with his beaming smile. Together, we did a quick tour of the church.
Surprisingly massive, contradicting its unassuming facade.
The statue of the Blessed Virgin enshrined here was to be delivered by a galleon from Mexico to Vigan, Ilocos Sur. The galleon redirected to Luna because of uncooperative weather. The statue was temporarily placed in a convent near the church of Namacpacan (Namacpacan is the old name of the town, and was changed to Luna in honor of the Luna brothers) for a night. The next morning, it can no longer be moved and the Augustinian priests felt this was a sign for it to stay. Interesting story, ei?
Luna back in San Juan from our Luna visit.
After we got out of the church, we dined in a carinderia where I had the best
dinuguan
ever. My day progressed from bad to okay to awesome. It was only early afternoon, but already, the horrific bus ride that morning was a distant memory.
Tweet
Share
This page was viewed times.