To admit that we headed to San Francisco for the primary purpose of slurping and gobbling clam chowder in a sourdough bread bowl for lunch may cause a few raised eyebrows and exaggerated gasps... But uhm, it's the truth. Not to see the Golden Gate Bridge nor the cable cars, but to have that hearty concoction of seafood-y goodness.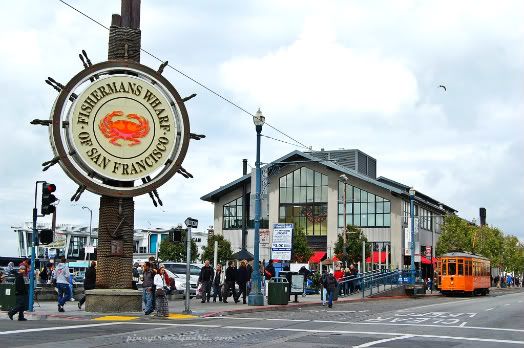 Overcast spring day in San Francisco.
For a non-foodie like the husband, it's something that he could scarcely fathom - but
was forced
agreed to do a sort of ridiculously long scenic drive from Sacramento to Los Angeles through San Francisco anyway so I'd shush. You see, that's what you call,
for the love of food
(and well, for the love of the wife).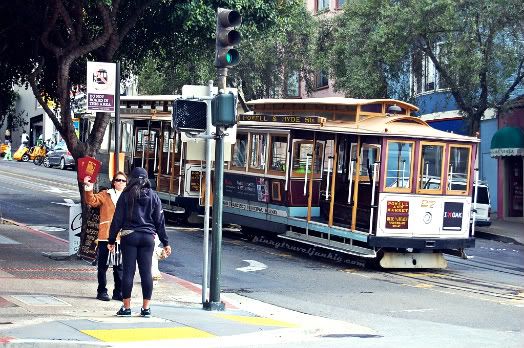 One of San Francisco's icons.
Earlier that morning, we were in Sacramento bidding a bittersweet goodbye to my Persian extended in-laws. We just spent a three-day
holiday
in their wonderful home. The hubby's cousin reaffirmed us as we hopped in our rented car that our decision to do a detour's nothing short of fantastic. We took off. And like tons of other tourists in the U.S., we entrusted our fate to the ingenious GPS.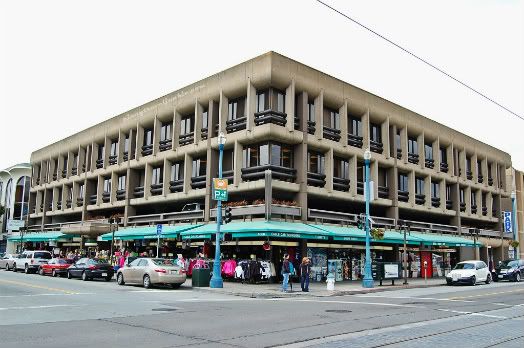 Souvenir shops aplenty near the wharf.
It didn't fail to take us to the destination we punched in. We amazingly found a parking slot not so distant from the wharf. After feeding coins to the parking meter, I seemingly drifted afloat, sniffing and tracing where the fishy aroma was coming from. Hubby, who defines "seafood" as canned tuna (and occasionally smoked salmon in a westernized sushi roll), didn't look like an enthusiastic chap. What I call fishy aroma, he calls fishy stench. And when I say clam chowder, he flinches.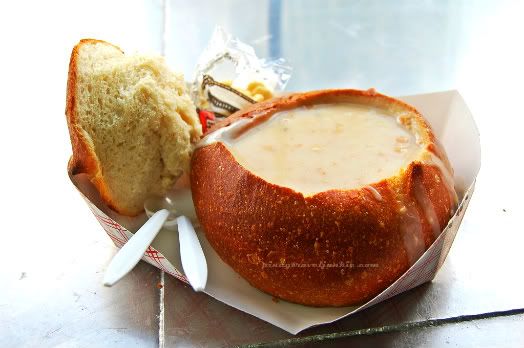 Hello, love.
My unleashed excitement and rumbling tummy made me buy the soup from the first seafood stand we saw. It was $5 a bread bowl. We found a small space on a table nearby which we shared with fellow die-hard seafood Asian fans. Because of the spring chill, the clam chowder was no longer piping hot when I slurped. But it didn't disappoint. It was flavorful, thick but smooth, and it's got heaps of clam flesh. I fed Luna (who thankfully at eight months old didn't show any allergic reaction to it), and eventually the hubby. And they both loved it!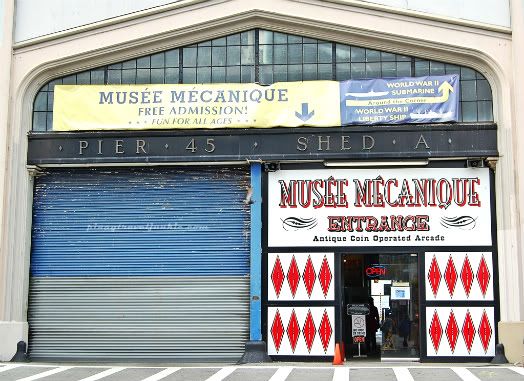 Musee Mecanique, or Mechanical Museum.
Soup was gone in a flash. The bread bowl, not so much for it was a bit stale. We lazily rambled around once we were done with our late lunch. Fisherman's Wharf is the home of San Francisco's fishing fleet, since the days of the Gold Rush. It's fascinating to know that descendants of the fishermen from that era could still be present and are engaged in the same livelihood.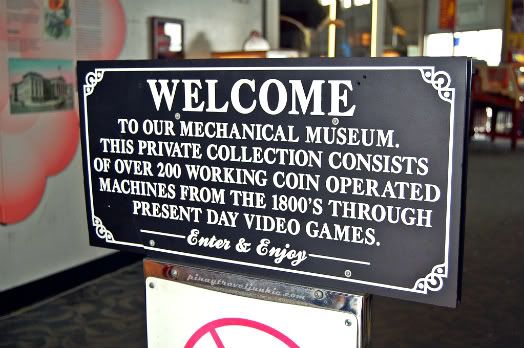 Awesome collection!
Since I got all these fish-y thoughts running in my head, stumbling upon the Mechanical Museum seemed odd to me. Perched on the edge of Pier 45, it just looked a bit too random for the area. Since the admission's free, we curiously stepped in.
Laughing Sal, terrified entertained kids and grown ups at Playland at the Beach from 1940-1972.
True to its description by the entrance, the collection's massive. I couldn't even begin pinpointing the ones that I liked because there were heaps of them. While some are cool, others are just plain creepy. Like Laughing Sal and The English Execution. We didn't spend our precious pennies on the machines though and chose to erm, wait for fellow tourists to insert coins in the slots, then watch.
Vintage photo booth.
However, we did pay for snapshots taken in an old photo booth. The cost was almost the same as the clam chowder we just had, but it's something I've always wanted to do since I was young. For fun, not for actual ID picture purposes.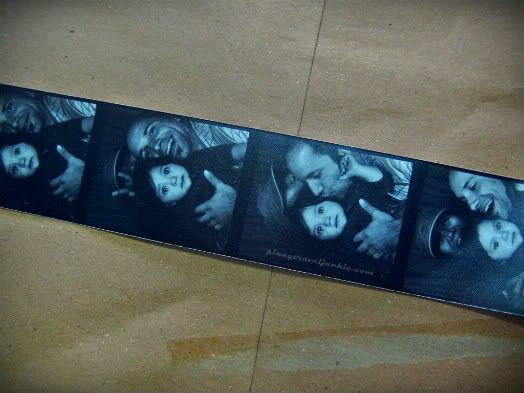 Uhm, if only I could remember where I kept this.
What a marvelous way to cap off our side trip. And I'm not just referring to the photo booth thingy but also to the quick shopping we did after. Might as well right? After all, that was one long detour.
Tweet
Share
This page was viewed times.