"Fi gurfa?", he asked in an impatient tone.
"Mafi.", I bit my lip feeling a bit restless.
"Lesh?!", a question I was anticipating.
"Uhm...", not sure how to explain myself. "Full. Baden."
"Okay, shukran.", and he stalked off.
I heaved a sigh of relief. I nervously glanced at my Moroccan boss who was eyeing me from afar. She nodded her head without the slightest smile, which I assumed was her way of saying 'good job'. I sat down.
At least the front office staff has chairs here unlike in other hotels
, I thought. A quick look at the calendar reminded me that it has just been a few days since I first stepped on the Middle East, yet there I was pretending to be fluent in Arabic. In less than a week I memorized enough words to get by, learned how to read numbers in Arabic writing, and was taught by colleagues how to stand my ground even when guests become too demanding.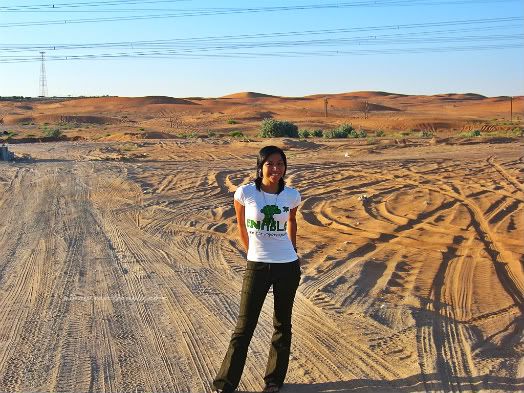 Me and one of my life teachers, the desert.
The hotel that employed me was in United Arab Emirates, not in Dubai nor in central Abu Dhabi, but in Al Ain City which is located more than a hundred kilometers away from the other two. Deep into the heart of the desert, sharing a border with Oman.
Let me pause this story for a moment to share with you a flashback of a much earlier date. About three years ago I got fed up being a customer service representative for an overseas telecommunications company, stationed in a cubicle, talking to sixty different strangers a day. The job left me feeling hollow every time I logged out of the phone. However awesome I did with my tasks, I felt unimportant knowing that even if I'd be absent the next day, sure as hell someone could fill in for me.
You could call me
Jill of all trades, master of none
. It's pathetic to admit, but I got an inkling that there's no 'right job' for me (unless there's someone who'll pay me just for backpacking, with an emphasis on
just
) because I am not highly skilled on any field. So with this sad notion, I decided to apply for a job overseas. I thought, if I'm going to have another unfulfilling job, might as well live some place distant with a different environment. It would be a good opportunity to fully explore a country I have never been in.
A newspaper ad lead me to an interview by the owner of the hotel himself. Well, technically, his translator. Out of ten applicants, I was the one chosen even if I had no experience with front desk. "If I am customer, what do you do to me?", was the only question I had to answer. However vague it was, it only took me a millisecond to think. My reply (with an exaggerated American accent) must have been impressive, or it could be have been my crisp suit. Beats me.
The visa processing only took a couple of months. My immediate resignation was thankfully accepted, and with the help of a lending company I was able to pay my placement fee. Finally I was set free to a new world as an OFW (overseas Filipino worker).
And so that is how I landed there. My workplace for six months (I had a contract for two years, but I quit early to
do backpacking in South East Asia
). Most shifts that I covered alone, when not insanely busy, I was usually spaced out. Lost in my sentiments and realizations. Living in U.A.E. taught me a lot of things about life and about myself which I wouldn't have learned had I visited the country as a tourist.
Top: 1. Be kind, for everyone you meet is fighting a hard battle. Sneaking food in a drawer cause we didn't have a lunch break. 2. Mo' Money, Mo' Different Problems. A group of uni students invited the whole faculty for a desert camping trip out of the blue. One of the students owned that particular part of the desert. 3. Work hard, party harder. Dancing to a Jamaican band's beats in Dubai. Bottom: 4. Unity in Diversity. In a service van with other workmates from various countries. 5. There's no place like home. Spent the New Year's eve with kabayans in Dubai whom I've never met before.
1. Be kind, for everyone you meet is fighting a hard battle.
I came to U.A.E. with the hopes of seeing architectural marvels Burj Al Arab and Burj Khalifa, a ski resort in the desert, camels, oases, and well, Emiratis. While other expatriates or migrant workers or uhm, modern day hobos, came primarily for the job.
You prolly have heard about laborers pushed to work beyond their limits under harsh conditions, with ridiculously long shifts day and night (the desert in the summer is a topnotch hostile place), and sleeping in uncongenial spaces. It is a fact and I have witnessed it.
One shift in our hotel lasts eight hours (six days a week), without a lunch break. Let me clarify that we weren't encouraged to starve to death, in fact, we were allowed to eat at our station. I'm just saying a few minutes off duty is humane ( but since we didn't want an extra hour added to our shift, we didn't pursue a complaint). In consolation, we were provided with free fully furnished and spacious accommodation. Mind you, other employees who don't have such benefit and opt for cheap accommodation could only get bunk beds at rundown apartments (without even a space for a closet).
2. Mo' Money, Mo' Different Problems
My then boyfriend (the hubby now) worked as a robotics lab assistant in a uni which only accepted Emirati students. The massive (for its student population) swanky building only had one cafeteria. Beside the cafeteria, is a jewelry shop. Yep, inside a campus. My wild imagination suggests this scene on a normal school day: Student heading to another room for her next class thinking
"Hmm, I should go buy a new diamond pendant for Programming 101. Totally suits the next subject"
.
Folks, mo' money doesn't really mean mo' problems to me. Richer people just have different issues. Because IMO, there's no bigger problem than not having money for meals.
3. Work hard. Party Harder. Fill up the Balikbayan box.
In that order. I never thought that the trait of generosity can be infectious. If you're surrounded by breadwinners, you subconsciously learn to be selfless. However in my case, I know how important it is to leave something to myself. It just keeps me sane. But yeah, I sent a Balikbayan box home. Two boxes in fact. Corned beef, chocolates, bottles of lotion, souvenir shirts and stuff.
4. Unity in Diversity
Filipina front desk officers and waitresses, Bangladeshi guards and chefs, Indian and Sri Lankan housekeepers, Omani executive assistant, Moroccan day shift manager, Egyptian night shift manager... That's how diverse the hotel's manpower is. It is amazing how people from different cultures work together to get things done.
I miss Mohammad who tips me off when
arbab
('boss' in Arabic) is arriving so I could stash my manicure kit (yes I do my nails at our station sometimes), Muneer who fries fish and chips for us (though we're not allowed to eat food from the hotel kitchen), Dinesh who sneaks a can of soda out of the mini bar for me, Mr. Tamer and Ms. Rajah who cover our arses when we get in trouble for arguing with our guests.
We were all expats. All of us left our respective countries and families to pursue more decent jobs. There's no other people who would look after every one of us but each other.
5. There's no place like home.
This is one truth that I never really get to think about when I'm a tourist in a foreign land.
Al Ain's one of those places that I took for granted. I never fully appreciated its beauty when I resided there. For six months I was constantly infuriated by the fact that my passport was kept by our employer. It made me feel enslaved in some way. Still, I hope someday I get to revisit the city's buzzing streets, smell the freshly baked Arabic bread and spices sold by bulk, see the shops selling perfumes in fabulous bottles and over the top jewelry... I really hope... To meet again one of my life teachers, the dressed up desert that is U.A.E.
Tweet
Share
This page was viewed times.