Our cab darted through the hectic streets of central Macau on a Friday night. Another cab hot on our trail careened as it tried to keep up with us. Me and my family were on a convoy, heading to Rua da Felicidade also known as
Street of Happiness
.
Less than an hour earlier, the guy at the airport's tourist information counter swore that such street does not exist. And although I pronounced 'Rua da Felicidade' in varied accents and all possible ways, he merely shook his head (and gave me an expression of bizarre amazement).
Rua da Felicidade, Macau's old red light district. Hence its name, you reckon?
The SAR (Special Administrative Region) was to celebrate its Labor Day over the weekend. Unlike other tourist groups who availed family holiday deals, we chose to travel independently so as we could save more money and explore at our own pace. And that meant no prearranged transfers. We were on our own. We hopped on a bus just outside the airport that took us to Macau Ferry Terminal, where two cab drivers positively nodded upon reading our hostel's name in Chinese writing.
Soon after we were cruising into the heart of Macau. I was riding with my mom, sister and my seven-month old daughter Luna. Aboard the other cab was my father and the hubby. Judging by the way my mom gawked at the glitzy highrises, I assumed she was totally mesmerized, like a kid in a theme park for the first time. It made me feel uneasy, for we were about to sleep in a century old rundown hostel.
SanVa Hospederia's facade.
I explained to everyone weeks prior the trip why I chose SanVa Hospederia. Yes, it's cheap, but I think the more appropriate term is 'practical'. You see, my idea of checking in a $100 room at ten in the evening is ridiculous. Thankfully my folks were understanding enough to see through my rationale (or more of, they sorta didn't have much choice but to agree).
My introduction of the hostel to them is that it was built in the 19th century, like what I have read from their website (but particularly omitted the part that it used to be a private club house), and is currently a historic site for its preserved interior and exterior that boasts of the 'Southern Chinese architectural style'. My dad finds these facts remarkable while my mom felt like she could already smell the moldy, crumbling walls. Guess you could say I was able to somehow mentally prepare them for what they were about to see (after reading much of the reviews, I thought it was necessary).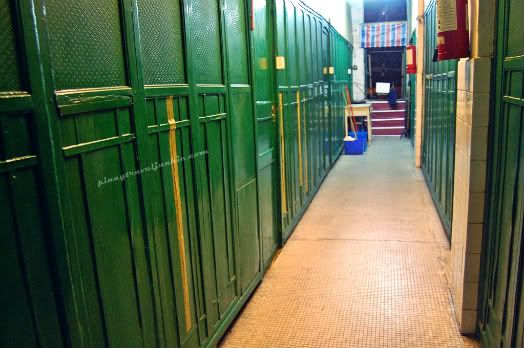 Hallway may look dingy, but is surprisingly monitored by a CCTV camera.
We were dropped off in front of the hostel's entrance. The reception's up two flights of creaking, uneven steps. I handed a print out of our booking confirmation to the old Chinese guy behind the counter. I half expected him to not have my name on record because man, let me tell you, their website appears kinda dodgy. I was very much impressed that their reservation system is indeed reliable and our check in was a breeze even though the guy did not speak a single word of English.
He led us to our twin rooms, located next to each other. The windowless rooms are divided by makeshift walls made from wooden boards, and does not go all the way to the ceiling for proper ventilation. The twin room's 140 MOP (Macau Pataca), however we paid a surcharge of 100 MOP per room because it was a holiday.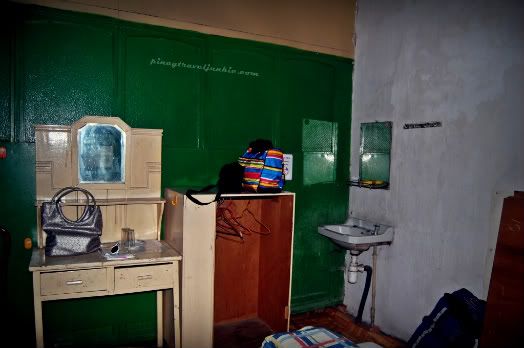 A lavatory sink inside the room is an element of a true-blue old school Chinese hospederia.
The room's spacious and well lit. The beds are quite big for one (Asian) person and had clean sheets. It's actually pretty decent. By the way, there's no room with a private bath. But don't fret, the common shower area and toilet aren't so bad either.
And fellow backpackers, they provide free hot and cold drinking water (which my folks were terrified to drink, and without their knowledge I used for my infant's milk formula)... Rejoice!
Creature comfort, somehow.
To my relief, my folks did not freak out when they entered their room. Or they're probably too jet-lagged to care (or they're just clinging on to that happy thought that we were transferring to a better hotel the next day). Or just famished.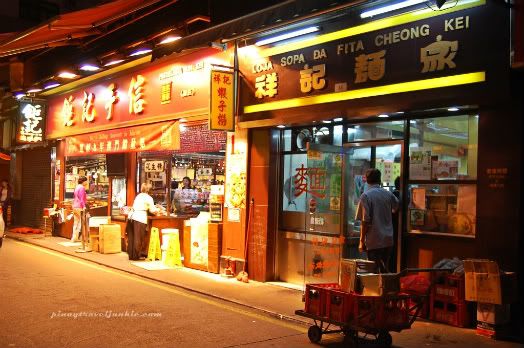 Our first Macanese Restaurant.
So after dumping our luggage, off we went to find food. The entire group was lazy to explore the area for dining places so we entered the first restaurant in sight which is just a few meters from the hostel. We capped our night with unknown noodle dishes, chicken feet (which we chose from a photo menu), bottles of Vitasoy, and weary conversations.
Tweet
Share
This page was viewed times.