It took a hair-pulling half hour to pack the jeep with passengers. Our then two-month old daughter was getting fidgety. My legs were deadened for getting stuck in an awkward position, and couldn't stretch them because the floor was occupied by sacks of rice and baskets filled with farm produce.
Baguio City's full on frigid in November. It's been two weeks since we moved to our rented house, and already my hubby and I were dying to head somewhere warmer, even for just a few degrees.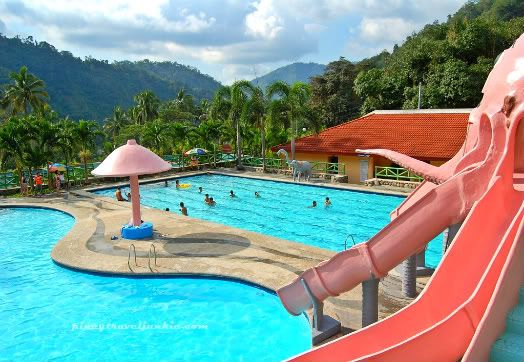 Palm Grove's main pool. Mountains serve as a soothing backdrop.
That jeep transported us to Asin in Tuba, Benguet. The 45-minute zigzagging ride reminded me of Halsema Highway, in a strange mix of fond and terrifying aspect. The landscape is stunning, but I was too queasy to be all ecstatic.
We got off at the last stop. The Tourist Assistance Center, not too far from where we alighted, looked a bit dodgy to me. An old lady sprawled on its front steps, selling a heap of cucumber. The office seemed deserted.
Reception and souvenir shop.
To our right we read a sign, "Palm Grove Hot Springs and Mountain Resort". The structure's an odd sight in the middle of mountainous nowhere. Interesting, nonetheless. We walked to the reception and paid the P100 admission fee.
The resort was a box full of surprises. For one, we didn't expect it to be full of day trippers. And two, there's a big octopus slide at the main pool, which certainly looks weird (c'mon, a pink octopus?!), in the highlands. Also, a slew of Koreans (possibly Baguio residents as well) were there for the
bath house spa
.
Since we didn't intend to stay long, I shrugged off the idea of renting a picnic table and instead sat on a pool chair and laid our daughter Luna beside me. She was agitated with the heat. Asin's sitting on a lower altitude compared to Baguio. Though its climate's perfect for us, it ain't working for Luna's long sleeved top.
I undid her clothes, lied down myself, and watched the merrymakers in the pool.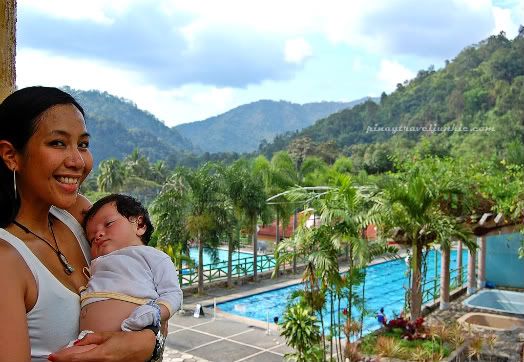 At the balcony of the resort's in-house coffee shop, with a view of the Olympic-sized pool and the bath house spa.
Shervin was done with his dip in half an hour. Teensters in the pool were already getting rowdy, it was our cue to pack up.
From afar, the coffee shop didn't look inviting but we went anyways. Well, it's got the same impact when you're inside. We were famished but didn't find the menu enticing either. The dishes were pricey, and we'd rather spend that amount of cash in a more known resto.
Left: An empty hot spring bath. Right: Celebrating our second year since we became steadies.
So we resolved to having a bottle of beer each. Not a drop more to keep the little one safe. I savored a gulp, it was going to be a long ride home.
Trip's Nitty Gritty:
1. How to get there: Terminal of jeeps going to Asin Hot Springs (
do not take the Asin Road jeep for it doesn't reach the resorts
) is along Kayang Street near the public market. Fare as of November 2010 is P25.
Jeeps won't leave until they're full, so expect to wait 30-45 minutes if it ain't rush hour.
2. Admission fee for adults is P100, children under 4 feet P50. Picnic tables good for 10-12 persons can be rented for P200, gazebo with private grill for 15-20 persons is P800.
3. Alcoholic beverages are not allowed to be taken in. Beer can be bought from the coffee shop, P40 a bottle.
4. Coffee shop's meals range from P130 (pasta) to P285 (seafood dishes).
5. Operating hours 8:00 AM-5:00 PM. Indoor/outdoor hot bath and jacuzzi use has a specific schedule. Ask the reception for it.
Tweet
Share
This page was viewed times.