Tarlac-Angeles-Singapore-Kuala Lumpur-Tiruchirappalli-Madurai. Whew! Day and a half travel frenzy en route to our Couchsurfing host's house in India. A bit crazier than our
3 countries in one day
experience.
It took 3 planes, 3 buses, 2 jeeps, 2 cabs, 1 minibus, 1 trike, 1 tuktuk, and 1 motorbike to take us there. Yes, we love punishing ourselves in the name of cheapskate backpacking. But I will not bore you with the details of our transit from the Philippines to Singapore to Kuala Lumpur. In fact, I want to start talking about India anyway because there's just so much to blabber about!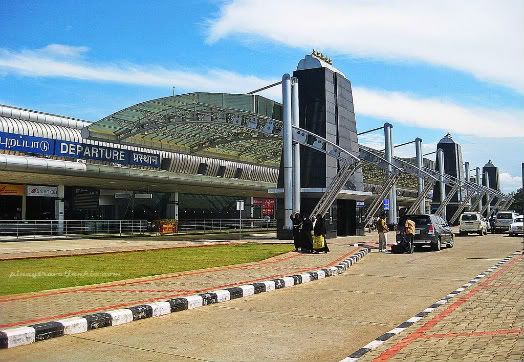 Tiruchirappalli Airport.
The flight to Tiruchirappalli from Kuala Lumpur takes about three and a half hours, similar to the flight from Clark Field to Kuala Lumpur. Out of all the passengers, there were only three of us foreign tourists: My hubby Shervin, me and a Caucasian hippie-ish guy. This demography made us feel like we were heading to the wrong destination.
Tiruchirappalli, also called (and more easily pronounced as) Trichy, is a city in the state of Tamil Nadu. I can still remember where I first encountered such tongue twisting name. Back in 2009 at the LCC Terminal in Kuala Lumpur (I believe KL-Trichy is Air Asia's first ever Malaysia-India route), waiting for some flight. Randomly read it on the departures board. We were on our
South East Asia In Six Weeks trip
then and I remember promising to myself that I shall go there one day.
That one day indeed happened. Except I didn't expect it to happen so soon. Except... I didn't expect it to be Shervin's meet and greet with two of his fans.
Now before we all snicker in unison, I'd like to share with you guys that he does robotics stuff and face recognition stuff (I use "stuff" a lot when describing his jobs because I so can't understand his, uhm, stuff). He's got free programming tutorials on his website too, very popular to university students. So when he announced on his site that he'll be visiting Trichy, he was bombarded with inquiries and invitations. Hence, I dubbed our trip "Shervin's India Promo/Autograph Signing Tour".
Hari, Shervin and Harrish (with matching mustaches).
Unfortunately, our arrival date was exams day. And mind you, Indian students are uber hardworking. Only two students agreed to take some time off reviewing and pick us up from the airport.
When we got out of the arrival area, we scoured the mosh pit of cab drivers offering rides. As we stepped away, a couple of guys awkwardly approached us. The students didn't scream nor cry nor faint nor dab a red dot on Shervin's forehead upon seeing him. They cautiously walked toward us, reading our faces, wondering if we are who we are.
I raised my hand for a subtle wave. They did the Indian nod or head bobble (which by the way I subconsciously did too the entire trip) as a response. We started chitchatting after successfully shooing the cab drivers as we strode to the street, off the airport grounds.
We crossed to the other side, alongside cows roaming freely and waited for a bus to central Trichy. We let two buses overflowing with passengers pass, and got on the third one which was semi-full.
It started to sink in, I was finally in India. I found myself smiling at everyone, who smiled back and didn't stare in a creepy way. My heart was filled with sheer ecstasy amid the hot bus ride. A lady stood from her seat and motioned me to take it. And by the way, the uni students paid for our fare. The hospitality we felt during our first few minutes in Trichy was overwhelming, contrary to what we foresaw.
The distance from the airport to Trichy bus stand (main bus terminal at city center) is about 5 kilometers. Because we got caught up in rush hour, even with a maniacal driver, it took us almost twenty minutes to get to our destination.
We thought it was best to head straight to Madurai, also known as Temple City, instead of staying for one night in Trichy. We chose to explore the latter on our last two days since we'll exit India via the same airport.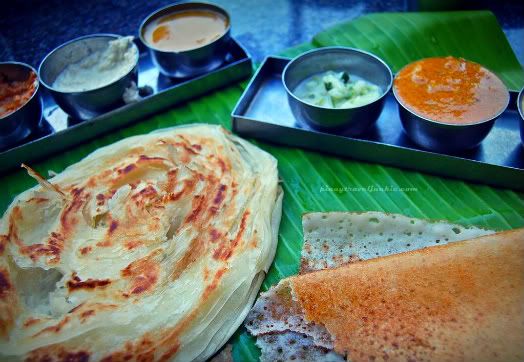 Our first (out of countless!) Barota/Parata and Dosa.
The bus to Madurai departs from the central bus stand too and the trip will take three to four hours. So we asked Hari and Harrish where we could grab a bite. They took us to Shri Sangeetas, just a few meters away from the bus stand. Upon their request, we were served barota/parata and dosa. I'll just describe them as very filling for now, because South India food deserves a separate post.
I let Shervin spend some err, quality time with his fans. I can imagine how thrilled they were meeting someone they idolize in flesh, and have a photo with him too! And how equally thrilled we were meeting genuinely kind strangers on day one... Which gave us the impression that India is indeed incredible!
Tweet
Share
This page was viewed times.