I prepared instant noodles for breakfast while Shervin pored over our Lonely Planet guide. It was already 8:30AM and the mighty sun wasn't out yet. Before slumbering
the previous night
, we agreed to take a train to Xi'an and spend a couple of nights there before heading to Guangzhou, where our Manila-bound flight departs. To make this happen, we got to buy tickets in advance.
We quickly slurped our hot noodles, left our room, and went to the post office (housed in the same building as our hostel) to exchange our dollar notes. Foreign currency can be changed at post offices, hotels (swanky ones), malls, and some branches of Bank of China. The transaction may take a while. Well, that's what happened to us. There were only two people on queue ahead of Shervin, but each spent 10 minutes with the teller. And when he finally reached the counter, he was told to fill out a form and present his passport
and
get in line again! It was distressing, but hey, at least we can trust them with our money. Fake yuans are still in circulation.
After wasting 40 precious winter minutes at the post office, we walked out and crossed the footbridge to Beijing Railway Station. Actually, I just had a hunch that ticket counters for intercity trains are stationed there (tickets can also be procured at Beijing West Train Station. My guess was right. We approached the
English-speaking counter
and inquired about trains to Xi'an, Shaanxi. The schedule seemed right and the fare (¥274) was affordable so we booked two hard sleepers straight away.
A massive portrait of Mao Zedong displayed at Tian'anmen. Left giant placard says "Long Live the People's Republic of China" and the right, "Long Live the Great Unity of the World's Peoples".
We were whipped up, for everything was falling into place. When we got our tickets, we traipsed to the subway. We paid ¥2 (flat fare, unlimited line transfers) for the train, took Line 1 and then switched to Line 2 to get to Tian'anmen East Station. You may also get off Tian'anmen West Station, the Tian'anmen or
Gate of Heavenly Peace
seem to be equidistant from both on the subway map.
The pack of tourists huddled in front of Tian'anmen was insane that Saturday noon. It was quasi-impossible to get a good, solo shot. Someone will always be right beside you having his or her photo taken as well.
Tian'anmen is the front entrance to the old Imperial City, where the Forbidden City was located.
Mao Zedong
proclaimed the People's Republic here in 1949. It's free to walk through the gate, but to climb it, you need to pay the admission fee of ¥15. The view from atop is worth it though.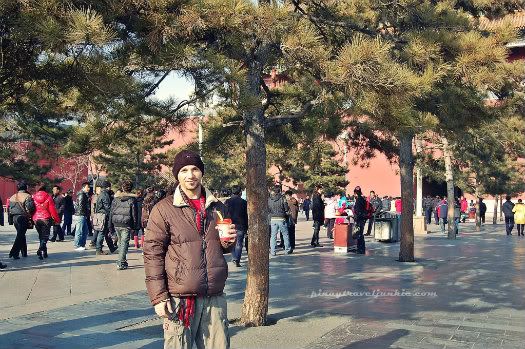 Hubby can't get enough of them instant milk tea drinks!
Across this gate is the Tian'anmen Square, the largest city square in the world. It has witnessed numerous political events, but again, it's
just
a vast square. There are four tourist attractions nested on the square which you might find interesting: Monument to the People's Heroes, Mausoleum of Mao Zedong, National Museum of China, and Great Hall of the People. By the way, if you intend to visit a handful of museums, purchase the Beijing Museum Pass. For ¥80 you will get discounts on admission fees and even get complimentary access. Ask your hotel where to get one.
We decided to move on even if we haven't taken any decent photos of the gate and the square. It's best to always be on the go in such cold environment. We entered Tian'anmen and found a small kiosk selling
Xiang Yue Tea Drinks
for ¥5 (¥3.50 in the supermarket). We gleefully shared one to warm our stomachs. I also bought a panda hat from a roving merchant, a rip off at ¥20. Just thought it was hilarious to wear it around without people giving a damn because I was a tourist. And oh, it provided more warmth than my beanie because it can cover my ears and neck.
Forbidden City's ticket booth.
Without knowing where the Forbidden City exactly is, we let ourselves be carried by the human traffic flow. Voila! We ended up just outside the Meridian Gate, the southern gate of the Forbidden City. To the right is the ticketing area. Admission fee is ¥40 for low season (which we paid, yey!), and ¥60 for peak season. If you have a full day for exploration, renting an audio tour ¥40 is recommended.
The Meridian Gate.
Forbidden City was named so because it was off limits for 500 years. It was home to the Ming ang Qing dynasties. Its history is way intense and if you ask me if I can remember what i read about it, the answer is a frank no. But basing from what I have seen from the old structures to the preserved artifacts, the place's significance to Chinese history and culture is evident. I'm glad Starbucks (which opened in 2000) has been ejected from the palace grounds a few years back. Ugh, what were they thinking?! Ah, money.
Back when panda beanies have not invaded Philippine shores yet.
We tried to cover as much as we could, though we were only able to get a glance of the other buildings. For easy navigation, bring a map with you or buy from the ticketing counter at the Meridian Gate for ¥5. Our favorites are the beautifully dilapidated Hall of Mental Cultivation and the well-kept Imperial Garden.
Where did ze hubby go?
By 3:00PM, after touring for two hours, we were dying to go back to our accommodation. The cold was becoming intolerable. I couldn't feel my toes anymore, nor my fingers. Taking photos was such a painstaking effort. We hurriedly retraced our steps to the subway. Our warm hostel room was just 20 minutes away.
Tweet
Share
This page was viewed times.