Yonghe Temple, also known as "Lama Temple" and "Palace of Peace and Harmony", is probably the most renowned Tibetan Buddhist temple/monastery outside Tibet. It was converted into a lamasery in 1744 after it served as the official residence of Emperor Yongzheng.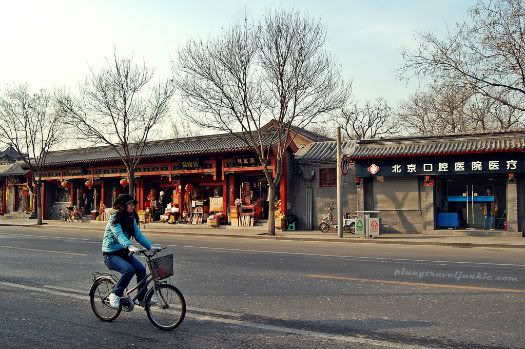 An uncrowded part of Yonghegong Dajie, the road where Yonghe Temple sits.
It is located in Beijing's Dongcheng District. From our accommodation, Beijing City Central Youth Hostel, we (Shervin and I) walked about 5 minutes to the Jianguomen subway and took Line 2 (¥2 one way) to Yonghegong Lama Temple station.
Our stroll from the station to the temple was an entertaining one. It was a Sunday, and the rows of stalls on both sides of the road selling souvenirs, talismans, incense sticks, and Buddhist prayer beads were bustling with activity.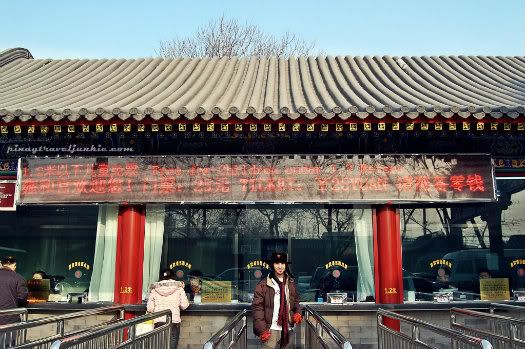 Ticket booth. Yep, getting in's got a price.
Signs to Yonghe Temple in Chinese and English writing are aplenty, you won't get lost. Admission fee is ¥25. An English audioguide can be hired for ¥20. The ticket comes with a CD which I haven't played until this very moment. Now where the heck did I put it...
Anyway, if you're not a Buddhist, there's nothing much to do within the temple grounds - but that's kind of the point. Buddhist temples/monasteries are places where one can meditate. Perhaps that's something you can look forward to when you visit. As for us, we were content watching pilgrims pray. The atmosphere was solemn, and the smoke from the incense sticks gave the temple a haunting aura.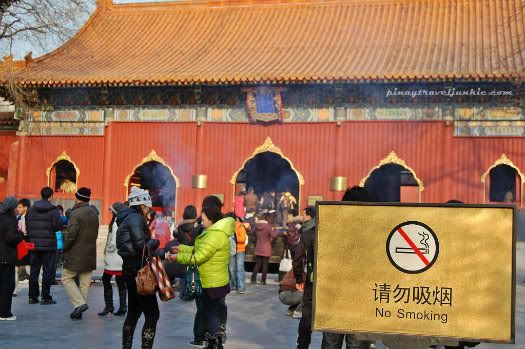 No smoking. Can't you see there's too much smoke already?
Two reasons why Yonghe Temple caught our attention: One is the magnificent collection of bronze Tibetan Buddhist statues, and the other is the 18-meter high
Maitreya Buddha
(Buddha of the future) sculpted from a single block of white sandalwood.
Taking photos inside the halls is prohibited. We abided by this rule even if a lot of the devotees kept snapping shots here and there.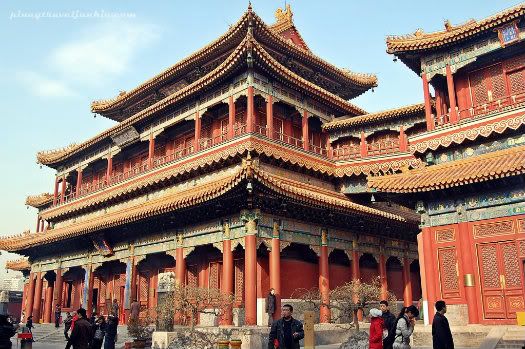 Visitors may only take pictures outside the halls.
We left the temple at noon and walked back to the shops outside the entrance to buy my own Buddhist prayer beads. I saw one made of green-painted wood beads which I really liked, the seller must have sensed this and typed '60' on her calculator. Major rip off! Shervin started haggling with her and the calculator was passed to and fro. And the outcome, ¥20!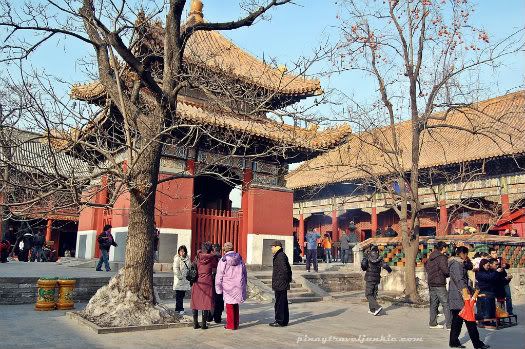 Watching pilgrims wander about.
Shopping for just one item made us hungry, or maybe it was the lack of breakfast. We spotted Lama Temple Restaurant halfway from Yonghe Temple to the subway, and went inside to check their menu. Their prices are reasonable, the food photos look inviting and the waitresses speak English. Perfect - except they have dishes with weird names: 'The palace explodes the shrimp ball', 'The peasant family slightly fries the chick', and Saliva chicken. We went for their beef with black pepper and tomato and egg soup. Boring, I know.
Recommended: Around the Yonghe Temple are
hutongs
(small alleyways) which you can explore on foot. You'll find one-story charming courtyard homes which have been around for a long time. Some historic homes are marked with plaques. Several
hutongs
have already been demolished because of China's modernization plans so make sure you check them out while they exist!
Next stop, Beijing National Stadium and Beijing National Aquatics Center.
Tweet
Share
This page was viewed times.