The
T98 (Hong Kong - Beijing) 24-hour train
arrived at
Beijing West Train Station
15 minutes past its ETA. The wall thermometer read 12°C. Tolerable, but it only indicates the temperature inside the cabin. Shervin and I gathered our stuff. I donned four layers of clothing, yet I was still terrified of the cold.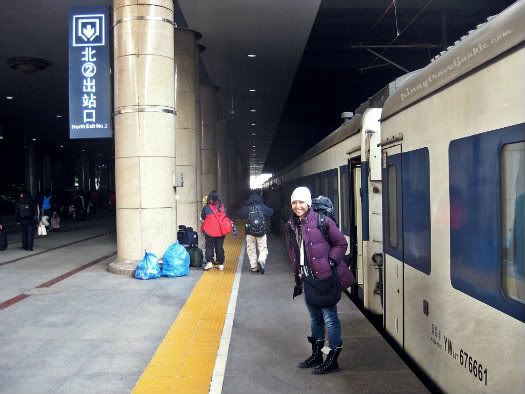 Arrival in Beijing. Just 10 seconds after this shot was taken, my smile faded as my skin got introduced to freezing temperature.
I stepped out in the open. At first, it wasn't that bad. I even managed to smile for this photo. Suddenly, an icey breeze swept past and I froze in horror! We followed the human traffic walking briskly towards the station's office building. There was total chaos in front of the entrance. People pushed each other, trying to get in quickly. It's either they were too cold to stay out in the open, or that's just some weird protocol. And what's more sad, it didn't matter if you're a woman or a child.
The immigration officer let us through without any questions, he looked dazed after dealing with a few Mongolians who were ahead of us in line. Before figuring out our way to the hostel we booked, we proceeded to the ticketing counters. Our flight back to Manila will depart from Guangzhou and we wanted to check the schedules and fares.
In China, among the ticket counters (especially for long distance trains), there should be one with an English-speaking agent. But keep your expectations low. When we spoke with the agent, she spoke very basic English and couldn't recognize 'Guangzhou' no matter how many ways we pronounced it. I was lugging our Lonely Planet China and remembered that it has translations of city names in Chinese writing so I showed the agent '广州' (mainland China uses the simplified characters). She smiled and provided us the info we needed.
We left the counter and strode out of the station. After walking a few meters away from the exit, we noticed how massive Beijing West Train station is! Beautiful architecture too. But we didn't have time sit to around and marvel, our bodies were struggling to adjust to the climate. I wondered, had we taken a direct flight from Manila which had a pleasing 28° temperature, we would never have recovered from shock.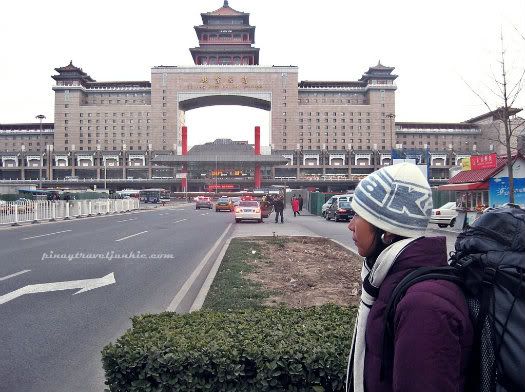 Impressive Beijing West Train Station.
It was a harsh 1°C afternoon. After consulting our map, we found out that the subway (which shall take us to our hostel) is a kilometer away. Too far to walk in the cold, too short and impractical for a cab ride. Since we're mega cheapskates, we opted to use our feet. Five minutes into the walk, my nose was already runny and numb. My eyes were watery, making the crotchety task more difficult.
After asking a couple of locals for directions, we ended up at the Military Museum
subway station
. The ticket attendant speaks English, so we asked how to get to Beijing Railway Station (yes, it's different from Beijing
West
Train Station). She instructed us to take Line 2 and gave us our tickets, priced at ¥2 each. It's a flat fare to any destination except the Airport Express with unlimited line transfers.
When we got to the platform, we learned that we were on Line 1 and couldn't find Line 2. Shervin suggested we go back to where we came from and look for another platform. I said we should ask people, but he didn't listen. So we exited the ticket gate, unknowingly used up our pass without even getting on a train. We went back to the ticketing counter and the girl explained we should take Line 1 then switch to Line 2 at Jianguomen transfer station. Beijing Railway Station should be along that line.
In less than twenty minutes, we hopped off our train and followed the sign to Henderson Centre. Just across this mall is the
Beijing City Central Youth Hostel
. Shervin and I have never booked accommodations. We're not into intense travel planning. We booked a room for the first time because we needed a hotel voucher for our
Chinese visas
.
The hostel doesn't ask for downpayment upon online reservation, you'll be asked to pay when you check in. A double room's (with shared bath) regular price is ¥160, but we got it for ¥150 because of the winter season. There's also a ¥100 deposit (though another receptionist said it's just ¥50).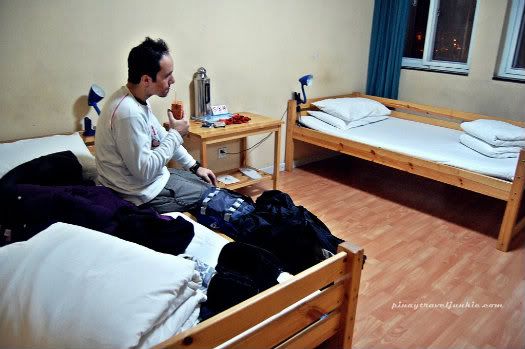 Spacious twin room.
Our room had a view of the Beijing Railway Station. Though it was facing a busy street, the noise didn't reach the 4th floor. It has a TV, a hot water pot, towels, slippers, and reading lamps. The toilets and bathrooms are located halfway and at the end of the hall (drinkable hot water dispensers are also stationed here). We're very easy to please, and we consider this posh by our standards.
The hostel has a 'Backpackers Club' on the 3rd floor where there's a bar, restaurant, pool tables, reading nook, DVD player, internet (¥6/hour) and Wifi. Best place within the building to mingle with fellow backpackers.
It was already dark at 5:15PM. We dropped off our backpacks in our room and went out for dinner. The biting cold embraced us once again as we got out of the revolving hostel doors. We didn't want to go far so we settled for Yoshinoya at Henderson Centre and had a big meal, ¥41 for two. Then we bought a few groceries just next door, particularly instant hot drinks and cup noodles. Since there's a water pot in our room, it would be easy (and so cheap) to eat breakfast before going out.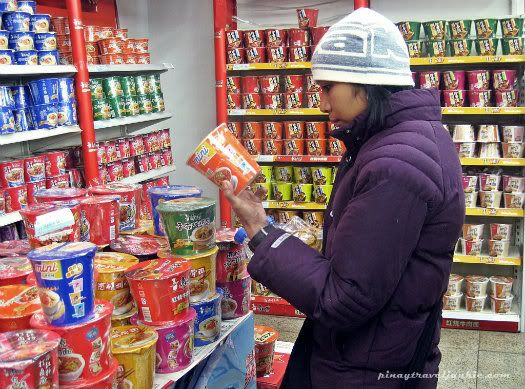 I'm in

Instant Noodle Heaven

!
We were back at the hostel around 6-ish. We celebrated our 1st day of survival over
instant Xiang Yue pearl drinks
. One day down, three more to go.
Tweet
Share
This image was viewed times.