It was time to say farewell to our gracious Hong Kong hosts Will and Melody, after staying in their pad for three days. They have been more than kind, and treated us (my husband Sherv and I) like family.
On our departure day, early morning, the four of us took a cab to Burd St. to have breakfast at Sang Kee Congee & Noodle. It's a local favorite, reason why it has been around for about 40 years. Noodles are at HK$19 and Congee at HK$21. Order the regular size and it can be shared by two people, making it super affordable. The dishes were served piping hot, and I couldn't believe how the old lady beside me downed a bowl so quick!
I wasn't even finished with my regular-sized
Preserved Egg
(a.k.a. Century Egg) Congee when Melody invited us to have drinks at her favorite coffee shop before she runs off to work. I felt bad ditching left-over food, but couldn't take another bite anyway because my tongue got scalded after shoving spoons and spoons of congee in my mouth without letting it cool down.
We walked for about 5 minutes and entered a small corner cafe that only had two other customers. I cannot remember which street it sits on nor did I see a signage outside the establishment, but on the menu I read the name
C.C. Espresso
. I was craving for a decent cup of coffee (I've never had a freshly brewed one in ages), but since my tongue was still numb I ordered iced tea instead. After half an hour of sleepy conversations (okay, so maybe I was the only groggy person) over coffee and tea, Melody excused herself for it was time for work. We bid her our last goodbye.
When she left, we walked out of the cafe and followed Will's path which led us to Ko Shing St. Nearby was a labyrinth of stores selling Chinese herbal medicines. On display were shaved animal horns, starfishes, mushrooms, shark fins and other dried creatures beyond recognition (ugh, deer
fetus
!). They sparked our curiosity, but made our stomachs churn. Will admitted he has not tried any of them and does not intend to.
Winding, confusing paths because stores sell almost the same merchandise.
We lost track of time. It was almost noon and our train to Beijing was scheduled at 3:15PM. We took the cab back to the pad. As soon as we arrived, we started gathering our scattered belongings in the living room and stashed them in our backpacks. After our fare-thee-wells with Will, we hailed a cab in front of their condo. The taxi driver agreed to take us to Hung Hom Station for HK$100. We hopped in. Had we taken the bus and MTR (cheaper at HK$80), we would have been late.
We made it to the station at 1:45PM. I totally forgot we only had HK$80 left (I was the one in charge of our money), so I asked if he'd accept it with US$3. Thank goodness he did!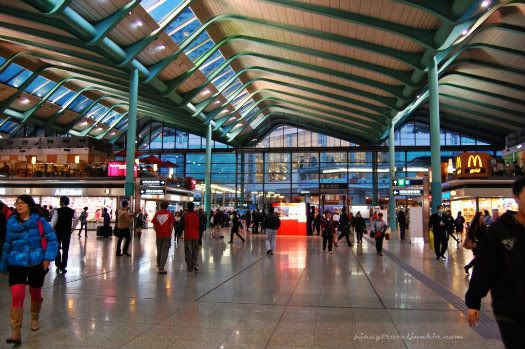 Hong Kong's airport-ish Hung Hom Station.
The day before
, we already purchased our tickets at Hung Hom Station. Hung Hom Station is not only a terminus of both East Rail Line and West Rail Line (MTR), it is also a terminus of long-distance or cross-border trains.
A one way, hard sleeper ticket from Hong Kong to Beijing (24 hours, no stops) costs a whopping HK$574! There are different classes of seats and sleepers to choose from, pick one that suits your budget. Be practical. Hard sleepers, in spite of the name, are well-padded. To shed more light on what Chinese trains are like, visit
Seat 61's site
.
Advice: If you're travelling during Winter season, you might want to check out plane fares. Airlines usually offer discounts. But also take into consideration how much you'll spend on transportation to and from your departure and arrival airports! Train tickets might still be cheaper.
Important:
If you got limited travel time, planning is essential in making the most out of your vacation. Book your ticket ahead, info on schedules and fares can be found on
www.mtr.com.hk
. Train T98 runs from Hong Kong to Beijing on odd dates in Jan, April, May, Aug, Nov, Dec 2010 & even dates in Feb, March, Jun, July, Sep, Oct 2010.
For cross-border trains, passengers are required to check in an hour before boarding time. Since we got there early, we decided to eat lunch first. Shervin approached the MTR Customer Service booth to surrender our used up
Airport Express Travel Pass
so we can claim the HK$100 deposit. Yey, money for food!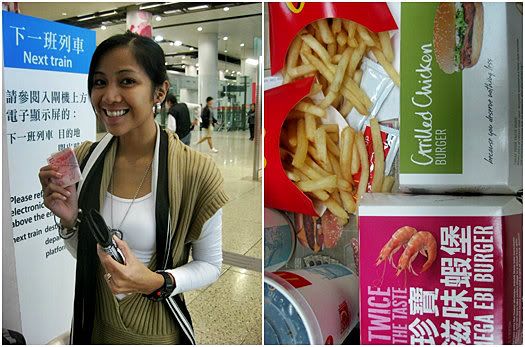 Left: HK$100 deposit we got back. Right: Where we spent our money.
Our lunch? McDonald's! Odd choice amongst the various Chinese restaurants at Hung Hom Station. Truth is, McDonald's was our cheapest option. And, weird as it may seem, eating fastfood was a refreshing break from our usual rice/noodle dining.
We spent our remaining money at 7-11. We bought drinks, instant cup noodles, and sandwiches. Before checking in, Shervin made a quick stop at the money changer booth and exchanged our dollars to
yuan
(¥, same symbol as Yen).
Immigration check was swift. No questions asked. The officer merely looked at my Chinese visa sticker
(which I applied for back in Manila)
then stamped our departure date on a blank page. We were about to sit on a bench at the waiting area when the boarding call blared through the speakers in Cantonese (or was it Mandarin?) and English. We followed the other passengers to the platform and looked for our cabin.
It was not a full train, and we were the only ones in our cabin. Hence, we were able to sleep on the lower bunks. Seriously, you wouldn't want the middle and upper ones. It requires skill to climb up and down those bunks.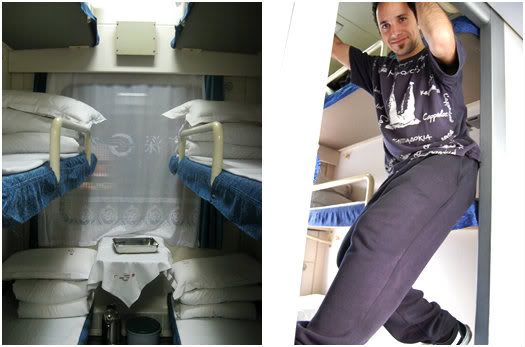 Left: Triple-decked hard sleeper. Right: Shervin illustrates how to climb up the middle and upper bunks. Notice where his hand clings to, and where his foot rests.
Each hard sleeper comes with one pillow and an odorless, clean, thick comforter - which was definitely, uhm, comforting! I didn't get a
hard sleep
at all!
Left: Corridor where passengers keep shuffling to and fro. Right: The lavatory.
The toilet, lavatory, and hot water dispenser were right beside our cabin. Talk about convenience! It was so easy for us to prepare cups of hot choco and bowls of instant noodles.
Meal on board. Pork, beans, ham, cabbage, salted egg with rice bought from a roving cabin attendant ¥18. Attendants sell meals, snacks, fruits, and even toys on board. Even San Miguel Beer!
Shervin and I love slow travel. We didn't mind the 24-hour ride. As we went further and further north, we passed by small rural communities and saw only a handful of people. Each local we saw had tomato-red cheeks depicting freezing temperature, which really made me nervous. I wasn't sure if I brought the right clothes (and enough for layering) to warm me up. I hate the cold. I hate myself more for scheduling China in December!
Tweet
Share
This page was viewed times.