We (my husband Shervin, my sister Gabe and I) did a mad dash through Hong Kong's MTR stations, from the Tung Chung Line to the Island Line. It was already 2:30 PM and we were still at Central Station, waiting for the train to Admiralty. Earlier that day we went to Lantau Island
to see the Giant Buddha
. It was a very brief visit, we didn't even have time to stop for lunch.
So there I was on the platform, drained and famished. The instant noodles I had for breakfast, obviously has long been digested by my stomach.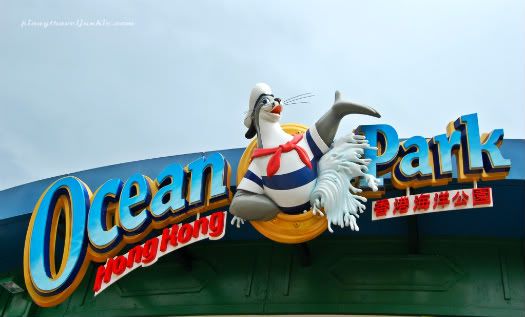 At Ocean Park's entrance
Admiralty is just a station away from Central. Thank goodness the next train picked us up in just a couple of minutes. When we arrived at Admiralty, we bought a few sandwiches and drinks from 7-11 before heading to Exit B.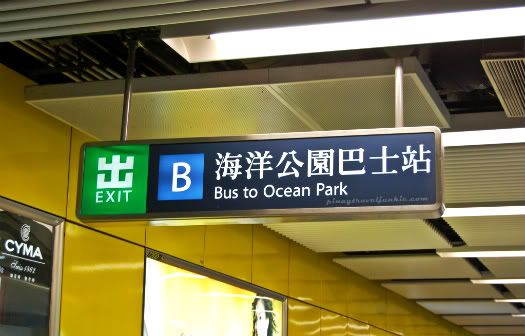 Once you've exited the station, just walk a few meters to the left and you will see an Ocean Park Booth. In front of it is the queue for Bus 629, which will take you directly to the park (about 15-20 minutes, depending on traffic). HK$10.60 each person, one way.
We ate our light lunch (HK$28.80 already for three) while sitting on a bench across Tai Shue Wan entrance before purchasing tickets. Admission fee is HK$250 and HK$125 for children aged 3-11. 3 below can come in for free. We got a 10% off the regular price. It was/is (check if this promo is still available) one of the benefits of getting an
Airport Express Travel Pass
.
Our original Hong Kong itinerary did not include Ocean Park. My sister, who tagged along the last minute, told us she wanted to celebrate her birthday either in Disneyland or Ocean Park. The primary reason why I chose the latter is, it houses a Giant Panda!
The park is divided into two parts: The Summit (Headland) and The Waterfront (Lowland). We accessed the park through the Tai Shue Wan entrance, which led us to The Summit. The Giant Panda Experience unfortunately is located at The Waterfront. We literally ran towards the Ocean Express, a train that shuttles guests to and fro the two main lands. We made sure we see the Giant Panda first before doing anything else!
It would be awesome to see them in their natural habitat, but this will do.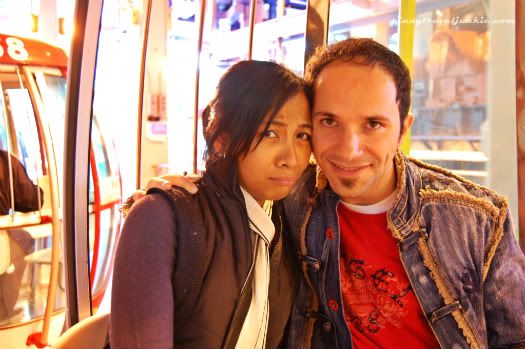 Aboard the cable car going back to The Summit. Pinay Travel Junkie's confession: "I cried over a panda."
Our second cable car ride for the day.
Ocean Park is not only recommended to amusement park fanatics, but also to non-divers who are eager to witness marine life up close without submerging in the open sea. Back at The Summit we visited the Atoll Reef, a four-story-high aquarium that does not disappoint.
Sleeping shark caught on cam.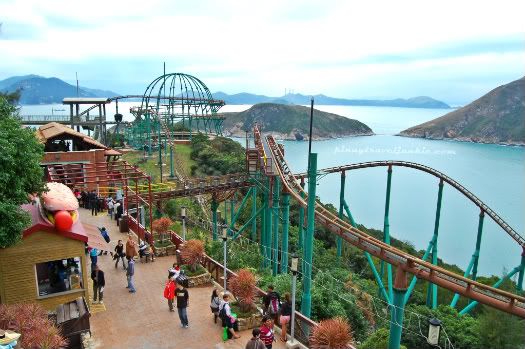 For thrill-seekers, there's a plethora of rides to choose from, though my sister and I only tried one - the Mine Train.
Shervin, feeling more adventurous, also rode the dizzying Space wheel.
We roamed around Ocean Park for three hours. It may seem like a long period, but it's not even close to being enough. We went back to the station where our bus dropped us off and waited for the last trip back to Admiralty. I was weary, and I oddly felt jetlagged. Perhaps because of the countless escalator rides we took that day. From the hectic Mid-Levels, to the confusing MTR escalators, to the steep Ocean Park escalators. And it didn't help that we haven't had a decent meal the whole day.
But we are proud of what we've accomplished.
Tian Tan Buddha
and Ocean Park in one day! My sister said it was her best birthday ever, and that's what matters. And oh, before we went back to Will and Melody's place, we bought fries from Jollibee as per her request.
Tweet
Share
This page was viewed times.