When in Hong Kong,
do not
squeeze Tian Tan Buddha and Ocean Park in one day. First, transportation will take too much time because they're on different islands (and not entirely reachable by MTR). Second, half a day is just not enough for both.
Tian Tan Buddha looming in the fog.
I speak of this with such authority because we did so, and the result was ugly. However, if you only got three days to spend like us, then perhaps it's worth the attempt. Hopefully this blog and
the next
can help you make it happen.
We started the day late, around 9-ish. I got up, pulled out a few packs of instant noodles (which I brought from the Philippines) from my backpack, and boiled a kettleful of water. The three of us slept in the living room. My sister on the couch, my husband and I on a sleeping bag. We were guests of my husband's American ex-colleague, Will, who's residing in Hong Kong to manage his business.
He must have sensed the commotion in the kitchen. He emerged from the bedroom, and greeted us a sleepy "good morning". We ate breakfast while he gave instructions on how to get to Central MTR station via bus from their pad. He also gave us an
Octopus card
each for convenient commuting.
We bid goodbye to Will, and headed to the bus station just in front of their building. We took the bus he described
'small (a mini-bus), green, and sometimes doesn't have a signboard of its destination'
. We got off near
'the second bridge you'll come across'
and took
'the escalator to the left'
.
It was the longest escalator ride of my life! Of course it should be, we actually got on the Central-Mid-Levels Escalator, the longest outdoor covered escalator system in the world. We were fortunate to get there just a few minutes after 10:00 AM, because this escalator moves downhill (towards Central) from 6:00am to 10:00am and uphill from 10:15am to midnight.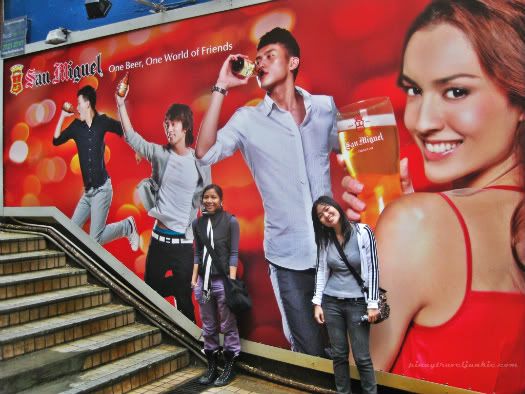 Somewhere along the Central-Mid-Levels Escalator. A huge San Miguel Beer ad. Pinoy represent!
The ride from end to end takes 20 minutes. It runs from Des Voeux Road, Central up to Conduit Road. The system consists of 20 escalators, and there are many
junctions
where you can hop on and off - particularly in
SoHo
and
NoHo
. Usage is for free. Stay on the right if you're not in a rush, the left side is an overtaking lane.
We finally got to MTR's Hong Kong station after asking a few locals. Our first stop for the day is
Tian Tan Buddha
, also known as Giant Buddha on
Lantau Island
.
How to get there: Take the Tung Chung Line from Hong Kong Station to Tung Chung Station. Exit B and then take bus 23 to Ngong Ping from Tung Chung town centre. I have no idea how much the ride costs. We used our unlimited MTR travel (valid for three days) ticket which was included in our
Airport Express Travel Pass
.
Instead of the bus, we opted for Ngong Ping 360, a quicker 25-minute cable car or gondola lift to have an aerial view of Lantau Island (a bus trip takes 45-minutes one way). The ticket booths were already buzzing with activity when we arrived. Throngs of people were lined up. We got a 10% off from the regular day rate of HK$107 round trip. It was also one of the perks offered by the
Airport Express Travel Pass
.
Aside from the regular cabin, Ngong Ping 360 offers a pricier glass-bottomed cable car, the
Crystal Cabin
. HK$157 for a roundtrip. At the time of our visit, we felt bad for those who paid for this because Lantau Island was heavily fogged.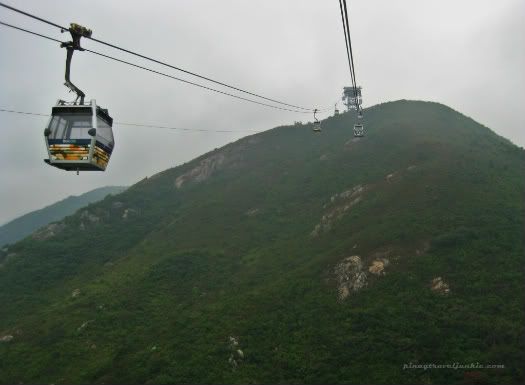 Ngong Ping 360.
We shared our lift with four more people. As soon as we stepped out, we hurriedly surveyed Ngong Ping Village for inexpensive souvenir items. We bought a few and snacked on hot soya milk at HK$8 per bottle.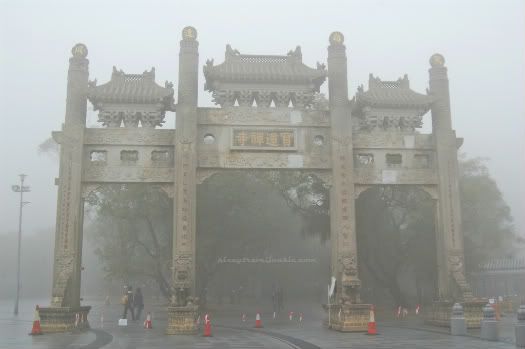 Enveloped by fog.
We then proceeded to the foot of Muk Yue Sha Mountain and climbed 268 steps to see the Tian Tan Buddha, the world's largest outdoor bronze statue. It was a sluggish climb in the cold. Thank goodness admission's free, otherwise I would have been very upset not to see much of the Buddha in the haze. On second thought, the fog actually gave the statue a haunting image.
Three of the six devas surrounding the Giant Buddha
I looked at my watch and it was already past noon. I heaved a deep sigh. We need to go to Ocean Adventure in a while.
Tweet
Share
This page was viewed times.