We didn't make any plans for our third day in Hong Kong but to buy train tickets to
Beijing
, so we slept until 10:00 AM. I was awoken by my sister's text message that said she's home safe. Actually earlier that morning, around 5-ish, we got up briefly to hail a cab that will take my sister to Central Station. And from there, she'll transfer to the Airport Express Line. She was in deep melancholy when she left, and she hated me for booking her flight back to the Philippines that early.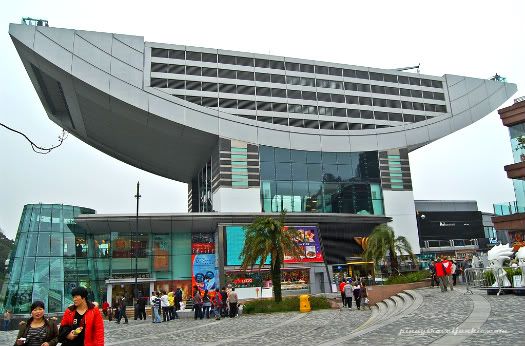 Victoria Peak's The Peak
I rose from our sleeping bag-turned-bed and went to the kitchen to prepare coffee. We were staying at my husband's ex-colleague Will's pad. I could feel my joints aching, strained from our
hectic tour the day before
. I was hoping for a relaxed day, but when Will got out of his room and invited us to visit The Peak, I wasn't able to resist. It was our last day in Hong Kong anyway, so we better make the most of it.
Though my hamstrings were still complaining, I braved our short hike up Victoria Peak. Yes, we did not take public transport. We entered the hilly property of The University of Hong Kong (just across Will's building), exited at a back gate, and followed an ascending narrow road. Just about 20 minutes into the hike, we ended up on the 'Morning Trail'. In that area, traffic noise is already filtered by a heavy population of trees. The only other sound I could hear was Will talking to Shervin about how he mastered Lao dancing in Laos (I was walking way behind them).
The Morning Trail is popular not only to local joggers, but also to Tai Chi practitioners because the trail branches out into uncrowded pocket parks.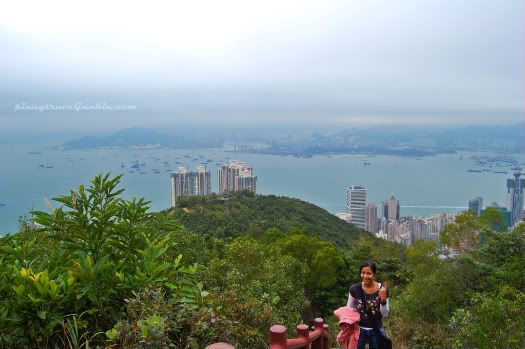 Halfway to the peak.
Somewhere along the way we entered Lung Fu Shan Country Park, the smallest country park in Hong Kong. Pinewood Battery (an old defense line completed in 1905) and Pinewood Garden picnic site can be found here.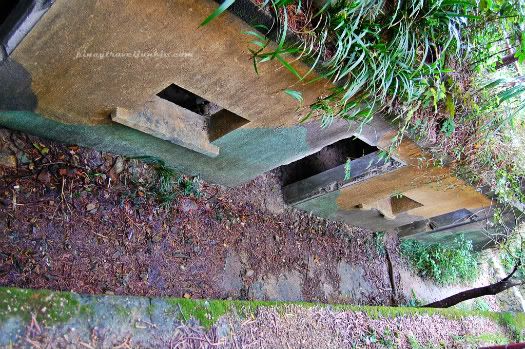 Bunkers constructed at Pinewood Battery.
Then finally, we trudged on 'The Governor's Walk' which led us to the view point. When we arrived, the air was dense with the fog's penetration, we couldn't see anything beyond a 5-meter radius.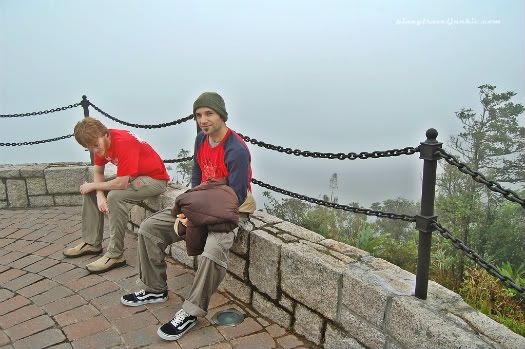 View point, zero visibility. What now?
Where we were ain't
The Peak
yet. To avoid confusion, Victoria Peak is the highest mountain in Hong Kong Island. It is also known as Mount Austin or simply The Peak. On top of Victoria Peak are The Peak Tram, The Peak Tower and The Peak Galleria, which at times are also called The Peak. Okay, so it's still kind of confusing.
But anyway, moving forward, we walked (at last after a 2-hour hike) to The Peak Tower where we will be catching The Peak Tram. It's already hazy how we got there, I just kept following Will. For you guys who will be heading to
The Peak from the MTR station, here are two easy ways to get there on foot
(plus other sites along the way!):
1. From MTR Central Station, exit J2. Turn right through Chater Garden to Garden Road. Keep walking until you see St. John's Cathedral (oldest surviving Western ecclesiastical building in Hong King) on your right, just a few more meters should be The Peak Tram's Lower Terminus to your left.
2. From Admiralty Station, exit C1 and follow signs to 'Hong Kong Park' or 'Island Shangri-La Hotel'. You'll be passing by Flagstaff House (Museum of Tea Ware), the oldest existing Western building in Hong Kong. Follow the signs to Rawlinson House (old residence of the Deputy Commander of the British Forces in the old Victoria Barracks). Walk up along Cotton Tree Drive, then turn right to the Peak Tram's Lower Terminus when you pass by the Hong Kong Squash Center.
For more information about The Peak Tram, check out their
website.
Its history, hours of operation, promos, and a whole lot more are discussed in detail there.
Recommended:
Climb up The Sky Terrace on top of The Peak Tower! A 360° view of Hong Kong Island awaits.
Octopus Cards
can be used to pay for the tram's ticket. Mine was already out of credits so I paid in cash, HK$22 one way. This was December 2009. Just last 1 January 2010, price was raised to HK$25.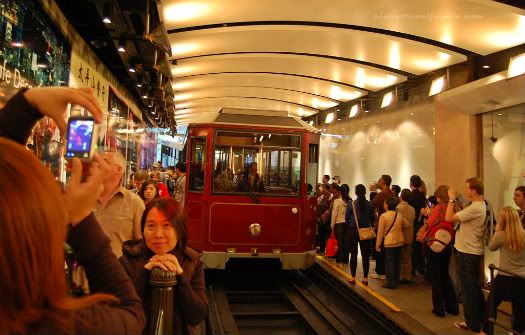 At the Peak Tram's Lower Terminus.
It took a while before the next tram arrived. The trip itself however, only takes about 5 minutes from end to end. At The Peak's Lower Terminus by the way is where Madame Tussauds is located. Though their exhibit is different from Amsterdam's (which I was able to visit in 2007), I refused to check it out. It would have been nice to have a photo with Jackie Chan, perhaps I'll have that chance next time. The HK$160 ticket was just too much.
For more information on Madame Tussauds Hong Kong, here's their
website
.
It was already 2:00 PM. We left the terminus and strolled across Hong Kong Park towards Admiralty Station. Will was going to accompany us to Hung Hom Station next so we can buy our tickets to Beijing.
Share
Tweet
This page was viewed times.