"Kling kling dance! Kling kling dance!", an elderly Indian woman raised her hand brimming with silver jewelry into our sightline, referring to the anklets with bell charms that she was selling - a common (if not compulsory) ladies' accessory in India. I muffled my chuckle with a sarong and motioned for her to come closer.
I surveyed her merchandise while she buckled several varieties of
kling kling dance
around my ankles. Our travel buddies for that day, Couchsurfers Thea and Camilla from Denmark, refused to be embellished with silverware and merely watched my leg turn into a mobile mannequin right before their eyes.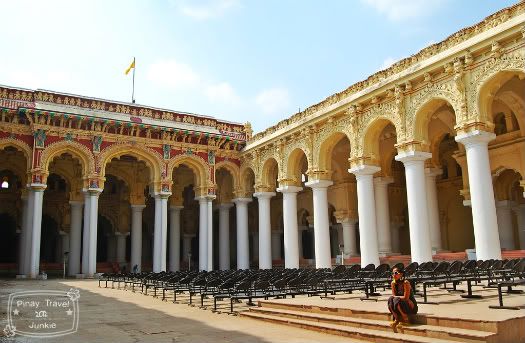 Thirumalai Nayak Palace's courtyard, where regular performances are staged.
Though extremely cheap at 20 INR, I only bought a piece to stick to our budget for the day. It took a while to brush off the persistent peddler for she was pushing another anklet on a hard sell (I realized days after during our Tiruchirapalli Rock Fort visit that it is imperative to have on both ankles, which I'll explain on another post). She seemed upset, but pasted a red bindi on my forehead as a freebie before scurrying away.
Hubby and I followed the two Danes who led the way to Thirumalai Nayak Palace's ticket booth to pay for admission: Foreign adults 50 INR, still camera 30 INR. There was no queue, but we waited for about half an hour for the lone attendant who came from an unannounced, extended lunch break.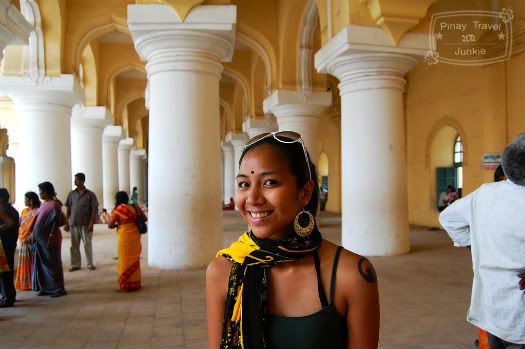 Freebie bindi, sitting on my sixth chakra.
The palace's gate opens out to its capacious courtyard that's utilized for light & sound shows and other performances. This was actually the only section our group was able to see due to time constraints. And well, because a foreign traveler's maundering within the palace grounds (or in any tourist site in India for that matter) is no walk in the park.
Unless you're a celebrity whose
walk in the park
usually involves being photographed by paparazzis. Ours surely don't.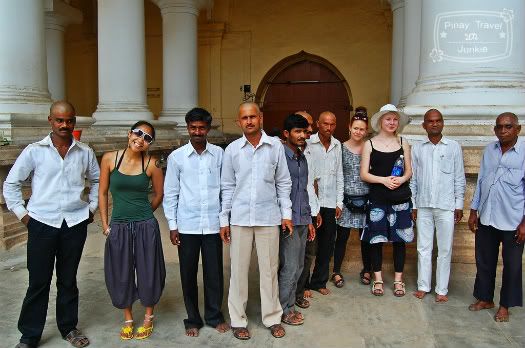 Because more and more people squeezed in the frame, we ended up with an awkward group shot like this. And a gazillion others.
The mere presence of the Barbie-esque Dane sprung forth a commotion among the local men. Just as we entered the gates, we were photographed here and there. From a distance, and in our faces. We felt like stars who just walked onto the red carpet. I suppressed the urge to do a beauty queen wave, for no one will get the joke. And they'll probably wave back.
We managed to duck out for a few minutes behind the cloisters, where we finally had the chance to amble peacefully by ourselves. So peaceful that I heard the teeny-weeny chimes of my kling kling dance.
My stares of admiration resulted to a stiff neck.
Thirumalai Nayak Palace, constructed in 1636 AD, served as King Thirumalai Nayak's home. Obviously this ain't something you could call a humble abode. Fact is, the king intended it to be one of - if not
the
most grandiose palace in South India. I must say... Job well done, your highness. Same goes to you, anonymous Italian architect.
I shielded my eyes from the blinding sun's rays as I looked up the marvelously carved and painted ceilings. The intermingling of Islamic and Dravidian architecture produced such stellar progeny.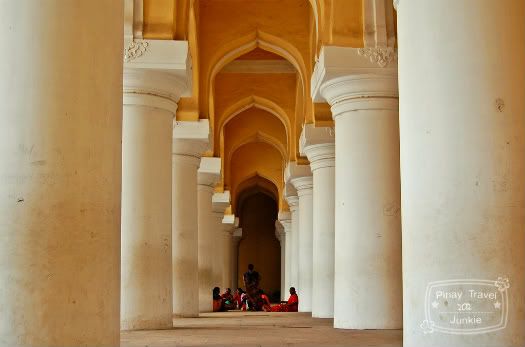 Locals whiling away the lazy afternoon at their fave, fantabulous hang out.
Just as we emerged from the cloisters, a fresh batch of curious local tourists surrounded us for snapshots. Unanimously, we were no longer game for it. We all scampered towards the exit and left them bobbling their heads in bewilderment and confusion.
Amidst the noise, my kling kling dance's bell charms echoed across the courtyard. That impressive lil thang.

Thank You, India Series:
Madurai, India: Meenakshi Amman Temple
Aboard India's Modes of Transport
Arrival Turned Fans Day
Thank You, India
How To Apply For An India Tourist Visa In The Philippines
Pin It
Share
Tweet
This page was viewed times.