We scanned the white boards hovering above a mosh pit of cab drivers and hotel representatives just outside the arrivals of Aeropuerto Internacional Jorge Chávez. Ours was held by a man named Javier. A hundred percent Peruvian, Jacki Chan lookalike, Mr. Congeniality. He ushered us to his taxi after paying for the parking ticket. As he dumped our bags in the trunk, he smiled and said "Welcome to Peru! Sit. Lock your doors!".
The "lock your doors" part wasn't really necessary for it wasn't like a drive through the slums. It was in fact a cruise along the more affluent districts of Lima. No beggars knocked on our windows, nor were there peddlers who harassed us to buy their wares. It was a nice gesture from Javier nonetheless.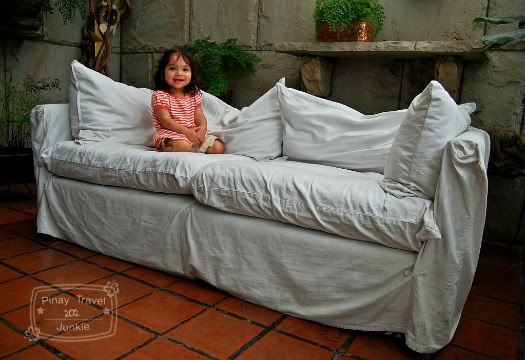 Outdoor roofed patio adjacent to our room in El Zaguan B&B.
Until that day, we had never been picked up by a service arranged through a B&B we booked (heck, we had never booked accommodations until this round-the-world trip with our baby). That was one of the main reasons why we chose B&B Tradiciones, they offer free airport pick up for reservations of private rooms with a period of three days or more. It's a wee bit pricier than the other hostels and B&Bs in Miraflores but at least it's located in a safe neighborhood and the owners speak English.
So you could imagine how we enjoyed Javier's company, and how thrilled we were to hear his honest recommendations (even though he himself hasn't been to the destinations he suggested). His description of Peru's famed ceviche made us salivate.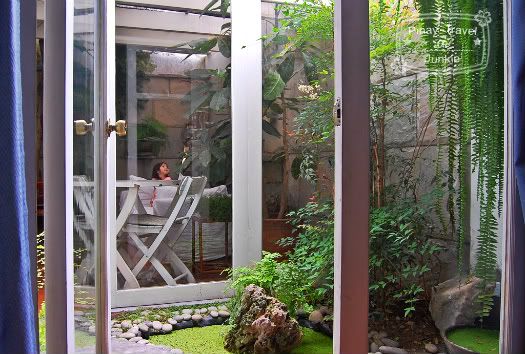 Waking up to this view jump starts a good morning.
Half an hour later we arrived at B&B Tradiciones, only to be told by the owner that the room they reserved for us is too small for a family of three and that they're taking us to another B&B two blocks away. You see, I rarely indicate that we share a room with a toddler whenever I do the booking for I know I'll be bombarded with follow up questions: Do you need two separate beds? Do you need a baby cot/crib? There will be an extra charge, is that okay with you? Yadda yadda yadda.
We wanted to ask the owner if we could see the room and assess the space ourselves yet we submitted to his assumption. We wordlessly boarded Javier's cab once more with the owner and headed to El Zaguan B&B. Like B&B Tradiciones, it didn't have a signage outside the building. A smiley guy receptionist greeted us by the entrance. I heaved a sigh of relief as we entered the living room. Every corner of it is charming!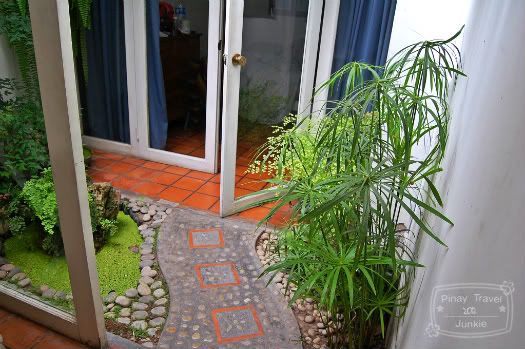 Pocket garden in front of our room.
The receptionist led us to the lone room on the first floor. We took it straight away even if we had not seen the other room on the upper floor because of the outdoor patio adjacent to it. And because it's the only guest room on the floor, we thought we wouldn't have to worry about Luna disturbing other snoozers in the wee hours with her wails for milk.
We bid goodbye to B&B Tradiciones' owner and settled in. The room has twin beds and a telly but uhm, no fan. Sure it was an unusually chilly summer, but hey, it's still summer. Perhaps they got fans available upon request but we didn't bother to ask. It was never sizzling hot indoors anyways. At least, during our stay.
Living room.
Our initial three-day stay was unexpectedly extended to six because of hubby's and daughter's
visa application for Brazil
. We opted not to transfer for we simply loved our nook! It's spacious, adjacent to an outdoor patio (which is actually a common area but no one ever hung out there) that we had to ourselves, and has a pocket garden by the doorway. Room was cleaned every day, and a decent breakfast was served from 6 to 11 AM which is awesome for late risers like us. More importantly they got Wi-Fi, a necessity for us digital nomads.
What we weren't too happy about: Nonexistent fan, door buzzer system (a hassle if you come in late from a night out), and the blood pressure-raising $40 rate per night for a double room. It ain't cheap, but it's the standard rate amongst accommodations within the area. Despite these rants of ours, we'd still recommend it to fellow travelers. Especially the kind who's on a holiday... Or the jaded, long-term backpacker who's on a once in a blue moon splurge.
Pin It
Share
Tweet
This page was viewed times.