Its streets boast of impressive century-old mansions. Some beautifully restored, some in a state of partial ruins. Almost every five yards there's a
sari-sari
store (what we call a small family owned convenience store in the Philippines) and a taqueria. In a few areas, even a pub. And occasionally a smooching couple in a corner.
Colonia Santa María la Ribera, a colonia (Mexican neighborhood) that was initially set up for rich families in the late 19th century, is where the humble Jade Guesthouse sits. One of the cheapest accommodations this side of town, but
perhaps
the most charming of all (and I say
perhaps
because we've never checked in other guesthouses within the area).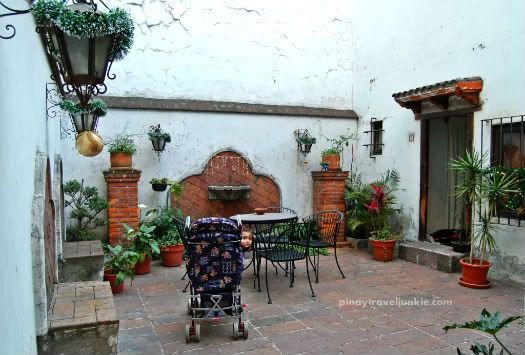 Jade Guesthouse's courtyard, just in front of our room. Luna, peekaboo!
This guesthouse owned by a French family offers only a couple of rooms. One on the ground level, and another on the second, in a building separate from the family's house. A set up that provides guests utmost privacy. A set up that can easily make anyone feel like a resident, not just a traveler. That is, if your home doesn't have a telly as well.
Our charming

habitación

with a very inviting

cama

.
Our room's basic, yet tastefully embellished with beautiful local tiles and drapes bunched up with shell-adorned ropes. There's a comfy double bed, a table and a chair, and a couple of shelves in the corner for our luggage. The bathroom may be eating up a fourth of the floor area, but because its facade does not have a wall (only drapes conceal the guests as they do the deed), the room does not feel too itsy-bitsy.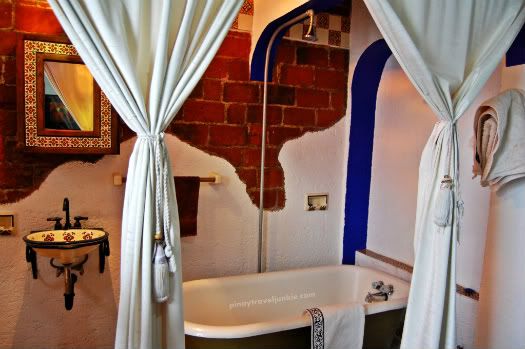 A bathroom that uhm, lacks a wall. I love the tiled vanity cabinet, and the vintage

bañera

.
The M$350 rate (M$330 on weekdays) does not include brekkie, however a full kitchen on the rooftop can be used by the guests. On the six days of our stay, I was on the stove every single day to cook my potful of rice and prepare for our traveling toddler's meal. We loved whiling our late mornings on that rooftop (as opposed to the courtyard) for it was the only part of the property where we were able to soak up the winter sun.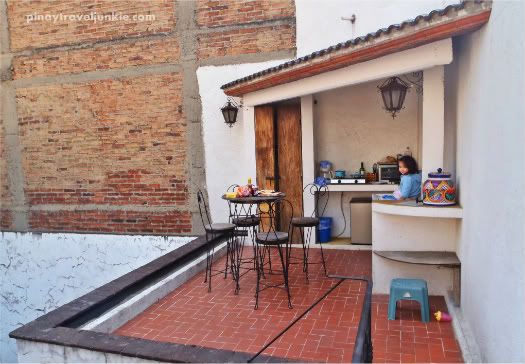 The kitchen on the rooftop.
We immensely enjoyed their dependable internet connection (which we always need for our online jobs), and we're pleased with the free purified water that I used a lot of for concocting bottles and bottles of milk formula. Our room was tidied daily, and the linens were changed after the first three nights. Fresh towels were provided everyday too, plus shampoo and liquid bath soap in cutesy glass bottles.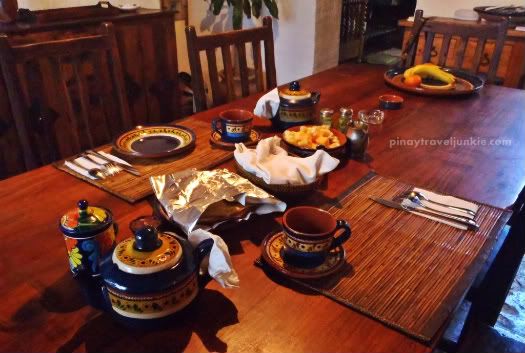 Crepes, omelette, fried beans and freshly baked bread for brekkie. A gift (which can also be ordered for M$50 on weekends) from the owners for our almost week-long stay.
Above all these, we're thankful for the endearing owners who hosted us like their long-lost relatives. Who sent us all the basic information we needed, and more, upon booking online. Who let us leave one of our bags in their home while we explore the other states. The wife, during our session of hanging laundered clothes on the rooftop, told me that she and her husband (their two kids too) lived in the Philippines for years. She worked for one of the biggest call centers in the country. Her hubby, who was actually born in the Philippines (I chuckled when she randomly mentioned that his first word's
pusa
, cat in Tagalog) managed a famous upscale salon in Makati City.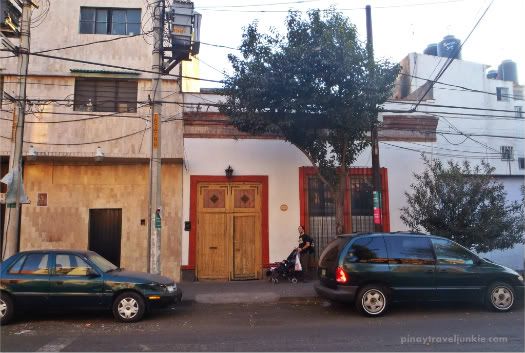 The absence of a signage adds a homey vibe to the guesthouse.
They loved the Philippines, but couldn't reside there as unemployed aliens when they quit their jobs. And that's why folks, the family ended up in Mexico, where foreigner-related policies aren't complicated. They sorta gave us this wild idea of living here someday too. But uhm, that's too wild of an idea.
The only thing the guesthouse lacks which I reckon is worth mentioning, is a room heater for the guests to use in winter. And I tell you, it could get dang cold inside the rooms, for these rooms were designed to be a refuge from sizzling Mexican summers. But hey, this won't keep us from coming back. In fact, we'll be checking in Jade Guesthouse once again just before we fly out of the country in four days!
How to get there from the airport:
1. By Metro: Terminal Aérea Metro Station on Line 5 serves Mexico City's International Airport. You need to change lines twice to get to Line 2. Alight at San Cosme Station, and from there it's a 20 minute walk to the guesthouse. 30 or more if you're carrying a heavy backpack. Fare's M$3.
2. By cab: Just outside the airport's arrival exit, there's a row of booths of legit taxi operators. M$170 for the 30-minute ride to the guesthouse. Cab driver tip, optional.
Tweet
Share
This page was viewed times.