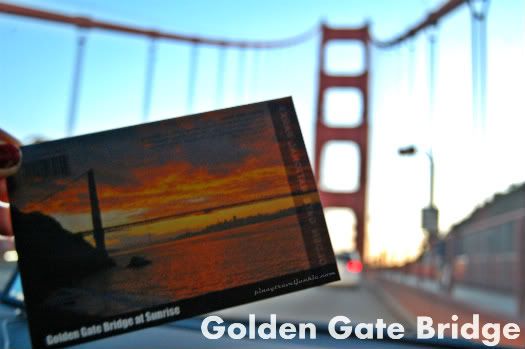 Golden Gate Bridge at Sunrise.
Ola! It's day 179 of our
our round-the-world trip
, and almost a week since we arrived in Ciudad De Mexico's Distrito Federal. Unfortunately we were only able to see a few of its sights due to work. Tomorrow, we pack our bags and head to the Historic Centre of Puebla to celebrate our daughter's fifteenth month on Earth.
Golden Gate Bridge in Fog seen from another angle.
I got a bunch of postcards to send next week to some of you guys! For now though let me show you the last postcard I mailed before we left California. It's the first (and maybe only) postcard I'm giving away that used
lenticular printing technology
. Yah know, that awesome kind of printing that makes you see different images from different angles.
Cool, eh?
It's not too late to join! Email your address to gaye.emami@yahoo.com to receive a postcard. Recipients are chosen via Random.org.
Tweet
Share
This page was viewed times.