Our folks' horrible night was over. My daughter's harrowing day on the other hand, had just begun. The whole gang was in high spirits when we checked out of
Sanva Hospederia
, a century-old rundown hostel where we stayed overnight. The shabby rooms left most of us sleepless, and its resident mosquitoes marked our then seven-month old daughter Luna with nasty bites.
We were looking forward to finally moving in a semi-swanky accommodation, something my parents and our backpacking infant truly deserve.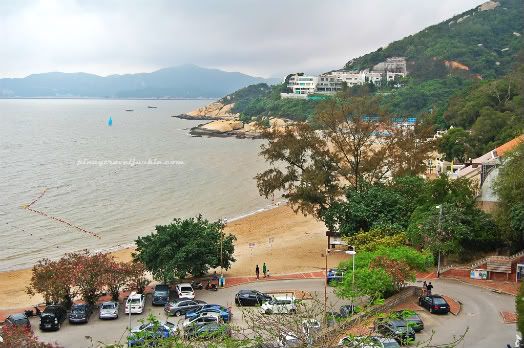 View of Cheoc-Van Beach from the hotel's open terrace garden.
My sister hailed a cab along Avenida De Almedia Ribeiro, a couple of blocks from Sanva Hospederia. Only she and our parents with Luna in tow hopped in, for cabs in Macau allow a maximum of four passengers at a time. And instead of taking another cab, hubby and I walked to the bus stop near Grand Lisboa Hotel.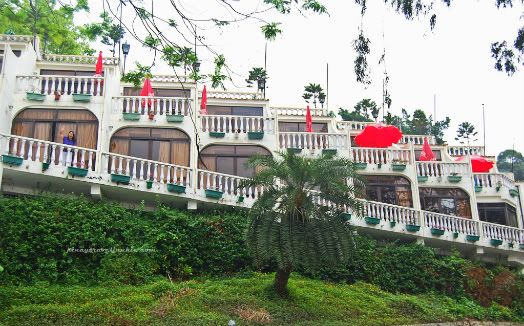 Mum gaily waving from their room's balcony.
Bus 21A whisked us out of the bustling Macau Peninsula and to the almost-southernmost point of sleepy Coloane Island. The driver, who didn't speak a single English word, gestured for us to alight at a deserted stop after we showed him the hotel's name in Chinese on a piece of paper. We shuffled to and fro the street, in search of the hotel. It took us about five minutes to spot a teeny weeny sign and a staircase heading downhill, partially hidden by dense foliage.
Standard room with twin beds for 750 MOP (exclusive of service charge and tax).
The pool lies at the foot of the stairs. I found my father sitting on a lounge chair, lazily watching a couple of guests swimming despite the chilly climate. He rose when he saw us emerge from the bushy rear access and led the way to the front desk where my mom and sister were waiting.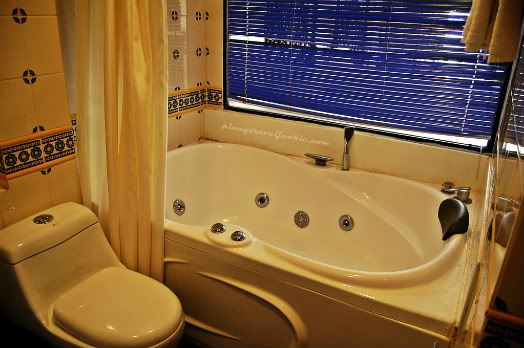 A private jacuzzi in each room.
The marketing officer I had been corresponding with regarding our reservation via email is Filipino. He swiftly processed our check in and handed us the keys. The bellman, another fellow Filipino, assisted us to our rooms. The whole family was awestruck as the doors unveiled beautifully furnished Portuguese-style interiors.
The hotel's restaurant which serves awesome, authentic Portuguese meals.
Four-star Pousada de Coloane Beach Hotel has only two types of rooms: The standard room which has twin beds, and the superior room which has a king size bed. Each of the hotel's 30 rooms has a jacuzzi and private balcony overlooking Cheoc-Van Beach. Such features made me choose this particular hotel. The rate of a standard room is 862.50 MOP, inclusive of service charge and tax (230 MOP per additional head, service charge and tax included).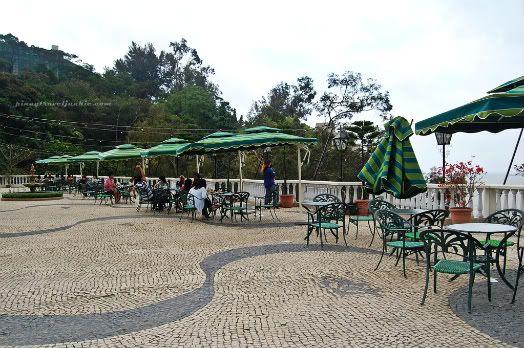 Open terrace adjacent to the hotel restaurant that has an unobstructed view of Cheoc-Van Beach.
We booked one room for two nights for my parents and sister, but only one night for me and the hubby (uhm, we slept at cheapo Sanva Hospederia again for our last night in Macau). 2,587 MOP is a hefty price which we shelled out the first time for accommodation (our post-wedding honeymoon suite cost only half of the standard room rate), but we never regretted such expense... Especially after seeing the sheer mirth in my folks eyes as they laid on their beds. Priceless.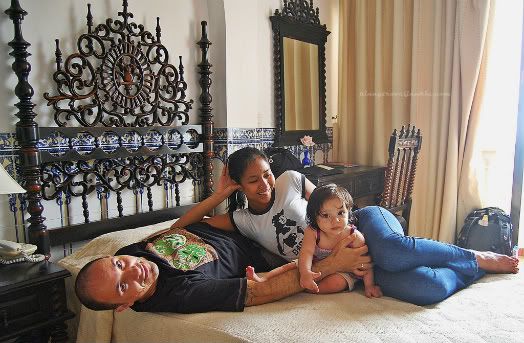 Unfortunately, we didn't have time to idle. We're heading out that afternoon to see The Venetian and City of Dreams. So yeah, I had to drag my dreamy parents out of the plush sheets.
Macau Series: Meet My Backpacking Folks
Meet My Backpacking Folks
Century-Old SanVa Hospederia
Largo Do Senado: And The Family Chaos Continues
Tweet
Share
This page was viewed times.