Which came first, the temple or the tooth? Definitely the tooth. You are probably equally perplexed as I was the first time I heard of this Buddhist temple's name. So how important is this tooth relic to be housed in such grandiose temple sitting on The Royal Palace complex?
Well, it's believed that whoever possessed it had the divine right to govern the land. Now that's one powerful (canine) tooth, I must say. So whose was it? Lord Buddha's.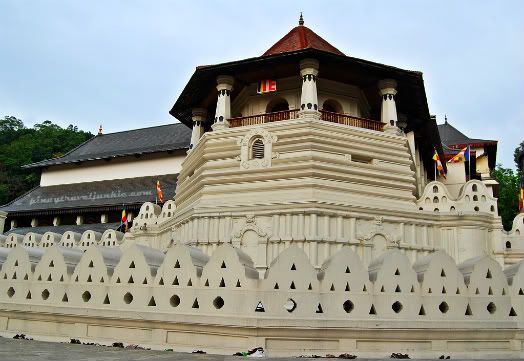 UNESCO World Heritage Site, Temple Of The Tooth (17th century). Kandy, Sri Lanka. According to legend, Buddha's tooth was "snatched" by a monk named Khema from the funeral pyre. In the 4th century, after being passed on to different people, the sacred tooth relic fell into the hands of King Guhaseeva who asked his daughter and son-in-law to smuggle it from India to Sri Lanka for safekeeping.
Our stroll along the Temple Of The Tooth's grounds was magical, as we were showered with nadeshiko pink flowers that fell from trees. I imagined myself in a snow globe. Around us were herds of local pilgrims carrying floral arrangements and oil, which are essential Buddhist offerings.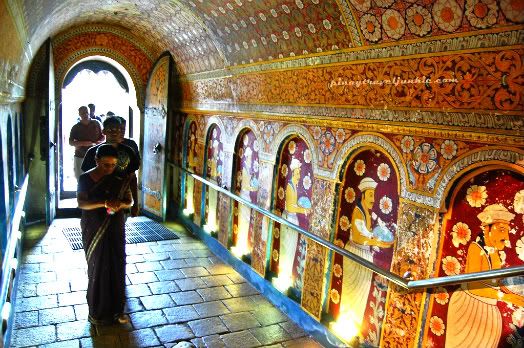 Human traffic ushered Shervin and I toward the temple entrance. Because of the 1,000 LKR admission fee, Shervin chose to wait outside. By the garden where he contentedly watched the trees' swaying branches, crows and pigeons fluttering about, and worshippers making their way to holy refuge.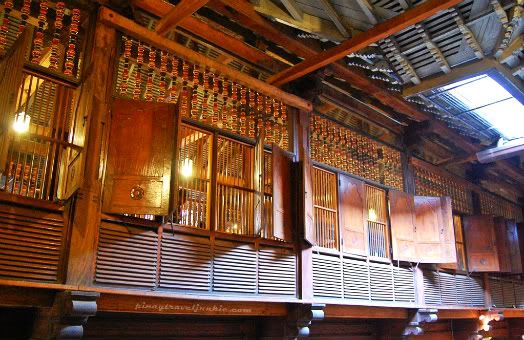 I deposited my flip flops at a booth beside the ticket counter and followed a group of German tourists that was being led by a Sri Lankan German speaking guide. We entered a smokey corridor with multihued walls ornately painted that directed us to the two-storey sacred relic tooth shrine.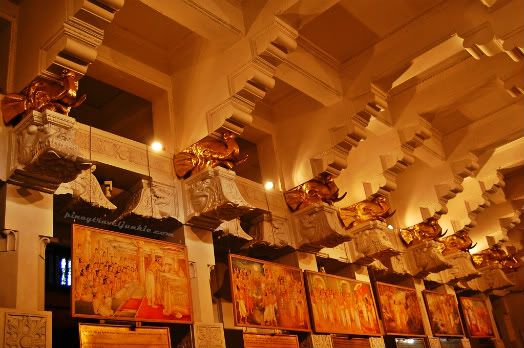 The tooth, because of its sacredness, is obviously not on display for the public to see. It is encased in a stupa-shaped gold casket, kept in a room where visitors may only have a quick peek. I left the viewing to the curious Germans (the door was blocked by a huge crowd anyway and didn't seem like it'll be cleared anytime that afternoon) and wandered off to a series of halls until I ended up in a gallery.
Around the gallery are paintings that depict the tooth relic's history. At one end of the long hall are structures of Buddha in various forms, where I read a sign that says: "Shooting photographs of persons in this hall is not allowed". Okay, that got me
chuckling
thinking. Now if we interpret this sentence literally, oh boy lemme tell you, a bunch of Sri Lankans who took heaps of photos of me with their mobile phones clearly disregarded such warning.
I dashed out of the gallery to uhm, escape the paparazzis and exited a door to get to the other side of the temple complex. On my way out, I passed by Magul Maduwa, a royal assembly hall built around 1784 with wooden pillars that exhibit Kandyan wood carving.
From there, it took me five minutes to get back to the shoe minder's booth. I retrieved my flip flops after I was forced to give a tip (he was very upset with my 5 LKR token of gratitude) and met up with Shervin where I left him.
I relayed to him what I just witnessed. Although the temple didn't land on my fave temples list, the place's sacredness because of the tooth relic's presence made me feel privileged to be even allowed inside. As I continued my recollection, we headed to Temple Square Street. Along the way Shervin picked a flower and tucked it behind my ear. For the past few days, dusk was never this beautiful.
It was around six in the evening and we had one hour until our hired tuktuk driver picks us up. It was an opportunity for us to explore the city for the first time, and finally feed our famished selves.
Not-So Refreshingly Sri Lanka (and it's all my fault) Series:
The Kandy House
Not-So Refreshingly Sri Lanka
How To Apply For A Sri Lanka Tourist Visa In The Philippines
Tweet
Share
This page was viewed times.