Australia, the 22nd country and fourth continent I've set foot on (pardon the vaunting of numbers, but it's a bucket list thing). It's also the first stop that we chose for our
round-the-world trip
. I reckon a three-month stay is too long if you wander around just a handful of cities, but too short if you explore its barren expanse - or if you're one of those backpackers who engage in WWOOFing and fruit picking to keep afloat or simply experience the culture on a more immersed level.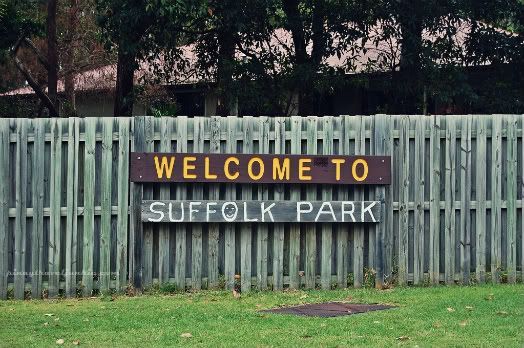 Our suburb's humble welcome.
A hundred days. This is the second longest period I've been away from home (next to living in the Middle East for half a year). And in retrospect, we have not actually done heaps. We've been to six beaches, three national parks, three - err birthday parties, one wildlife park, one cave, one amusement park, and one UNESCO World Heritage Site. I have crossed the Sydney Harbour Bridge on foot, but nope, I have not seen the Sydney Opera House up close.
Temporal abode surrounded by dense foliage and a fence-slash-art installation.
So why the turtle pace? Well, programming jobs and article-writing projects that kept/is keeping us busy. To be honest, our route was not concretely mapped when we left the Philippines mainly because we were apprehensive about our funds. But now that the hubby signed up for a full time job (which thank goodness he could do remotely) and I suddenly got a steady stream of projects, we're confident to say that we're pushing through with the RTW and finally we'll be living
the
dream. Our dream, at least.
The porch, our workplace.
The ideal plan is to visit one or two countries per continent (uhm, except Antarctica). From Australia, we'll fly to California and stay for a month so hubby could report to their head office in
Geekville
Silicon Valley. After which we'll head down to Mexico, then further south to Peru and Bolivia.
Ghaya's artworks at the cozy living room.
For Europe we're eager to see Portugal and Turkey. I'm also looking forward to squeezing in some
Greece holidays
since the hubby's promoting Ios Island to me like a bubbly travel agent. He swears Greece is the most beautiful country he's ever seen (when asked if he likes it more than India, he's immediately lost for words). For Africa, Morocco's on the top of our list, next is Tunisia. We'd also like to make a stop in U.A.E. where (mushyness alert!) hubby and I met. Then revisit India before going back home.
Like I said, this is the
ideal
plan. We know for sure that budget and visa matters may spoil it in a blink.
Tallow Beach, south of Cape Byron Lighthouse. Our backyard.
But we don't have to worry about it now, especially we're too preoccupied obsessing about the cabin we're currently renting for six weeks in Suffolk Beachfront Holiday Park (which is amazingly cheaper than backpacker inns). Ghaya, the artist who owns the cabin, is one of the park's few permanent residents. Her paintings, mosaic pieces, and mixed media works are in every corner of the rooms. We totally feel like we're living in a gallery.
Our lovely neighbors Charlie and Susan, a gray hippie couple, are very kind to us (I still feel uneasy seeing them naked walking around their curtainless cabin every morning though). Byron Bay, a famous town to tourists and New Age folks, is just a 12-minute drive away. And gorgeous Tallow Beach is only a few meters from our backdoor. We're all good vibes and positive energy since we settled in!
Join our stroll from the cabin to the beach!
Our home marked by a heart. Cause yah know, it may be cliche, but home is definitely where the heart is. And right now, our hearts are in Suffolk Park.
Tweet
Share
This page was viewed times.