The guffawing has ceased. After a death-defying falowa ride, and a whirlwind trip of Sabtang Island in the morning, we were all famished. And I was prepared to shove anything edible inside my mouth.
But of course, we got class. Or so we posed as such. We were an entourage of seven, six of us won an all expense paid trip to Batanes
via an online contest
, and were led by province maven Engineer Joseph Dy (I seriously thought he's Ivatan).
We appeared to be patiently waiting with our uneasy smiles while we snapped countless photos of our hut by Morong Beach where several other groups of travelers dined. As the dishes were served one at a time, we took more photos while craning our necks toward the kitchen, wondering what else will end up on our table.
Coco loco! Coconut crab steamed in coconut sauce.
The seaweed soup arrived first, then the adobo and veggies (which was sauteed onion leaves), then steamed fish and breaded squid, and finally the star of our lunch... the coconut crab, also called 'tatus' (and Birgus latro if you're into scientific names).
My knowledge of the coconut crab was scant, though it was my second Batanes visit. I only knew of the local delicacy
dibang
or flying fish the first time I went, and loved it. With a hefty price of P600-P1,000 per kilo, I thought the coconut crab better prove its worth.
It looks more like a
gigantic bug
lobster than a crab. I picked a pincer from the plate and peered closer. I bit off its white flesh sticking out and savored the taste. The coconut crab is named so because it does feed on coconuts (its mighty claws could open a coconut shell). However it does not taste like it, perhaps because apart from coconuts, it also feeds on other fruits and animal carcasses. It is also not as sweet as the common crab, but more tasty than the lobster. In a seafood-y kind of tasty if you know what I mean.
My second bite was followed by a spoonful of turmeric rice. A perfect match. After which I sipped its simple coconut sauce which did not overpower the crustacean, and highlighted its flavor instead.
So did I like it? Let's just say I
might
(me considering the possibility already means a lot!) ride a falowa again just to have another serving someday. But surely, I can order somewhere else on the island of Batan, yeah? And by the way, its melt-in-your-mouth fat (the
aligue
) that can be scooped from its abdomen is to die for! Literally and metaphorically. Man, it's got heaps of cholesterol that could do you some serious harm.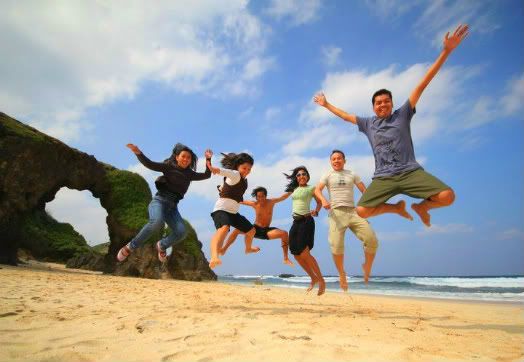 Batanes food made us jump with joy (even with our heavy bellies)! Dios mamajes Engr. Dy for this fun photo. Taken at Morong Beach.
Pinay Travel Junkie Trivia: This is officially my first (and maybe last) jump shot on this site. Another trivia: The coconut crab is under the conservation status 'threatened'. Not proven as endangered yet. Even so, after all that I've said and done... Awkwaaard.
Okay, so here's the real deal: As per our guide Engineer Dy who posted a comment below, "There are regulations in place in Batanes to help protect the species. Coconut crab can only be consumed locally and cannot be brought out of the province in any form (live/raw or cooked)." So there. Don't even think of sneaking some bits of the crab aboard your flight!
I got one more reason to jump for!
I finally joined the Pinoy Travel Bloggers Group Blog Carnival. And this is actually my official entry. The theme for July 2011 is "Awesome Food Experience While Traveling In The Philippines", hosted by Anton Diaz of Our Awesome Planet.
Tweet
Share
This page was viewed times.